Restoration Week before US Open Prep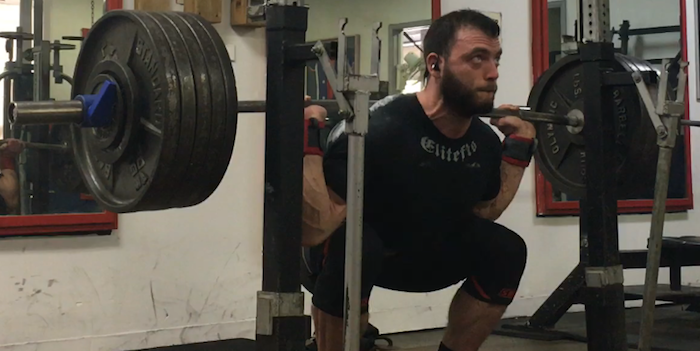 Had a nice, easy ramp-up week this past week to set myself up for a good, solid eight-week meet prep cycle.  I'll be explaining my overall approach to the US Open in detail in either another log entry or an article to be posted soon, but for now, I'm just chilling out and resting up.  Here's what I did:
Sunday: Deadlift & Bench Accessory
Dumbbell Bench Press
50x10
80x10
110x10
130x9
Conventional Deadlift
675x3
675x3
Add belt and straps
675x8
Close Grip Bench Press
315x3
335x3
335x3
Happy with the deadlifts since I'm sure I could've done 10 or 12 reps on the last set if I was pushing it.  Instead just took an easy set to tie my rep PR.  All bench reps are paused from here on out, and close grip felt good.  Leg drive is improving.
Tuesday: Squat/Deadlift Accessory
Front Squat
405x3
405x3
405x3
Reverse Band Deadlift
725x3 (hook grip)
545x3 (double overhand)
Glute/Ham Raise
BWx10
10x2x10
Everything still easy.  No idea how much the bands take off on the deadlift setup, but they're entirely deloaded at the top, and I'm just using this movement for grip work.
Wednesday: Bench
Competition Bench
350x3
350x3
350x6
Hammer Strength Pulldown
3 plates/side x10
4 plates/side x10
5 plates/side x10
Arnold Press
50x10
75x2x10
Concentration Curl
I did these.
Again, nothing much to say.  Whole session, including warmups, took about 75 minutes.
Friday: Squat
Squat
615x2
Add belt
615x3
615x3
Add light wraps
635x5
Reverse Hyperextension
20x3x10
I wanted a beltless triple here, but my walkout was sketchy and I kept hitting the rack on the ascent, so I called it after a double.  Belted and wrapped sets were just for technique work.
And that's it!  I'm feeling good and looking forward to starting real meet prep today, so stay tuned for the good stuff, and keep your eyes out for some articles this week and next.
Loading Comments...