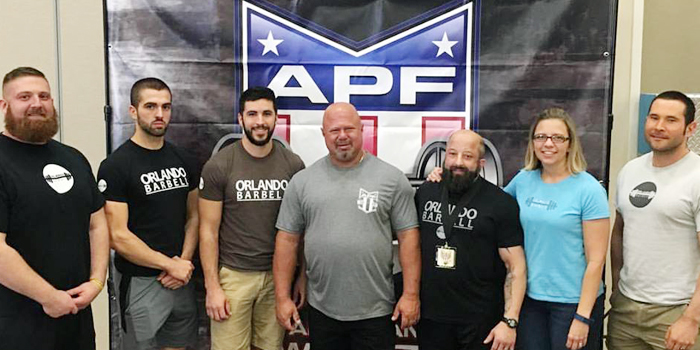 Sometimes life isn't so much about the actual accomplishment, but what it took to get there. I knew going into this meet that I wouldn't achieve my best numbers. I knew I probably wouldn't PR. But what I've overcome is far more than I have for any other meet. Plus, I said I was going to do it, and well, that's what I planned to do.
---
RECENT: Reliving the Powerlifting Glory Days: Pride, Inspiration, and the 2008 IPA Powerstation Pro/Am
---
I have Ulcerative Colitis, an autoimmune disease that I'm determined to find a cure for (bear with me, I'm nothing if not resourceful. I'm onto something and using myself as guinea pig so stay tuned). My disease initially caused digestive issues which began a couple of years ago. Those seem to be in check for now, but the past few weeks before the meet I started having random painful swelling in my joints (primarily my hands, feet, knees, and elbows). So painful that I couldn't turn a door handle if my hand was swollen and could barely put pressure on my foot if it was swollen. Perfect for powerlifting, right? This was such a strange symptom with no real legitimate explanation that I could find. I ended up taking prednisone (which I never react well to) to help alleviate the issue. Unfortunately the prednisone weakened my tendons and ended up contributing to a partial hamstring tear. Since the meet was only getting closer, I didn't take the time I needed in order to let it heal, and ended up tearing it again. This meant that I would have to drop both my squat and deadlift numbers just to hopefully make it through the meet. I pulled 500 a few weeks out to make sure I could get a relatively easy opener in and called it at that.
We started this training cycle more than 12 weeks out with six of us planning to compete. By the end we were down to just three: Jeff Sevor, Neal Cotton, and me. Jeff was competing as a Masters dropping down to 242 for the first time in years. He's tall, so we had been working on adjusting his form to use a wide stance for both the squat and pull to maximize his leverages. He had been doing very well leading into the meet and looked good to break his 242 PRs.
Neal had a great training cycle and I was sure that he was going to hit close to a 1,000-pound squat, 600 bench, and a high 700 pull. He was competing in the Open 275s. Everything seemed right on track.
[gallery columns="2" ids="139196,139197"]
Fast forward to weigh-ins. The last couple of days before the meet I cut carbs and dehydrated as usual. The night before weigh-ins I weighed 167.5 on my scale at home and thought there was a chance that I may not make it. Well, I was way wrong. I pissed all night and ended up weighing in way too light at 158. Coming in extra dehydrated with weakened tendons was not my ideal way to start a meet.
Here's how my day went.
Squat
Warm-ups
155x5
Put on single-ply Metal M briefs
265x3
355x2
Put on single-ply Metal M suit, straps down
445x1
Straps up and add knee wraps
535x1
Opener — 285 kilograms/628.2 pounds.  Good lift, everything felt perfect on this.
Second Attempt — 307.5 kilograms/677.7 pounds. Miss. I needed them to lower the rack to get this out. I forgot where to look and let my air out on the way down. Either way, it was just too much weight on this day.
Third Attempt — Repeated 677.7. Missed. I was just out of gas on this.
Bench
Warm-ups
Opener — 182.5 kilograms/402.2 pounds. Good. Had a little trouble touching after putting my weight back on plus some, but it felt easy
Second Attempt — 200 kilograms/440.7 pounds. Miss. This would have been a single-ply PR. I got the rack command and thought I may have gotten the lift, but one of the judges said my butt came up and I'm not sure why the head judge didn't give it to me.
Third Attempt — Repeated 440.7 pounds but was out of gas.
Deadlift
Onto the deadlift which was my big concern after the partial hamstring tear around seven weeks prior to the meet. I hadn't done any real heavy pulls other than just making sure I could get a reasonable opener in.
Warm-ups
135x3
225x2
315x1, at this point everything felt great.
405x1, felt a pop in my left hamstring, the same place as before.  Jeff assured me that it was just scar tissue, but it felt the same as the other tears and I knew that tearing scar tissue could lead to ultimately tearing the muscle as well.
Opener — 227.5 kilograms/501.5 pounds. Good, but I felt my left hamstring pop yet again. I decided that I didn't want to give up after one attempt, so I had Jo wrap my knees tightly around the area where I felt the hamstring pop and went for another.
Second Attempt — 250 kilograms/551 pounds. Miss. I think the concern over potentially completely tearing my hamstring, having my groove thrown off from never wearing knee wraps while deadlifting before, and not having touched this much in about 8 weeks proved to be too much for me.
Thankfully experience has taught me what I'm good for even on my worst day, and this was it. I'm still happy to have made it through, to take home a first place medal, and to qualify for WPC Worlds. Depending on how my hamstring heals and how my medical issues go, the WPC Worlds in Louisiana in November will be my next meet.
Thank you to my training partners Jeff Sevor and Neal Cotton for sticking out this training cycle and making it to the meet. Unfortunately neither of them were able to make it through the squats. Jeff and I were lifting on two separate platforms at the same time, which made it impossible for us to coordinate who would be handling each of us. On his first attempt he made it to the platform just in time, but didn't even have his knee wraps on. I think this pretty much threw him off for the next two attempts. Neal's first squat was called high, he took his second too low, and was out of gas by his third. I have bombed enough times to know how bad it sucks to go through months of training only to not make it through the meet. You end up questioning everything. I hope they can both reevaluate and get right back to training, because this is ultimately about much more than the day of the meet.
I'd also like to thank Tyler Marino for handling me at the meet, John Hallman for wrapping my knees, Jo Jordan for calling my depth, and Mike Torrance for sticking around for hours at OBB after he was done training to help us out and show up at the meet to do whatever he could. Thank you to Jesse McGrath, Melanie Flesh, Rich Hayes, Sam Wahnish, my parents, and my client and friend Gary Marlar for showing their support at the meet and to anyone else I may have forgotten. As always, thank you to Dave Tate, elitefts and Minna and Ano Turtainenn for providing me with Metal, the best gear, as well as a platform to try to give back to the powerlifting community through elitefts.com. Most of all, thank you to my wife Trinity for her ongoing understanding and support after over 20 years of dealing with this crazy ass sport.
You may compete on the platform as an individual, but it takes a team to get you there.
Header Image Credit: Some of the OBB team at end of APF Equipped Nationals: Neal Cotton, Jesse McGrath, Tyler Marino, meet director Rick Lawrence, me, Trinity, and Mike Torrance. Not pictured: Jeff Sevor, Jo Jordan, John Hallman, Melanie Flesh, Rich Hayes, and Sam Wahnish. Thanks again to everyone who came out to support and help us.