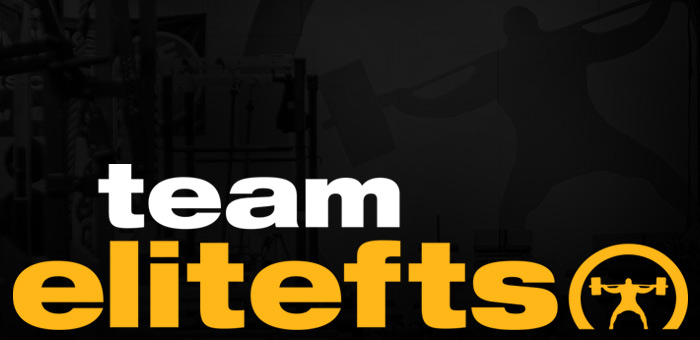 Last year was a busy competition schedule. I placed third in US Strongman Nationals behind two notoriously and ridiculously strong women then moved on to do a local show and finished off with a win at America's Strongest Master in September.
After those competitions, I was burned out and my body needed a break. I struggled with being consistent in the gym and in February 2017 I asked to resign from my training log on elitefts and switched to an advisor role. The quality of my training was poor and readers deserved more than I was able to provide. After my last training log entry in mid-February, I completely stopped training from whatever attempts I was doing.
My strongman BFF Lacy Hughes started talking to me about Dallas Europa Strongman Challenge with a pro card for the HWW women up for grabs. Late last year the pro card was unveiled for strongwomen, and after 13 years competing and waiting for the opportunity to earn one, I was interested. Scheduling with the kids and their athletics is always the first priority and the second half of this year is nearly full already. This one weekend happened to be open on the Wattles Family Schedule of Domination and I wanted to seriously make the competition work rather than hoping next year's schedule is better.
The events were:
Max Axle Press
Max Axle Deadlift
Conan's Wheel — 400 Pounds
Yoke – 500 Pounds
Stone Over Bar – 200 Pounds
The events looked appealing but my conditioning was awful and not being under heavy weight at all would prove to be a challenge. Unfortunately, at the decision point, it was April 30, seven weeks out from Dallas. So off to the gym I went to determine how realistic a win would be.
I was fully expecting to come in at maybe 350 if I was lucky. Much to my surprise, 410 flew up like nothing and I thought to myself that maybe I could pull off a win. So I went all-in with the goal of earning my pro card. Matt's programming never lets me down, and on competition day I am always amazed at how well the peaking phase comes together and crushes any expectations. His wisdom is always on point to trust the program. However, my mind sometimes goes a little haywire, especially if he's not there with me.
Max Axle Clean and Press, Three Attempts
Pressing has never really been one of my strengths in strongman, but zeroing on pressing in competition is. The final weeks before the competition, my pressing was solid. However, the cleans were a problem and left me feeling a little nervous about everything coming together above 200. I reached out to fellow elitefts members for some direction and input the week leading up to the competition. Like gems, several shared valuable feedback that mostly centered on leaning back more on the continental and actually using leg drive. Expert advice: check. Now to translate and perform.
Matt prepped me for this event with instructions that 205 would be no problem and that I would likely nail 215 for my final attempt. Unfortunately, he wasn't there and self-doubt came into play. A zero would destroy me and the pro card would be completely off the table, but middle of the pack I could recover from. I went conservative. Way too much so.
---
MORE: Building the Perfect Pressing Platform — From Feet to Shoulders
---
My attempts were 175, 185, and 195 pounds. They were all successful and without issue. My overly cautious approach seriously cost me on this event and I ended up in fifth place out of eight women. First place ended up with a beautiful 225 press. Second and third were at 215 pounds. My strategy was bad and knew I had to start making up the point spread. 
Max Axle Deadlift, Straps Only, Three Attempts
My mind was locked in and I knew I was going to win this event and start upsetting the point spread. Three of us waited to jump in after the other five had completed their attempts. My first attempt was an easy 425 and I sat out a 445-pound attempt. 465 pounds was great and I locked in mentally that 505 pounds would be my final successful lift without issue. The last other competitor's final attempt was 485 pounds with a miss, so I jumped in with a successful 485 pounds for the event win. The bar pulled out in front of me a bit but I was able to recover and win the event.
Conan's Wheel – 400 Pounds
I was able to go last on this event and was fully prepared to go the long haul. Training was good on this. The conditioning and strength had come along decently and I expected to be near the top on this event. I also knew there were two highly conditioned athletes competing that would push all of us to our personal boundaries.
First place on the event was somewhere before four revolutions, so four revolutions was the distance to beat in my mind. I made a rookie mistake and picked the arm up over my chest rather than below, which would have allowed for a little bit better breathing. I only hung in there for a bit over one revolution and dropped it. My chest was crushing in on me and I should have known better than to make stupid mistakes. I took fifth place in this event but was feeling okay because competitor points were all over the board. I could recover. 
Yoke – 500 Pounds (60 Feet Down, Turn, 60 Feet Back)
Yoke is typically a stronger event for me. Unfortunately, I only had a few yoke sessions to prepare and haven't done yoke in what feels like years. In training videos, I looked like I had a peg leg on my left side (my bad knee) and worked hard to maximize training time to fix the issues as best I could. I estimated conditioning would be the concern since 500 pounds is on the light side of a yoke run. Sadly, I only took fourth place in this event for being a slow 34.72 seconds and from getting a two-point slide penalty (this is my guess, based on the original time I saw written down). Either way, the two seconds didn't matter, so I didn't question it.
The point spread was upset each and every event, so scores were all very close to one another. It was crazy. My girl Lacy took first in this event with 29.41 seconds! It was so exciting to watch her do so well and show the progress she's made with her conditioning and speed. We are very open with our training numbers, and coming into the competition she was my first concern because she was excelling in the areas I was struggling in and her maxes were above mine coming into my prep. Like a true bestie, she saved the day for me coming in first on yoke, further mixing up the point spread.
Stone Over Bar – 200 Pounds, One Minute
The scores were literally all over the place. I was sitting in fourth place coming into the event with only 2.5 points separating the top six competitors. It was nuts how crazy the scores were but winning was still possible for many of us. I had to go middle of the pack on this event. I have a large amount of experience competing with current pros, including my training partners. My mindset 13 reps as the number to win the event.
It was do or die. I completed nine reps that made it over the bar. Two reps slipped off the bar and I knew I left the door open to be beaten. My load was okay, not spectacular. While it looks awesome, the one-motion loading technique has been born out of necessity with my knee issues. The plan to manage the pain and issues from it is to avoid as much bending and stress on the knee as possible. Sometimes strongman doesn't make that so easy. The two dropped stones were short in that final extension — a result of the one motion load. My training mostly focused on conditioning with a 170-pound stone to avoid more stress on the knee and that plan was pretty effective transitioning to the 200-pound stone.
After my turn, I could only think I did the best I could on that event for that day and I should come to competitions better prepared than this last-minute stuff I've been doing the past year. I'm better than this and was angry with myself for leaving the door open as wide as it was. After each competitor's turn after me, I became more hopeful that nine reps was enough for the win. Four ladies tied with seven reps each and I ended up winning the event and the overall competition —and my pro card!
Final Thoughts
Lacy competed two weeks prior to this competition with a dominating win, and at this show she took third place with 27.5 points. Second place with 28 points went to Dani Vajii, a very new competitor with a beautiful press and impressive conditioning. I came in first with 29 points. This competition was crazy close and a nail biter until the very end. It's exciting to see the changing nature of strongwomen competitors and be reminded how critical the conditioning and speed pieces are for HWW in order to be successful.
I know what it takes to compete with the pros. Prior to the end of last year, we've been competing against one another for a very long time and without opportunities to diversify the competitor pool. In order for me to be competitive at the pro level, I need to be focused and committed to working in the gym on a consistent basis. The package I brought to Dallas is not on par with the performance required at the next level. The package I brought was enough to squeak out a win and earn my pro card.
It was such an honor to receive my award from the lovely Jill Mills. She will always be the icon of strongwoman and is the OG Pro Strongwoman. Jill pioneered a trail for many generations of female athletes and has been the pinnacle of what many strongwomen aim to be. I truly appreciate all of Jill's kind words and support throughout the day, it helped pick my spirit up and keep me in the game until the bitter end. Jill's still going strong and continues to lead by example. Thank you, Jill.
---
Finding Strength: Tyson's Playground
---
Bryan Barrett, Scott Brockelman, and all of their people did a fantastic job running this competition, from check-in all the way through to the bitter end. The entire competition was flawless, on point, and fun. Thank you so much for all of your hard work, dedication, and support of strongman. These guys don't seem to stop and are constantly out there promoting and doing awesome things. Thank you! Definitely check out some of their competitions. There are plenty of them out there!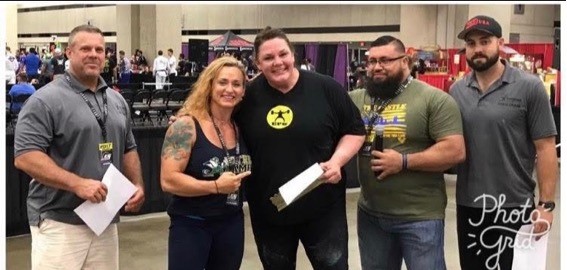 Mission Accomplished
My first competition was thirteen years ago this month, June 2004. It feels like a lifetime ago and in many ways it was. I would haul Mojo—then an infant—and her bouncy saucer thing out onto the sidewalk to enjoy the outdoors while I trained. This fall she starts high school and can start driving in the spring. Magnus hadn't even started school when I first competed and here we are, entering his senior year of football and knee-deep in the recruiting process for kicking in college. Their entire lives have revolved around strong mom, competitions, and pushing to their limits.
I'm oddly amused that over the last ten years, literally a full decade, others have found me to be such a personal threat and a danger to their own sense of self-worth that countless attempts have been made to undermine me through negativity, lies, talk behind my back, creating drama before competitions, and attempting to be a negative force without even having contact with me. When I get a call or text asking a question or sharing information in this arena, I end up laughing. Amusement quickly turns to sadness for others. My time is precious. Spending valuable time listening about others insecurities is not how I choose to live my life or to be as an example I want to set for my own children and their development as athletes and people.
Life is short and our careers as strongwomen are even shorter. Strongwomen should be celebrating one another along the beautiful journey of strength, dedication, and etching the way for future strongwomen, athletes, moms, daughters and professionals. In my small corner of Idaho, I am so fortunate to have training partners, friends, and supporters who do exactly that. It isn't a fluke that we are all now pro strongwomen in such a limited geographical area like Idaho. Thank you, JoAnn Hagadorn, Rachel Pyron and Dani Schwalbe. We have all accomplished something very special, but the most important accomplishment is always being a positive athlete and supporter of those who share the same love as us.
At the end of the day, I am a 44-year-old teacher, business owner, and mother who won her pro card wearing her 17-year-old son's shoes to compete in. That's pretty cool. I'm so proud to finally have achieved my original goal in strongman and to continue the example to my kids that hard work and time in the saddle pays off. While I am not at all pleased with my preparation and performance, I won my pro card. That was the goal and I accomplished that.