Build Strength at Raleigh Barbell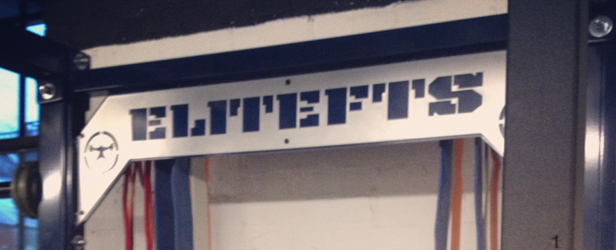 The Elitefts.com™ V.I.P. Gym series will provide some valuable insight from owners of the top training facilities in the country.  These entrepreneurs have made tremendous sacrifices by starting their own businesses, where creating the culture is as important as providing the space and equipment.
Who are the individuals most responsible for helping you open, maintain, and operate your own facility?
I am very fortunate to have an uncle who saw my passion for strength and conditioning and stepped up, providing me a space to renovate and turn into a gym which is maintained and operated by myself and my best friend/training partner, Mason Tranbarger. Since I also work as strength and conditioning/football coach at a local school, Mason has been an integral part of keeping the ball moving and allowing me to also take on larger training groups while still providing high-quality sessions.
What is the size & basic layout of your facility and what equipment do you utilize?
Raleigh Barbell is 860 square feet with a garage door that allows access to the parking lot for sled and prowler work while the interior is filled with a collegiate squat rack, competition bench, 45- degree back raise, and many other essentials for a good strength and conditioning facility. We have about every bar that elitefts™ sells. I have the equipment spaced out against the walls to allow floor space for my group personal training classes, indoor prowler and rope work, as well as the convenience of just not having clients bumping into each other the whole time. Many times our powerlifting team is also utilizing the space during classes.
When did you open your facility and what motivated you to do so?
I opened my facility on March 18, 2013 while acting like a kid on Christmas morning unloading and assembling all of the equipment that had arrived from elitefts™. I was motivated to open on this day because I had always dreamed of having my own facility and at the time I was working at another gym that brought me on to extremely hard times with no signs of picking up or ownership taking steps to improve the situation. For many years, particularly while working in a club gym during graduate school at Kentucky I read up on the successes of gyms such as Defranco's or Juggernaut,  and was very lucky to spend some time training at J&M Strength and Conditioning in Lexington. This time in my life truly ignited the fire for wanting to have my own business while at the same time educating myself to the fullest on how to have a successful business in this field.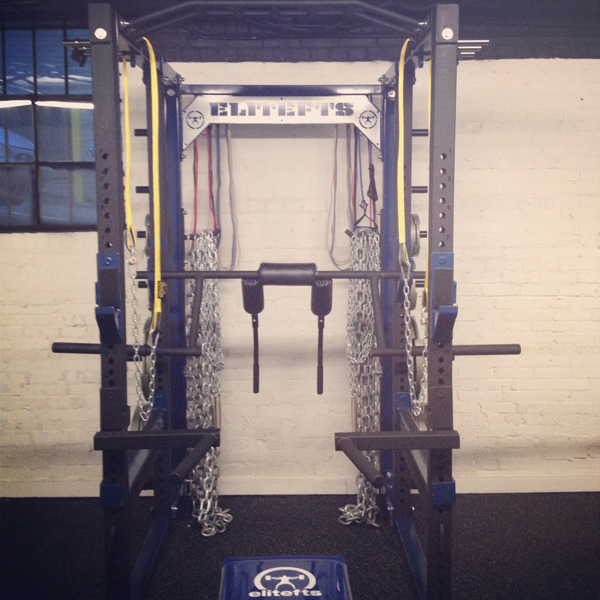 Where is your facility located and what is your basic demographic?
Raleigh Barbell is located in downtown Raleigh, NC in an area known as Glenwood South. Our physical address is 745 West Johnson Street, Suite B. Our demographic is somewhat far from basic because I train kids as young as 13 all the way up to adults in their mid-60s. I host group personal training classes, sports performance classes and one on one training, along with having a very close knit and serious powerlifting team. During peak hours, it is not unusual to see group personal training class, sports performance class, and the team all lifting at the same time. I've found this builds a great family atmosphere because we all support each other and help one another in every aspect of what we do in the gym.
What is your basic training methodology and what drives your programming for your athletes and clients?
My methodology is that everyone, regardless of age, training experience, goals, etc., should properly learn to push, pull, and hinge, while also incorporating basic core strengthening such as planks, heavy carries, and diaphragmatic breathing exercises. All are very key components of what drives my training programs and have led to nearly every one of the 40 plus people who train at Raleigh Barbell to gain dramatic improvement from the day they walked in the door. Rather than using cardio machines, we push/pull sleds, use kettlebells and ropes, and incorporate short metabolic circuits to achieve the desired result. I strongly believe that people can look better, feel better, and lift at a high level without having to destroy their bodies every time they enter the gym.
Final Thoughts?
I would just like to reiterate how fortunate I feel to have the opportunity to own and operate Raleigh Barbell. I will continue to give everything I have to my clients and team. I will not rest until I own the greatest strength and conditioning facility in this region. I would like to thank my Uncle Bobby for helping me get my start, my Mom, Dad, Carson, Lauren, and Amanda for the continued support. I thank my clients for trusting me with their bodies and continuing to work hard towards their goals. I also thank my teammates: Mason, Hunter, Josh, Chris and Keven who are great competitors, great friends, and awesome representatives of my gym.
Loading Comments...