Getting A Bigger and Better Weight Room on A Small-School Budget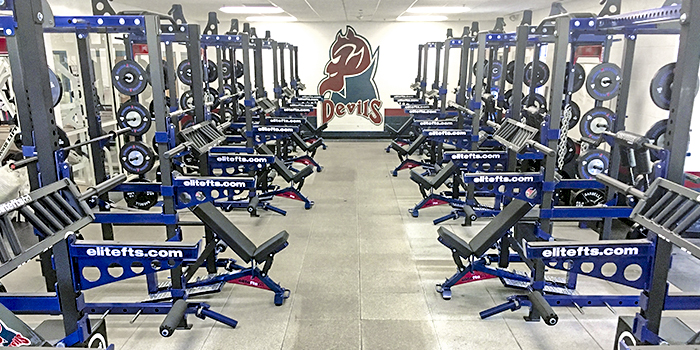 Written by Sydney Schulte & filmed by Josh Goedker
---
"AJ Mott, strength and conditioning coach at Fairleigh Dickinson University in Madison, New Jersey."
Athletics have always been a part of AJ Mott's life: he's played baseball and wrestled in high school and college — and has been wrestling for 21 years.
He went to college at Grandview in Des Moines, Iowa, where he was on the school's wrestling team, which won four national titles during the years he attended. "It made college worthwhile," he says.
When training athletes at Fairleigh Dickinson, AJ looks at them as a whole.
"The most sport-specific thing you can do is play your sport."
While the athletes are doing their jobs — playing their sports — AJ does this: getting the student-athletes stronger and more durable and more explosive. Essentially, he's molding them into what he calls the "complete package." He does so by utilizing ground-based multi-joint movements and plyometric movements.
AJ's wrestling background influences how he trains athletes now, and athletes see that in his hard-working mentality and work ethic that he instills in them.
He got his start in the collegiate strength and conditioning world with an introduction in Tennessee from Coach Lokey. Then, Grandview's strength and conditioning director Matt Paglia took AJ under his wing and showed him the ropes and built on the knowledge AJ already picked up from Lokey. On top of these experiences, AJ was able to intern at several Division I schools.
Division III Challenges
That said, coaching at Fairleigh Dickinson, a Division III school, does have challenges that Division I schools do not have. Budgeting, understaffing, and understanding the kids are there for the love of the game, not for scholarships are the top three challenges AJ consistently faces.
"It's really tough for me to understand that, but it makes me a better coach for it."
But knowing the kids are there because they love it does make parts of the job better. It's not a task to get them to show up at a 7 a.m. weightlifting session, and they'll do what it takes to become the best they can be.
Still, being understaffing presents a challenge. He's responsible for 19 teams and he has one grad assistant. All programming duties are on AJ's shoulders, which he then passes on the more direct work to his assistant.
"We may be understaffed, but it keeps me busy. Busy is a good thing."
Small School Budget? No Problem
Despite the budget issues, AJ was able to get better equipment from elitefts for his athletes. He recommends to anyone who's trying to work within a budget at a smaller school to get the administration on their side. Luckily, he has a supportive AD, administrative office, and board of trustees at Fairleigh Dickinson. He met with them every year and kept talking to them about upgrading the weight room and suggests others in his position do the same.
"Sometimes it's a bit of a political game, and you've got to play it, but as long as you're in their ear and showing what you're doing and the positive influence you can have on these kids, there's no reason why they cannot support you."
Accelerating Athlete Performance
Getting the athlete to the best place possible requires four things, according to AJ:
Having the mindset of going to the top and no one is going to stop you.
Putting in your work. Go by the 10,000-Hour Rule. Realistically, you're not going to hit those 10,000 hours, but you should train like you will.
Holding yourself accountable. Accountability spreads from one person to the rest of the team.
Work ethic. Even if you don't have the best skill set, you can use hard work to your advantage. Try to keep getting better — it all starts in the weight room.
Dear Past AJ...
AJ's been in the strength and conditioning field for quite some time. He's not the most seasoned coach, but he's spent a good chunk of time out there.
Looking back, he would probably tell himself to stick to the basics. Stick with what he knows and stay with it. Don't try and chase different things. Don't chase numbers. Keep the kids healthy. Listen to the kids and understand them, what they like and don't like, especially at this level. Listening is the top priority.
He stresses these concepts not just for his younger self, but also to any other young strength and conditioning coaches out there, or even those getting into the field.
"Just keep your office door always open for your kids. That's the best thing because constant communication will build that trust and hold your kids accountable. Expect more from them because their trust will go up when they find you hold them accountable. That's the biggest thing. At the D-3 level, you want to take kids and make them better people. They're not going to earn a sports contract, so it's getting them to become a better person, getting them across the stage. If they don't graduate, they're worthless. I feel like I fail them if I don't do that."
Less Olympic Lifting, More Conjugate System
Strength and conditioning coaches reading this, don't @ AJ. Or beat him up just because he cut down on Olympic lifting.
With the older equipment, they were strapped to Olympic lifting. But now, with elitefts coming in to redo the weight room, that's a thing of the past — or at least something that AJ doesn't have the kids do nearly as much.
"We've seen numbers skyrocket just from using the conjugate system and training heavy with my kids. They love it."
Redoing the Weight Room
As elitefts Equipment Sales Director Matt Goodwin and Nate Harvey installed the new elitefts equipment, AJ told them about a sleepless night as he worried about the company Farleigh Dickinson administrators would choose to rebuild the weight room.
AJ remembers thinking, Damn, I really hope it falls through. Rather than sleep, he just stared at the ceiling and hoped that things would fall through with this particular company and that elitefts would get the bid and the opportunity to rebuild this room. He knew elitefts would make it the best he'd ever seen, plus it tailored to his conjugate style of coaching.
And it did. The other company fell through and elitefts got the bid.
"It came down to the wire, but it all got approved, and I couldn't be more happy with how it came out."
Working with elitefts
Once elitefts got the bid, AJ worked closely with Matt. He shared what the other company put together and asked what he could put together with this budget frame.
"It turned out to be pretty close if not better than what this other company had, and it turned out to be better."

---
Some elitefts Equipment at Farleigh Dickinson
---
Loading Comments...