Motivation, Powerlifting, Video
My Recap of the First OBB UGSS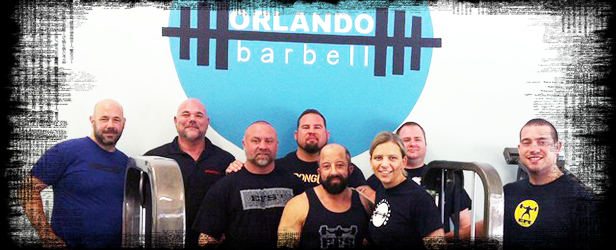 Thank you Dave Tate for making the trip to Orlando Barbell and for making this all possible. I was happy to hear you had many new experiences over the weekend. I hope you can continue to make the trip down. Thank you Bob Youngs for helping me get on the elitefts™ team to begin with and for this great idea to keep the camaraderie going. Thank you to the Florida elitefts™ team: Adam Driggers, Brian Carroll, Chad Walker, Gabe Naspinski, and Jo Jordan for making the trip to train at OBB. Thank you to the OBB team members who joined us as well. I hope this is the first of many more.
I'm pretty sure this all got started a few weeks ago when Bob Youngs saw a video of Big Chad Walker deadlifting. He set out on a mission to correct his form. At the end of the day on Saturday we all agreed that Chad still had bad form, but he did have a new raw PR 800-pound deadlift!
After everyone arrived on Friday night we headed to Texas De Brazil, at Brian Carroll's request. This may seem odd, but it turns out he works there! Well at least it looked like it did as Ria pointed out. Chad was the clear champion for the night on food consumption.
In preparation for the OBB UGSS, Trinity and I spent over nine hours on the fourth of July vacuuming and steam-cleaning the carpets and mats, deep cleaning the whole gym, only to walk in on Saturday morning (an hour before everyone was set to arrive) and have the air out (which pretty much negated any cleaning we did once the sweating began). Although I've had ongoing AC issues since opening Orlando Barbell, after adding an additional air intake a few months ago, it worked fine. Well, it leaks into a big Tupperware bucket underneath the coils that we have to empty twice a day, but at least it doesn't freeze up anymore. I checked the coils to see if they were frozen, which I could thaw to re-start the AC, but unfortunately that wasn't the issue. I knew this couldn't be good. I'm not one to believe in Murphy's Law. I'd rather believe in Karma.
Luckily I had trained Nate Moon, part-owner of an AC company, who is looking to compete as a powerlifter. At the time, I had explained our situation to him and he said he'd check it out. Well he got his chance sooner than expected. He checked it out and found out that the compressor was shot. He wasn't able to get a used compressor in until Sunday, so in the meantime he brought in portable AC units, which helped a lot. He was a huge help and am sure I would probably still be waiting for a new compressor if it wasn't for him. Thanks Nate, and thank you to the elitefts™ team with their patience in this situation.
I hadn't been in full gear since November, but thought this would be a good opportunity to see where I'm at. I'm certainly not at my best right now, but thought I would shoot for somewhere between 80 to 90 percent of my projected maxes. That's right where I ended up.
Equipped Squats
Mastodon- 150x5, 260x3, 350x2
Ace briefs-440x2, 530x1
Jack suit, straps down- 600x1, 670x1
Jack suit, Straps up- 710x1
Equipped Deadlifts
Ace suit, straps down- 135x3, 225x3, 315x2, 405x1
Ace suit, straps up- 495x1, 545x1
Thanks to one of my training partners Louie C, I've been focusing on staying on my heels when I pull. Although it's not a lot, the 545 actually felt much easier than I expected. I was impressed with how well Adam and Jo did while recovering from their injuries. Big Chad moved 800 pounds easily!
Saturday night we headed to the Tilted Kilt to watch the fights. We had a great time and got to hear some great stories from Dave, some of which Bob had to pry out of him. I was happy to see the arrogant Silva finally go down.
Equipped Bench
Flat Bench- 95x5, 135x5, 185x3, 225x2, 275x1
Foam pad-315x1
DD-405x1/2
3-board-495x1
2-board-525x1
That was about all any of us could handle after two days of heavy lifting in the heat.

Loading Comments...