Motivation, Powerlifting, Sports Performance, Training
Strength Czar: An EliteFTS Roundtable Discussion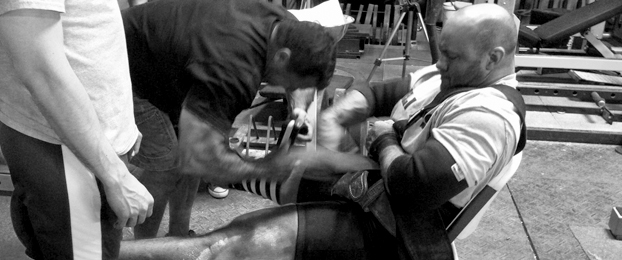 With James Smith, Mark McLaughlin, Tom Deebel, Jim Wendler, Travis Mash, Julia Ladewski, C. J. Murphy, Matt Brand, Nick Zostautas, Kevin Deweese, and Tim Kontos.
Here's the scenario…
You've been anointed the "Strength Czar" and have been given the power over this entire industry. If you tell the world, "You have to eat dung to get strong," everyone will believe you.
With this power, you have the opportunity to supply each coach or trainer with three things that will make them better, improve the industry, and help athletes. These three things can be anything you want—physical objects, mental characteristics, or physical characteristics—and you can use any combination of the three.
So what three things would you give people in this industry to make them better? Anything is fair game.
James Smith: Intensive lessons in learning to speak Russian and read Cyrillic, a plane ticket to Russia, and paid tuition to one of these institutes:
·        Velikoluzhsky State Institute of Physical Culture
·        Volgograd State Institute of Physical Culture
·        Moscow Region State Institute of Physical Culture
·        Omsk State Institute of Physical Culture
·        Saint-Petersburg State Institute of Physical Culture
·        Smolensk State Institute of Physical Culture
·        Russian State Institute of Physical Culture
·        Khabarovsk State Institute of Physical Culture
·        Chelyabinsk State Institute of Physical Culture
Go to the source. I will do this myself before it's all said and done.
Mark McLaughlin (Performance Training Center, Milwaukee, Oregon): I would ban organized year-round sports for children ages 6–13. Physical education would be provided in all schools five days per week and would follow the PASM model. High school sprint coaches (60–200 m) would be required to take a class from Charlie Francis explaining to them that running a "speed ladder" consisting of 600, 500, 400, 300, 200, and 100 does NOT develop speed! If they were still performing these after this education program, they would be exiled to a life of working with fitness guru, Richard Simmons.
Tom Deebel: Find a few people better than you and hang with them. If you want to learn how to shoot, find a marksman. If you want to be a chef, learn the basics and then become an apprentice. In the old days (1800s and before), much of modern medicine was run using the master and apprentice model.
I would make everyone get a formal education and learn biology, nutrition, kinesiology, anatomy, and strength training theory and practice. This is where James' idea of going to Russia would come into play. Then everyone would learn first aid and how to treat injured people. They wouldn't need to be educated at the level of a medical doctor, but they would need to be well versed in orthopedics, some type of myofasical work, and the more advanced stretching techniques like those found in Ann Frederick's work. Only then would they be allowed to hang and start learning.
One of my biggest pet peeves is when people advise clients to do things that will cause injury. I wasn't allowed to work on people until I had jumped through certain hoops, and the same should go for someone who will be physically leading, training, and guiding another in the strength field. This might sound contradictory, but you need formal work as well as field work to be effective. You can't neglect either.
Jim Wendler: I think a coach has to have competed at a high level in sport. This should be at least equal to the sport that he or she is coaching. Why? Because the coach needs to understand the situation that each athlete is in and how everything impacts them. There's much more to training an athlete than sets and reps. The coach has to know everything that the athlete is going through, and the best way to do this is to experience it for yourself.
Coaches also need to know how to communicate. This is the number one thing that makes a great coach. And this doesn't just mean verbal communication. It also means that coaches have to have a sense of humor. "Lighten up, Francis." Take your job seriously but not yourself.
Travis Mash: A coach would have to participate in a mandatory weekend course with a different strength coach every six months, and the strength coach would have to be chosen from a master list that I would provide (e.g. Louie Simmons, Pavel Tsatsouline, Martin Rooney, etc.).
X's and O's are great when you're trying to impress a group of college kids and convince them to pay you ridiculous amounts of their parent's money. You can teach them about tempo, ancient Chinese diets that will up your GH levels, and give blood tests that will tell you exactly what to eat in order to operate at superhuman levels. But when it's all said and done, lift properly, lift explosively, and lift heavier as time goes on. This isn't rocket science. Just learn to try new things, and keep what works. If you can't bench 315 lbs, you can't teach me to bench 600 lbs. If you can't run a 4.9 40-yard dash, how are you going to teach me to run a 4.3 40-yard dash? If your vertical is 20 inches, find a new job.
Julia Ladewski (University at Buffalo, Buffalo, New York): Learn from other coaches. To go along with what Travis said, everyone should have to spend time (a day, a weekend) with other coaches. We can all learn something.
Know your athletes. Over the years, I've realized that the more I know my athletes individually as people, the better response I get from them. Take the time to have casual conversations and get to know them.
Read or learn something every day whether it's an article, a new exercise, or something else. I always find something when I'm going through old articles or stuff from other coaches. We forget half the stuff we learn so learn something every day.
C.J. Murphy (Total Performance Sports, Everett, Massachusetts): Intern and mentor with a good coach. The coach doesn't have to be well known or a leader in the industry. Everyone needs to be exposed to a wide variety of training. This isn't limited. There are so many areas that people can learn from, and it may mean exposing yourself to something that you're not comfortable with such as yoga, martial arts, bodybuilding, or powerlifting. You have to be willing to look outside of your comfort zone. Every coach or trainer must be a competitive athlete or had been at some point in their career. However, this doesn't mean that he or she is a professional athlete.
Matt Brand (Lafayette College, Easton, Pennsylvania): Athletes are responsible for their own success. Every trainer and strength coach has to understand (as do the sport coaches who expect you to work miracles) that you can have the best plan and everything on target, but much of the responsibility falls on the athlete. If their minds and motivation are lacking, it can be very difficult to get any results.
Every strength coach and trainer needs to have experienced the training himself. A coach has to have experience failing at lifts and know what a lift feels like. This will help him coach better and get into the athletes' minds. Also, by training, he will earn the respect of his athletes. Have enthusiasm and a positive attitude. This will be reflected in the athletes. Negative criticism, yelling, and screaming aren't the best ways to influence and motivate most athletes.
Nick Zostautas (Northwestern University, Evanston, Illinois): You must have an athletic background. You don't have to be a Heisman Trophy winner, but it helps if you understand the competitive nature of athletes. This isn't going to ensure success, but it will go a long way in earning your athletes' respect.
You must have practical knowledge. You can read all the books that you want and attend all the seminars in the world, but none of it compares to getting out there and actually coaching. You can develop this practical knowledge by mentoring or interning with another well-established coach. Don't be bullheaded. You must be open to new ideas and listen to other people, even if they don't prescribe to all of your training ideas. Look outside for answers.
Kevin Deweese (Morehead State University, Morehead, Kentucky): All coaches or trainers must have competed and trained for a competitive sport. This is essential if you want to know how training and competing coincide. You'll have a better understanding of what all of your clients or athletes are going through. You don't have to yell to be a good coach. Communication and positive reinforcement will have much more of an effect than acting like a drill sergeant. Understand and account for the stresses of your athletes. Too many times we fail to realize that while this is our job, this is only one part of your athletes' lives.
Tim Kontos (Virginia Commonwealth University, Richmond, VA): You have to have competed in some sort of strength sport. This could be powerlifting, Olympic lifting, bodybuilding, arm wrestling. It really doesn't matter. This is what you're coaching so you need to experience strength.
I would also enforce some kind of CEUs. You have to continue to educate yourself by watching other coaches, reading, and attending seminars. You can't become stale in regards to your education. You have to be willing to get feedback from your athletes. This is what sport coaches do. It's hard to put your entire trust in young athletes, but you must be willing to listen to them and understand how and what they're feeling.
Loading Comments...