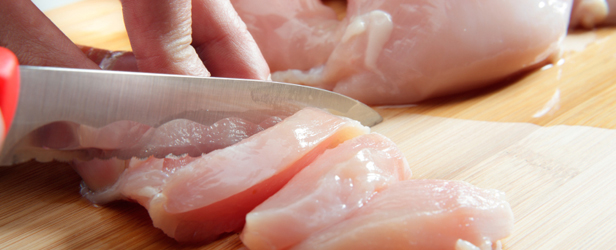 Chicken is the most used protein source in the diet of the average lifter. Why? Because it is a low-fat, low-carb, and practically a pure protein source with a mild flavor. This allows for a number of different flavorings, marinades and rubs to provide variety in your chicken prep.
Some might say it is a bit far-fetched to call this a recipe because it's really just a list of ingredients. This is something I use for lunch quite a lot and vary it based on what's in-season or in my kitchen. I prep for three days' worth of meals. If you get to a fourth day it starts to smell a little ripe. Anyway, here's the ingredients for this particular version. Add and take away whatever you want from the veggie list. The only word of warning would be not to use "soft" veggies like cabbage, as they don't hold up that well when baked. I use chicken because it cooks in about the same time as the vegetables. Rabbit or any game fowl would be good too. You could also use beef, pork, venison or the like, but I would suggest braising it first so its nice and tender. The addition of the chorizo sausage gives this combination a smokey taste, something I think you'll enjoy.

Ingredients:
3 chicken breasts or 6 chicken thighs
1 carrot
4 beets, pre-cooked
1 onion
1 handful green beans
1 cup mushrooms
1 small chorizo sausage
1 teaspoon thyme, dried
1 teaspoon chilli flakes
Directions:
Chop everything into chunks and throw it onto a baking tray with a slug of olive oil to loosen it up. Bake it in the oven for about 45 minutes at 350° Fahrenheit. Once cooked, let it cool and split it into batches. Refrigerate and enjoy.