Featured Gyms, Success/Business
Our Gym, Our Destiny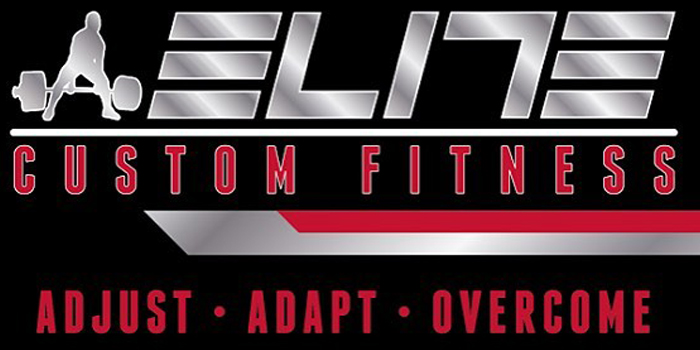 A couple of weeks ago, my wife and I had the opportunity to listen to John Meadows speak at an elitefts event. At the beginning of his presentation, he asked the group if anyone believed they had a destiny in the fitness industry. Of the entire group, only one other individual and I raised our hands.
---
RECENT: Our UGSS Experience with John Meadows
---
When I was called upon to elaborate on my destiny, without hesitation, I exclaimed that I knew I was meant to help as many people as I could through training and fitness, and the only way I believed that was possible was through opening my own gym five years ago.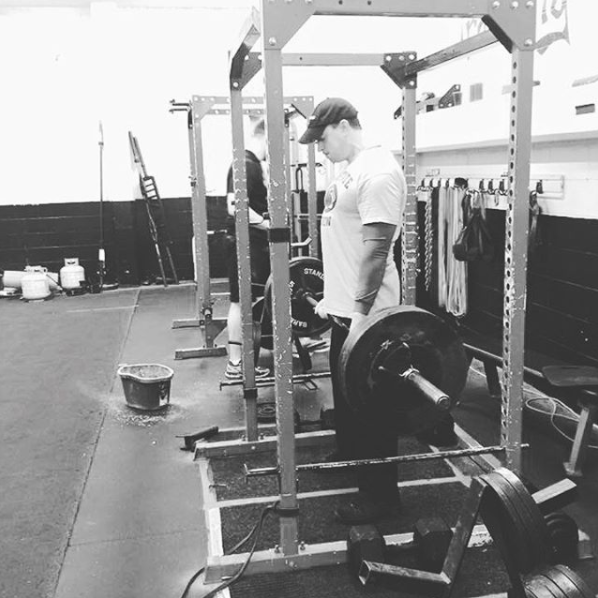 Looking back on it now, making that decision was one of the scariest and riskiest things I have ever done. I was young, had no experience or education in running a business, and had a lot of odds against me. On top of that, people had a lot to say about my decision.
"Small business' don't make it past five years."
"The economy is in the shitter."
"You'll never make it out of debt."
Trust me when I tell you that people gave me every reason to believe that I was taking too big of a risk, but I didn't let that stop me. If anything, all of those people fueled my fire and motivated me to work even harder toward building a successful business. Like Muhammad Ali once said, "If your dreams don't scare you, they aren't big enough." Fast forward to the present, and guess what? We've made it to five years and counting, with the business better than ever and continuing to grow every day.
---
RELATED: 3 Business Lessons from My First 5 Years of Gym-Ownership
---
How did we get here? Well, that story is what makes this gym so special.
Let's rewind back to the very beginning. I was the typical 23-year-old with zero money. I was working for a training facility here in Pittsburgh as a trainer and it didn't take long for me to realize that my philosophy and theirs couldn't have been more different. Day after day, groups of people would come into the facility to receive training and no one was getting better.  Seeing the lack of growth in the clients not only frustrated me but got my mind running on how I would train them differently if it were my facility. It didn't take long for me to put in my two weeks notice and attempt to start my own training business, but reality quickly hit me when I realized I had no facility, no credit, and no income to get anything started. Thankfully, I found a gym called MAC Fitness that was in the area, and Joe and Jane Divosevic, who allowed me to train some clients to help build a client base before opening my own place. I cannot thank them enough for the opportunity and for teaching me so many things while I was there. Watching what they did with their clients and their business really taught me how hard I needed to work in order to open up a place of my own.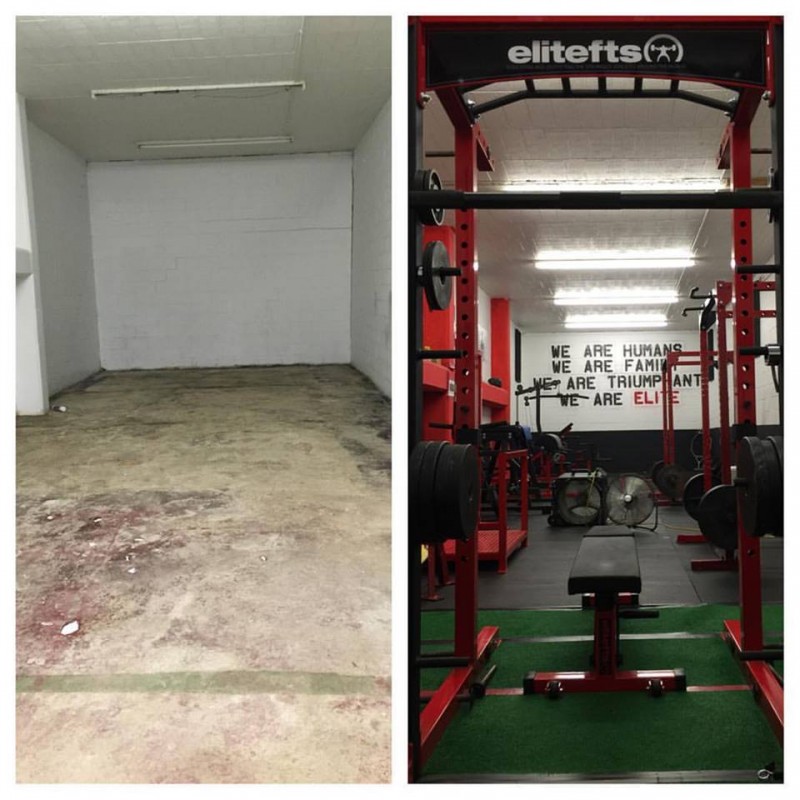 About a year later, I had established a small but solid client base that I was training consistently out of MAC Fitness. Conveniently, I met a guy named Gene Walter who owned his own business called The Pennsylvania Golf Academy, a two-level driving range. He was looking to add a training facility in his basement and wanted to show me the space to see if I was interested. It was a 1,200 square-foot open space with no insulation, heat or air conditioning, and cinder block walls. Most people probably would have hated the idea of having to work out of space like that, but I loved it. Even though I was ready to say yes immediately, I called my dad, a business owner himself, and crunched the numbers. Mind you, although I had some money coming in from training clients, I still had no credit and not near enough capital to really get this business started right without some help. After explaining my business plan to my dad, he agreed to give me a $5,000 loan. Without his help, I would not have been able to make my dream a reality when I did, and because of that, I cannot thank him enough.
Without any hesitation, I got straight to work on preparing the space as I had always envisioned it would look. Just as quickly, I found out that $5,000 doesn't go as far as you'd think when you are talking about gym equipment. After paint and flooring (turf and rubber matting) to cover the 1,200 square feet, I had about $1,000 left.  Thankfully, I met a guy on Craigslist who refurbished old equipment and sold it for a reasonable price. He worked out a great deal with me and with that $1,000 I was able to purchase a Prowler, one squat rack, some dumbbells, a few kettlebells, and one flat bench. It wasn't much, but it was enough to get me started. And believe me, I would make a huge difference with those few pieces of equipment. Like I have always believed, it's not about having fancy equipment or facility; it's about the connection you make with your clients and how you can teach them. With that thought in my mind and my first willing client, I opened the doors of my own facility for the first time in April of 2012.
Looking back on it now, just like I was taking a risk moving to my own facility, the clients I had that followed me to the new facility were taking a risk with me as well. For that, I cannot thank them enough, because without them, Elite Custom Fitness wouldn't have started to grow like it did. Like I mentioned before, I did not go to school for business, but I learned a lot about business from my clients — simple things like keeping low overhead and not spending more than you make each month. Although it seems pretty simple, lots of people run themselves out of business because they forget those simple things and get ahead of themselves. Well, because this business meant so much to me, not only personally but also financially, I took their advice to heart. I trained my clients to the best of my ability with the equipment I had and with every new client, I was fortunate enough to make a little more money, and I bought a new piece of equipment.
Believe it or not, within a year we were ready to expand. I asked Gene if I could knock down the interior wall in the basement to give me another 600 square feet. With his approval, I knocked down that wall, renovated the space to match our existing space, and bought some more equipment. At this point, I didn't need to take out an additional loan, and owned essentially everything in the gym, which was a huge plus. Another plus was that our client base was continuing to grow and the facility was running flawlessly. At least that was the case until July of 2014. This next part of our story was a time when everything in me was telling me that there was no way I could recover.
That fateful day is now referred to as, "The Great Flood of 2014." On that day, the rain seemed to be never-ending and conveniently on that day, the main storm drain on the property collapsed. With the gym in the basement of a driving range, it's easy to guess what happened next. It took a while before I realized the impact that storm drain would have on the gym, but I had a feeling something might happen if it continued to rain, so I spent the night at the gym. Good thing I did, because eventually when the excess water built up underground, the only place for it to go was to funnel into the gym. I woke up to water rushing into the cracks of the doors. In a panic, I tried to open the door, but there was so much water on the other side that I couldn't get it open. Thinking on my toes, I realized I needed to move everything electrical as high as I could. By the time I got that done, the water was up to my shins and I knew I had to get out. I took a running start and simultaneously turned the doorknob as I ran into the door and I was able to weasel my way out. As I sat and watched the water continue to flood into the gym, I felt completely devastated and sick to my stomach. There was nothing I could do but wait for the rain to stop. At its highest point, the water rose to about four, ruining almost everything inside of the gym. You want to talk about a low point? This was it for me.
---
MORE: The Three Best and Worst Parts of Owning a Gym
---
After the flood, I was out of business for three solid months with no income and a whole lot of work to do to get the gym back in working shape. At that point, I wanted to give up. I hated myself and I was depressed beyond belief. All I could think about was the possibility of this happening again. The owner of the property assured me that he was going to fix the problem and I had no other option but to trust him. Every day, while they were digging up the entire parking lot to fix the pipe, I was spending every minute of every day cleaning, drying, and rust proofing and painting anything in that gym that was salvageable. I couldn't have gotten it done without my parents, my client Camille Kersey, and my friend Mark Johns. I can't thank them enough for their help.
The renovation process was long and hard and during that time, I met someone completely unexpectedly, and her name was Jessica Bettilyon. I remember our first date, and she remembers it the same way. All I could talk about the entire date was the gym, what had happened, and how important it was to me. Still to this day, I don't know why she decided to continue dating me, but she did more than just that. It didn't take long for her to offer to jump in and help with the renovation process. I was surprised when she offered, but I was not going to refuse any help because there was a lot of work to do.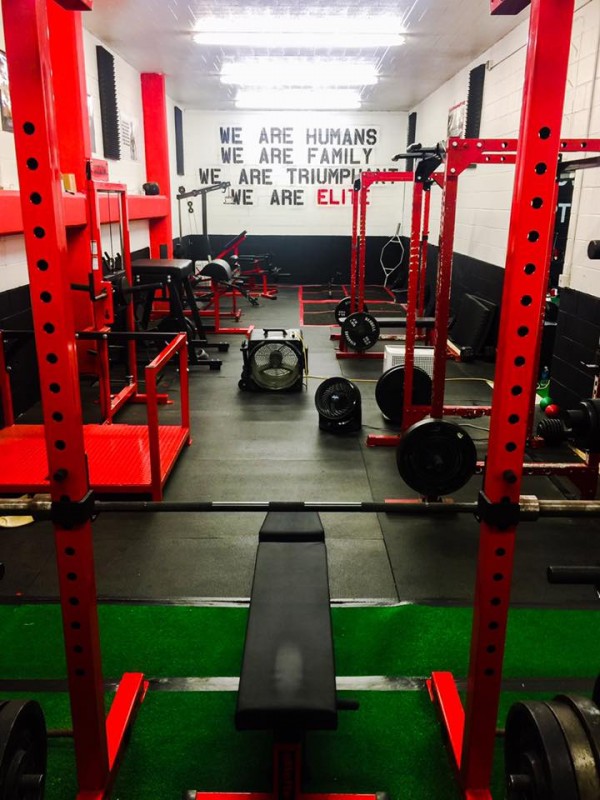 She dove in quickly and helped with repainting all of the plates and dumbbells, as well as the racks and other equipment. It took us an entire day, but she was unbelievable and so willing to do what we had to do to get it done. Looking back at it now, I think that was when I knew I was going to marry her (and guess what? We did just that on July 1 of this year). She was the first person that truly understood my passion and believed in my dreams with the gym and training people, and in our time together, she has helped me build and rebuild since the very beginning. She was the gift I needed to get me through the hardest time of my life. If it wasn't for her, I don't think I would have made it. She gave me the motivation day in and day out to get the gym ready to reopen, and I cannot thank her enough for everything she has done for me. After months of hard work, we reopened the gym in November of 2014 and officially started training clients again. With Jessica by my side, and all of the fantastic clients that stuck with me during the months of renovating and rebuilding, we started to grow again.
It took about two years, but we finally grew our client base to the point where we needed more space. We were ready to expand for the second time. The hard work was finally paying off and we were becoming a brand in Pittsburgh; a place that people knew they could come to get strong, to learn, and also not get screwed out of their money. In April of 2016, we decided to utilize space behind another interior wall in the gym with about 1,000 square feet of dead space that was never cleaned up or fixed from the flood. Needless to say, the space needed a lot of work, clean up, and professional mold removal to make it usable, but obviously with what I've been through, I wasn't afraid of the challenge.
Freddie Jones, my new trainer, helped me out tremendously by helping to remove all of the garbage and cleaning the area. After one full day in HAZMAT suits and covered in dirt and mold, we were finally ready for a professional cleaning crew and the mold removers. Once the room was cleaned and mold proofed, Jessica and I got to painting.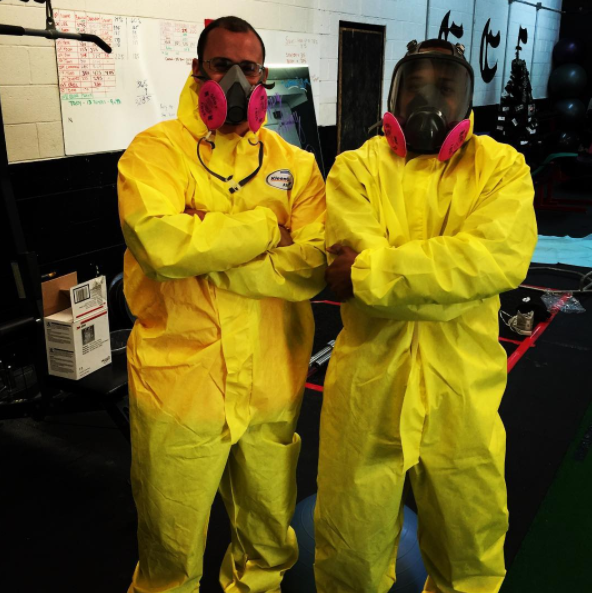 The floor was the last task to attack, and in this case, it was going to be the hardest. The concrete was completely uneven and undulated, and after some failed attempts at leveling the ground (and weeks of lost time), we had to get a company in to pump concrete to essentially lay a new floor. With a fresh coat of paint and brand new floors, the space was ready to be outfitted with new equipment. I wanted this area to be equipped with the best equipment that would help my clients build unbelievable strength. The only way I knew to do that was with equipment from elitefts, but new equipment meant the need for money. I knew if I wanted it to be right I needed a loan, and with the help of a good friend and client Dan Moon (CEO of Slovak Savings Bank), I was able to get a business loan. With that, I was able to purchase a decent amount of equipment (double half rack, belt squat machine, glute ham raise, two more benches, four new bars, a chest-supported row, and a few other items I might be forgetting). By the end of June 2016, the back room was up and running and my 1,200 square-foot gym where I started was now a 3,200 square-foot strength empire.
Currently, we are still growing and making progress, which in the small business world is a success. Looking back on my original goal for my gym, I made it through the first five years of running the facility and growing the business. With everything that has happened to ECF, we somehow managed to make it. Like any successful person, though, I am always thinking of ways to improve; my mind never stops.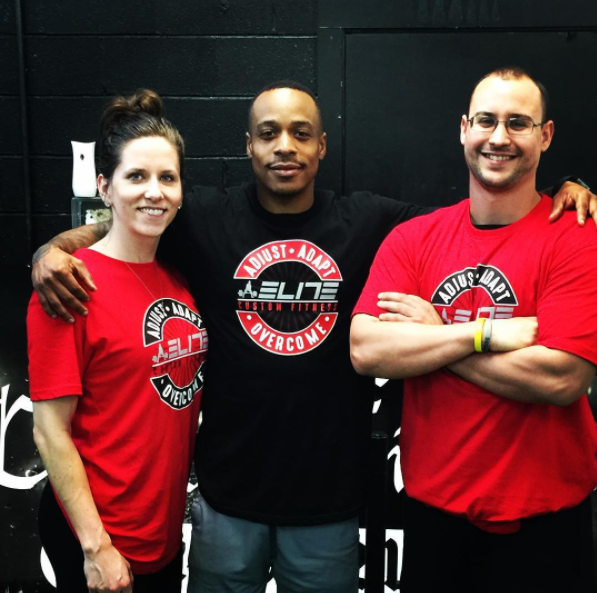 So now, I am searching for my next five-year goal for the gym. I am not sure what that is yet, but I am excited for what is to come down the road. Maybe we'll expand again in the same space? Maybe we'll move into a new space altogether? I have no idea, but I do know that Elite Custom Fitness is not going anywhere, and we are going to continue to strive for greatness with everything we do. Unlike the typical commercial gym, we don't have an exorbitant amount of money at our fingertips to purchase equipment, build ad campaigns, or relocate our facility to a prime location. Our gym continues to grow through our ability to provide an innate training experience, and that is a direct result of the hard work that has been put in, hardships that have been overcome, and the group of supportive clients, friends, and family who believed in me over the last five years. Elite Custom Fitness is a space that has character, grit, and unbelievable passion, and you'll feel it the second you walk through the door — I can guarantee it.
---
Timothy is the owner of a gym in Pittsburgh called Elite Custom Fitness alongside his wife, Jessica, who is a full-time middle school teacher when she is not at the gym helping to train clients and assist in daily operations. Timothy is a certified Strength and Conditioning Specialist with a Masters Degree in Exercise Physiology. Tim and Jessica have both been longtime readers and supporters of Elite FTS, and continue to seek opportunities to broaden their knowledge on how to effectively educate and support their clients on proper training and living a healthy lifestyle.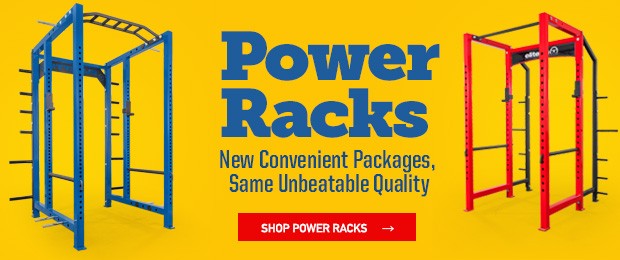 Loading Comments...