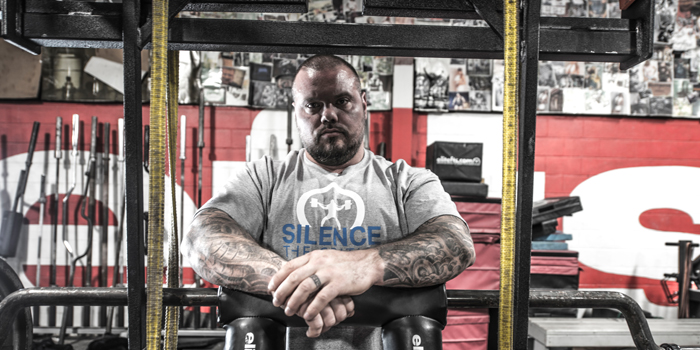 I can vividly remember when I was 13 years old, my father dropped me off at Hard Body, a local gym. I had no idea at the time that this would eventually be something I would do for a living and a lifestyle. I can remember going from machine to machine, having no idea what rep or sets to do, but instead just trying to lift the entire stack on each selectorized machine. It was around this same age that I met some other lifters from the gym and we started to work out together and hang outside the gym as well.
The years went by and a lot of these friends remained steady and became my full-time training partners and closest friends in high school. Playing football and wrestling in middle school and high school, I grew close to a lot of my teammates as well. Some of them would come train with me here and there but a lot were more of what I call "short-term friends."
To better explain this I would need to tell you my mindset. I was (at about the age of 13) shooting to play college sports. I let nothing stand in the way of that dream. Watching some of the nationally televised football games made me fall in love with football. My middle school coach had such an influence on me, telling me how much wrestling would help me in football. I decided to stick with wrestling as well.
I was very fortunate to make friends with a teammate Nick (we still talk, lift, and hang 25 years later) and lift under the guidance of some hardcore powerlifters (the owner of Hard Body at the time was Randy Presswood). Randy Presswood and Nick are what I would label long-term friends in a long-term sport: powerlifting. Starting training at a young age helped me become one of the strongest in the city and area. Bench pressing around 405, squatting around 500, deadlifting around 550 were all done regularly, by myself and others at Hard Body. This was all done raw and while competing in sports. Lifting heavy like this (powerlifting) helped me attain a full scholarship for football to the University of Wisconsin.
---
RECENT: Powerlifting as a Team Sport — The Professional Mindset of Tank's Training Facility
---
During my run at Wisconsin, we still lifted very heavy. Meeting then strength and conditioning coach John Dettmann on my recruiting trip sealed the deal. He was intense and allowed us to go heavy. I remember a year or so into playing there having to rig the dumbbells to make them heavier. They used a crap load of duct tape to make the dumbbells around 180 pounds. The one thing I did wish we did more there was deadlift. For whatever the reason, deadlifts were not performed, but instead, we did hang/power cleans all the time.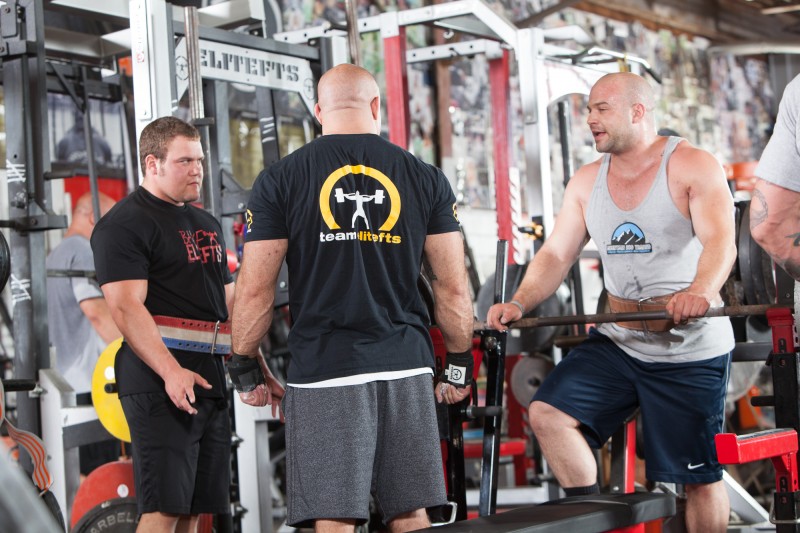 Entering my freshman year at Wisconsin I was one of the strongest on the team. The base I built in high school (powerlifting) with my long-term friends helped me transition to a Division I football team. I gained a lot of these long-term friends at college as well — ones I still keep in contact. Believe it or not, most are head strength coaches at major colleges. We are all like-minded and meshed well in college and even better now as adults.
After my four years at Wisconsin I tried out for a couple NFL teams and did the pro day, but I had some stuff lacking. I was short (six-foot, one-inch) not super fast (a 4.9-second 40-yard dash), and weighed 290 pounds. These statistics didn't help me at all, but it is what The Lord blessed me with. I ended up playing in the Arena Football League (now defunct) for eight years. What I loved about this league was that I could lift heavy during the six-month off-season. While also playing for six teams in eight years, I was fortunate enough to train at some awesome facilities and meet some awesome strength and conditioning coaches. Playing in New Jersey I got to experience meeting Bill Parisi, Martin Rooney, and Joe DeFranco, all at the Parisi's in Fairlawn, New Jersey.
This was an eye-opening experience. Their philosophies were much different but I fell in love with some of them and to this day implement them in my template. While playing in Salt Lake City, Utah I became close with Steve Konopka. He was great friends with Mike Westerdal, who is the owner of Critcialbench.com. They both pushed for me to do a powerlifting meet during the off-season. Again, I have always lifted heavy throughout the years, so this transitioned well for me. Once I knew the meet I was doing that off-season, I started lifting with a USAPL crew to get used to the gear. I have never really used gear but was excited to start.
The help this group gave me was great, but there was an issue with short-term friends. There was a lot of weird drama with this crew on me lifting in an SPF/multi-ply meet. It got so weird that some of them wouldn't spot me or help me after they found out. I ended up competing in Tennessee and totaled 2450 pounds in the 308-pound weight class in my first powerlifting meet. To say the least, I was hooked. However, between my football seasons, I would still lift heavy but would have to balance training for football. After signing a two-year contract with Utah again and training for another meet, the Arena Football League announced they were folding (one week before Christmas). We were told it would be a year or two and to "find a job until then; don't hold your breath." Luckily, I had a signing bonus that helped me get through.
This signing bonus was a blessing in disguise. This time period was weird for me, to say the least. I didn't know what I wanted to do for a living and my marriage was falling apart. All I had was lifting and my family. I was training at the local high school with trainers or people who wanted to lift heavy. Most of these were short-term friends. Most of them would hang for a while but wouldn't stay dedicated or did not want to lift heavy, as they claimed. Excuses such as "tired from work", "family stuff", "still sore", were just a few examples of what I heard.
---
MORE: Top Training Tips For Advanced Lifters — Life Priority and Team Role
---
Back to me making a living. I had many friends who were policeman and firefighters. There was some push from both sides to get me to do their line of work. For me, the only thing that made sense was to open a gym. Hard Body was no longer there; it was bought out and wasn't the same. I knew I didn't want a normal "24-hour" gym. With my background, I wanted to work with athletes but have space for powerlifting. Owning a gym would also help me take my powerlifting career to the next level.
"If you build it, they will come."
This quote is true. They will come, but will they stay? During my first few years of owning Tank's Training Facility (TTF) we had myself, Kody Presswood, Randy Presswood, and a few others, all like-minded towards one goal: to lift heavy shit and compete. We built a great base at the old location. We were onto something and I could tell space was going to be an issue if I wanted to grow. After five years I ended up buying a much bigger and better facility. TTF is 20,000 square-foot area with turf, a free weight area, a machine/selectorized area, and a "unique cardio area."
The upstairs is occupied by several organizations I lease to. One side (5,000 square feet) is a wrestling kids club. The other side (5,000 square feet) is indoor baseball, occupied by a select organization. The back of the building has two lots of grass and is in the process of becoming an outdoor football/soccer field. Opening the new facility drew a lot of interest from a lot of local and area powerlifters who wanted to train here. The new place has been open over two years and we have seen powerlifters come and go. I loosely call some of them powerlifters, as a lot like to lift heavy but not compete, or do one meet and then quit the sport. It sucks to see potential in people and them not use it or just give up. Part of my job is to evaluate everyone that steps in the door and get them better in whatever area they are lacking. If one wants to truly be the best, it takes a lot of sacrifice and dedication, no matter the sport.
I have found that powerlifting is a long-term sport. Over the years I have gotten stronger as the days have passed, but it took a lot of work. I was strict with training and what I did. A lot was accomplished through trial and error. I try to teach our powerlifting squad to the best of my abilities from what I have learned. The short-term friends I have met throughout the last 25 years, and especially since opening my gym, have been interesting. Not a lot of people are a good fit for being a competitor and working their asses off to reach the highest level of competition. The ones that bust their ass are the ones I want and have as long-term friends. They are the ones you can trust and are comfortable with your life, literally.