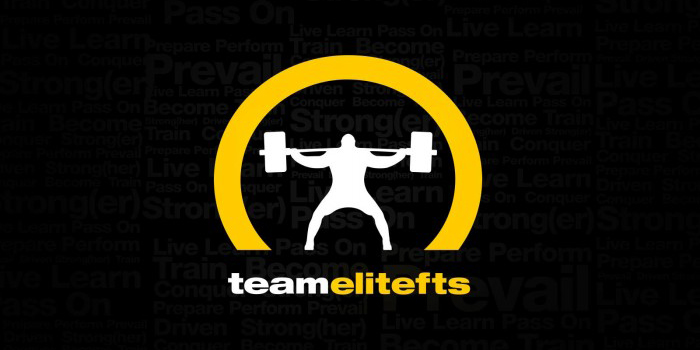 As an introduction to those who don't know me, I am the Chief Financial Officer of EliteFTS.com, Inc. My association with Dave Tate and elitefts began in 2009 as a Weekender, training at the S4 Compound. In late-2011, I moved from Ohio to Texas, which ended my access to S4 and shifted training to solo in my garage gym. However, it did not end my relationship with Dave and the company. From 2011 to 2016, my background in corporate finance was an asset to Dave in a number of financially oriented business decisions. In return, Dave helped structure my programming and meet preparation.
In late 2016, Dave and I agreed that the time was right for me to join the company full time and drive the growth initiatives made possible by an upcoming move to a new, larger facility. So, back to Ohio, I went. After five years of training solo, it was also time to get back to S4 and back to a training crew.
From a competitive powerlifting standpoint, the move certainly paid dividends. My first time on the platform since resuming training at S4 resulted in PR's across the board, with an 870 squat (54-pound PR), 755 bench press (5-pound PR) and a 644 deadlift (16-pound PR). The meet total of 2,269 pounds equated to a 114-pound improvement over my prior best.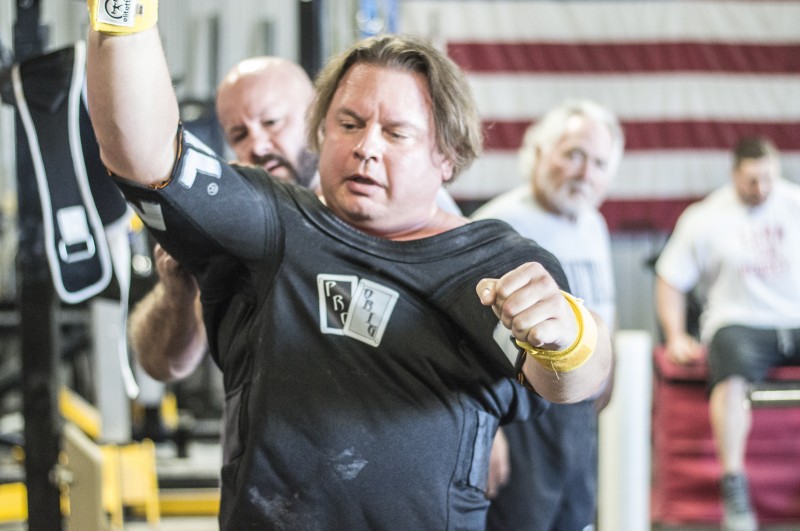 The Program
The meet training cycle was based on conjugate, or concurrent, or Westside, or whatever it is that has two days of max effort (ME) and two days of dynamic effort (DE) per week. ME lower days were done Saturdays at S4 with the crew. ME upper was Sunday at S4 with the crew. Dynamic days were done solo, with Tuesday being lower and Thursday being upper.
Max effort lower main movements were done in briefs and consisted of constantly rotating bars between the Mastodon, Rackable Cambered, Safety Squat, Duffalo and the Spider. Movements rotated between free squats, box squats at various heights and suspended chain work. Reps stayed in the 1-3 range for top sets, working up to or close to an all-out max. Secondary movements were generally deadlifts against bands or chains, with the changing variables focused on bar heights and band tensions. Accessories were a steady diet of glute ham raises, reverse hypers and ab work.
---
MORE: Building A Great Lifting Crew — Advice for Hardcore Lifters
---
Max effort upper main movements had a 1-3 rep max target each week done on a competition bench, fat pad bench or floor press pad with focus on top end development via tons of chains, piles of boards, and every shoulder saver pad in stock. Secondary movements were usually done with dumbbells at a very slight incline and for higher rep ranges. Accessories here consisted of rows from various angles, triceps pushdowns, shoulder raises and facepulls.
Dynamic work had very little variance week to week. Dynamic squatting was done raw with light bands and 50% of raw max in bar weight to a 14" box for 8 sets of 2. Then glute ham raises, reverse hypers and ab work to finish up. Dynamic benching was done raw with doubled monster mini bands and 40-50% of raw max for 3 sets of 9 and grips changing from wide to medium to close each set. Upper accessories were triceps pushdowns, lat pulldowns, and facepulls. Every few weeks extra bench sets were layered in with weights hanging from a bar by bands to build back stability. Full gear was not implemented in until the last 5-6 weeks of the cycle. Even then, it was with a goal of testing where I felt comfortable from an opener standpoint as opposed to trying to max out.
---
The Meet
The meet was the SPF Pro-Am and held in Cincinnati, OH. I did not cut weight and weighed in at 264, which is a good weight for me as far as feeling strong while also getting the gear to fit right. The meet was an hour and a half from home, so the family and I made a weekend out of it. Lifting wasn't until Sunday, so we were able to drive down Friday, see a ball game and then visit some local attractions Saturday. It was a nice time with enough to do to keep my mind off the pending meet.
In addition to my wife Tracy and our two kids, I had a full support team on hand. Team elitefts lifter Ted Toalston was my handler for the day. Dude is a great friend and tremendous asset on meet day, as I know he will keep my on track. Weekend training partners Joe Amato, Kim Higgins, JD Nelson and JD's wife Ashley were also there to keep me on point. Their presence was greatly appreciated. As for the lifts:
Squat
Metal Ace Pro briefs and Canvas squat suit. Opened with 800 and got red-lighted for depth. This was a correct call, as I jumped up early. Went to 825 for the second attempt – good lift. Took 870 for a 54-pound PR on the third. Down and up for three more whites and a good lift. Squats felt strong.
Bench
Metal Pro Original bench shirt. Opened with 700, good lift. Moved to 755 for a 5-pound PR on the 2nd attempt. The extra weight made it easier to touch and I was able to grind the lockout for a good lift. In the back of my head, I was hoping to make a run at 800 on a 3rd attempt, but the 755 was slow enough at the top that I knew 800 was not in the cards. Passed on my final attempt.
Deadlift
Metal Ace Pro squat suit. The deadlift continues to be my weakest lift by far, but I am making progress. Opened with 600 for a good lift. Went to 644 on the 2nd attempt and got it for a 16-pound PR. Went to 675 on my final lift of the day, which would have given me a 2,300-pound total for the day, but I did not have the strength.
Ended the competition with a 2,269 total, which was a 114-pound PR.
---
Conclusions
My biggest takeaway from this meet is that training with a solid crew is better than training alone. While training solo from 2011 to 2016, I argued differently. I thought I had my system down. I was consistent, I was serious. But the results weren't there. My total progressed by a measly 25 pounds. Five years; 25 pounds.
Being back in a team environment changed my tune. Every lift is intently watched, form is constantly critiqued, the feedback loop is always present and everyone has a job to push each other. This simply can't be replicated when training alone with nothing but a camera for feedback. A camera can't judge the look in someone's eyes. The camera can't catch body language between sets that says it's time to go for a PR or it's time to shut down early. Proof is in the total. At the age of 45, after well over a decade of competing, and after just eight months back with a good crew, my total jumped 114 pounds. Eight months; 114 pounds.
I implore everyone out there who intends to compete, please but down your camera, stop looking for answers in every new ebook that posts online and go find yourself a good set of training partners consisting of veteran competitive powerlifters.