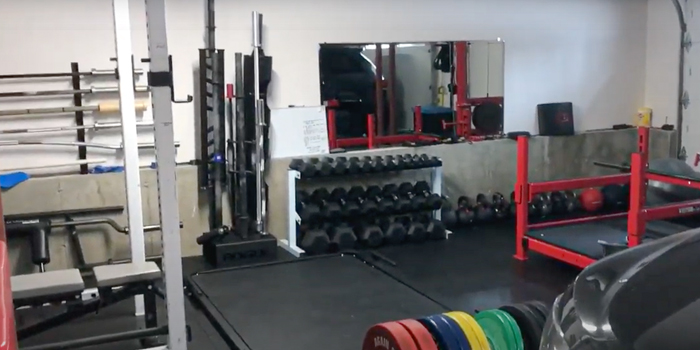 Garage gyms have become quite popular over the last two years. Even before the Coronavirus hit, the need to have the freedom to train when you want, how you want, paired with the convenience of being in your own home, gave many new equipment companies a massive customer base.
Now that the entire world is forced to train from home, there has never been a better time to start investing in your equipment. The good news is that this investment is an investment that will never depreciate. The bad news is that the demand for home gym equipment is so high right now that many companies are struggling to keep up with the demand and keep popular items in stock.
So, if you didn't already have a gym before COVID-19, you're likely playing the waiting game.
Moreover, individuals that used to train at a box are perfect candidates for training on their own. In essence, most are familiar with big compound movements, how to perform them, and over the years have become self-sufficient in terms of training on their own. These are the people we see that are most likely to invest in building their home gym (the vast majority of our clients are former box athletes.)
This certainly has played a crucial role in empowering people to have the ability to feel confident enough to train on their own. Many of those former CrossFitters are aware of how to push themselves and no longer need a screaming coach or the pressure of beating their peers in a WOD to do so anymore.
Additionally, many of these former box athletes may be simply burnt out and no longer have the motivation to "compete" daily. This is certainly something that resonates with me and something we hear from new clients almost weekly.
Quick story
Back in 06' I put together my first garage gym. I'll be honest though, it wasn't exactly "my" garage; it was my parents' garage, and I was lucky enough to take one bay hostage.
I had recently gotten into the box scene, coming from the strength and conditioning world, and was training at a local gym. This gym had bumper plates and platforms, which certainly isn't the norm these days. However, the owner was a former professional football player-turned-offensive-line-coach, and many of his athletes trained at this gym.
One day I was performing the workout "Linda," which any box athlete is probably aware of as well as just how devastating this workout is. It's no coincidence that "Linda" is also known as the "3 Bars of Death."
Nearing the end of the workout, I had dropped one of my deadlifts from the lockout—which to most in the box world is commonplace, but in a commercial gym with platforms, this could be seen as sacrilegious.
One of the members who was nearby, yelled at me to stop doing what I was doing. It was at that moment I knew I needed a new place to train if I was going to continue to train this way.
Fast forward two months, I found out about a local strength & conditioning facility that was going out of business. I quickly grabbed a friend and went there to see what equipment I could buy.
All that was left was an elitefts 3 x 3 rack and a few iron plates, and for less than $700, I had the start of my first garage gym!
Almost ten years later, to the day when my wife and I purchased our first home, I still had that elitefts rack on hand.
This rack made it through my time away in the military and then to my box, and then to my first garage. It wasn't until our second home garage gym that I realized, as much as I loved this rack, I could save a ton of space by simply downgrading to a half-rack.
With a garage gym, every square inch of space matters, and over a short period, our garage gym has evolved quite a bit.
[gallery columns="2" ids="220374,220375,220376,220377"]
Our Current Setup
When I sold my CF Box, I was able to keep a lot of the Westside Barbell Specialty Equipment I had, like the Athletic Training Platform, Standing Leg Curl, Hip Ab-developer, and a Reverse Hyper. Eventually, I realized that as much as I loved this equipment, it wasn't necessary for my training success anymore.
But one piece we traded a lot of our original Westside Equipment for was the Inverse Leg Curl, which albeit surely isn't necessary for 9 out of 10 garage gyms. For my wife and me, this piece is a staple in our training (the glute-ham raise is a staple in our streams of programming.)
The fact that my wife and I were no longer training anyone didn't make sense to keep equipment on hand that took up the majority of our space, not to mention it was hard to train with next to zero room to move around.
Instead, we opted for having more floor space and a second rack to make training with more than one person easier.
Here's what our current setup consists of:
Westside Barbell Inverse Leg Curl
Air Runner
Dumbbells up to 110 pounds
Kettlebells - 18s, 26s, 35s, 53s, 70s, 106s
Fatbells - 18s, 26s, 35s, 53s, 70s
Specialty Bars that include from elitefts - SSB Yoke Bar, Football Bar, RhinoFlex Bar, T-Grip Bar, Bow Bar, Cambered Bar, Trap Bar, Various Fat Bars
Lots of specialty handles for the lat pulldown from elitefts - just about every fat handle for my lat pulldown you could imagine.
T-Bar Row
We have a lot of other miscellaneous shit, too, like heavy medballs, slamballs, and weight vests.
Caveats to My Recommendations
Most of what I'm going to provide to you is a personal preference for the way I train.
I've provided three lists: your must-haves for starting out, the "once-you-have-the-essentials" list, and then "awesome-but-not-necessary" list.
You don't need a huge budget, but you do need at least a one-car garage or space comparable to outfit.
The recommendations I'm going to provide are based on what I know and have used. I wouldn't feel comfortable recommending something I have not personally used, but luckily there are guys like Coop at www.garagegymreviews.com to provide you with literally a review on every piece of equipment imaginable.
You won't see a barbell or bumper plates on this list as I'm not the best person to recommend this stuff as I've had the same Eleiko bar that I purchased used almost ten years ago as well as the same competition plates that my wife bought for me for Christmas in 15', but I'd recommend checking out garagegymreviews.com for these.
Smaller things like foam rollers, lax balls, ab mats are not included but are certainly things you should think about having on hand.
---
RELATED: Lee Zimmerman's Home Gym Stays Open!
---
The best part about a garage gym is that you don't need everything all at once. You can pick at it adding things slowly over time.
Just Starting Must-Haves
Flooring: There are many options you can go with here, but the least inexpensive I've found that is not only tough (3/4 inch thick) and doesn't look half-bad are horse-stall mats. These mats are 4 x 6 and depending on your space 6-8 mats will meet the needs of many (I have 12 mats + 1 additional I cut into squares for elevated deadlifts.) I'd recommend trying to buy these locally.
Squat Rack: I get questions all the time about rack options. My personal preference is a rack that allows me to pull rack deadlifts, perform multiple-grip pull-ups, perform a variety of exercises off of pins (Anderson squats, pin presses, etc), and allows me to set up bands for accommodating resistance. You'll also want to think about maximizing the space you have which is why I've opted for a half-rack.
Dumbbells: I've purchased the majority of my dumbbells from Walmart. Reason being, the shipping is usually free, the quality is decent, and the prices are insanely low.  There's nothing worse than purchasing something that costs more to ship than the actual product.
Kettlebells: Another product I've purchased new from elitefts and used that I found online. At first, I bought a 35-, 53-, and a 70-pounder, and over time I've added more to include two 106-pound kettlebells as well as lighter bells. If you're looking for heavier ones, it would be in your best interest to find these used as the cost of shipping is often more than the cost of the bell.
Bands: Good bands are no brainer and incredibly versatile. Grab yourself a set of micros, minis, monster minis, lights, and average bands from elitefts and you'll be good to go with a long list of exercises such as these here.
Dragging sled: I haven't found many pieces of equipment as valuable as my pulling sled for about $120. I have an elitefts dragging sled that gets used weekly regardless of the weather. The list of benefits of the sled is endless that you can read about more here. Even living in a colder climate like New England, I still find it well worth its weight in gold.
Landmine: Another incredibly versatile tool that can cover just about all of your training needs; such as lunge variations, complexes, squats, presses, and more. My landmine attaches to my rack but you can buy the version that fits nicely in your bumper plates. Or at the very least, you'll need a corner to put your barbell in, and you'll be good to go.
Bench: In my opinion, no garage gym is complete without a bench, and this is certainly a place where you can save some money by just buying a basic utility bench. Most of the time, I use my bench for decline or incline work. It's a slight incline, so raising the front or back of the bench on a few 45-pound plates is more than enough to change the variation and have healthy doses of novel angles in my training.
Plyobox: Another piece of equipment that may not seem like something that's needed, but if you're planning on effectively training your Type 2 fibers, look no further than plyometrics. For a garage gym, you're going to want a box that has multiple heights in one box, so I opt for the elitefts soft plyobox.
Plate Storage: There are a number of routes you could go with this one, but I'll tell you that I started out with the "cheap" route with body-solid plate storage and immediately regretted it once I started assembling it. Do yourself a favor and invest in a quality piece of storage equipment like this.
And then...
Safety Squat bar: This one is higher up on the list than you may think, mainly because this bar has been a game-changer in terms of pain-free squatting. The camber of the bar, the ability to use the handles, as well as a variety of uses such as JM Presses, Overhead Presses, and my all-time favorite Front Squat. And SSB Yoke bar from elitefts is the industry standard.
Chains: Definitely not a necessity, but nice to have to add variety to your routine, improve multiple levels of strength, as well as prevent injury vs. only using straight barbell weight. I go with the 5/8 chains. I wouldn't waste your money buying lighter ones than those. I also use the elitefts chain-loader with my chains.
Grip tools: Another item that definitely isn't a must, but definitely something that doesn't require a ton of space and makes a world of difference when it comes to sparking new gains. Tools like fat gripz and a gripper device are a nice touch!
Pushing Sled: A conditioning tool must that I use regularly. When it comes to pushing sleds, it's hard not to consider the Prowler®, which put sled pushes on the map as far as I'm concerned.
Bar Storage: A wall-mounted bar storage "gun rack" is another excellent option to save space and keep your gym organized.
Bells and Whistles
This list is certainly things that can be put off, but over time these are things you may want to consider. These are listed in order of most important for my space.
Air Bike
Glute Ham Raise or 45 Degree Back Raise
Dumbbell Rack
Bringing It All Together
Those that are willing to invest in a home gym are a special breed. There is no doubt that you take your health and training seriously. Moreso than ever, training from home has become a vital part of people's lives. This pandemic will likely change the landscape of training forever—no one is questioning whether or not it's prudent to have a home gym anymore.
If I had to narrow down this entire list to a few items, I'd recommend starting with a rack, a bench, a barbell, a few dumbbells, and you're off to the races. From there, you can add things as you go. Or if you prefer to save in shipping, thinking about getting more equipment at once may be a better option, too. Whichever route you go, you'll never regret having the freedom to train when you want and how you want.