A Very Ladewski LTT, Part I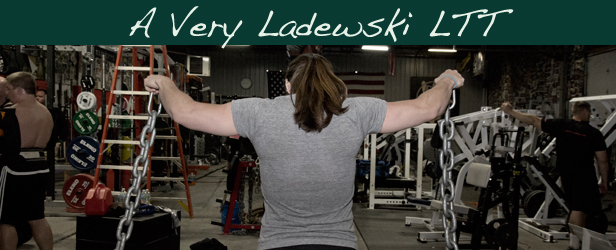 Perhaps you're tired of hearing about the Learn To Train seminar, as we are all writing updates about it. But I urge you, READ THEM ALL! Each person, lifter, attendee, and employee has a different perspective and some great words to offer.
I would be remiss if I didn't mention that Marshall "FREAKSHOW" Johnson and his wife were passing through our area at 2:00 a.m. on Thursday. So they crashed at our house until we left the next day at 9:00 a.m. And yes, I did have to prepare my kids for what they would see on the couch in the morning.
"Ok kids, my friend Marshall is going to be sleeping on the couch when you wake up. He's got a big beard and a mohawk... And a big nose ring and tattoos. His wife, Kathy, is normal."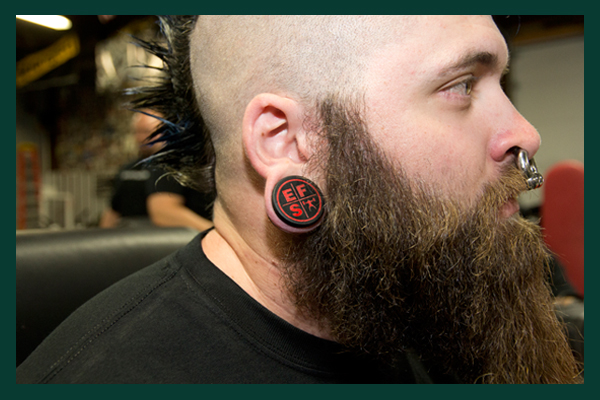 They had a blast sneaking around the house "trying" not to wake Marshall. He was like an eight-foot giant with his feet hanging off of the pullout couch.
My LTT experience usually begins on Thursday— a little earlier than everyone else. During the last LTT in May, I worked with a dozen youth athletes doing some speed training work, and I was invited to do so again this time. It was a smaller group, but they were the same kids as last time. We went out to "the lake"... apparently there is only one lake in London, OH. So I was expecting a small pond with a broken down fishing boat; however, it was actually pretty big. We found an open spot in the outfield of a baseball diamond and got to work.
We worked on what most would call "agility." Yet, we term it "change of direction" or even more specifically "center of gravity management." We started with a good warm-up followed by some basic mechanical and technical drills that work on how to plant the foot and shift the center of gravity. This is a pretty critical part of changing directions that most coaches miss. "Agility" is not just the ability to move the feet fast. It's the ability to do it quickly, safely, and efficiently. If the athlete doesn't know HOW to do this properly, his/her performance will suffer or he/she will end up hurt. (Over 80% of injuries are non-contact). We worked those techniques into some actual drills that allowed them to use and practice what we just learned. For instance, we had the kids do various movement patterns (utilizing proper center of gravity management) that finished with a hard sprint. We touched a little on jumping, but I'm a firm believer that they need to know how to land first. So we worked on small jumps with proper landing and then moving into a sprint. The kids, only slightly competitive, did a great job of really working on making every drill perfect. We then finished with a couple rounds of a "pushup circle" and called it a day.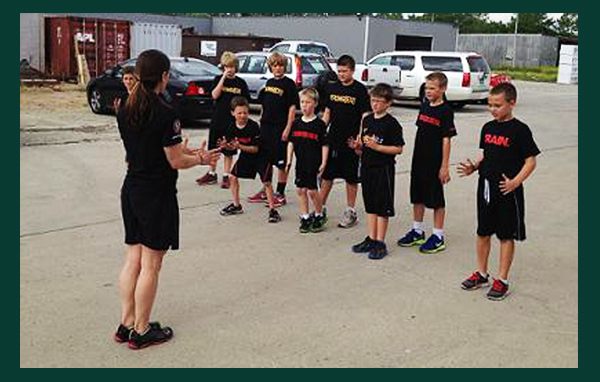 The parents there were ecstatic about the training their kids have been receiving with Matt Goodwin. It's been going really well, and you can see the kids developing nicely. I'm so grateful to be a part of that group, as I know many of them will do awesome things in their athletic careers.
Thursday night was a laid back night because not a lot of the athletes were in town yet. We did, however, meet up with a few friends (Kevin Kuzia and Larry Brown) at a great mexican restaurant for dinner. Marshall, Kathy, Steve Colescott, and BIG Chad Walker showed up too. This was my first official encounter with Chad in person... very nice... and very large.
We then drove to what we thought was the hotel address... only to find the hotel not there. Thank goodness for Shane Church being on twitter because he guided us to the right place.
When we checked into the hotel after dinner, we had a message from the guy behind the counter: "Murph wants you to call him. Room 119." Ok, that's kinda creepy Murph.
Shane invited himself over for a few minutes while his lovely and pregnant wife, Shannon, was sleeping. We chatted for a few minutes until we heard a knock on the door. Poor Shannon had woken up and didn't know where he was. Smart woman: she read his twitter feed to see what room we were in.
Wait, probably shouldn't give hotel room numbers out to the twitter-sphere.
All in all, a great day, and more to come!
Loading Comments...