University of Dubuque's Veterans Memorial Training Center is Custom Built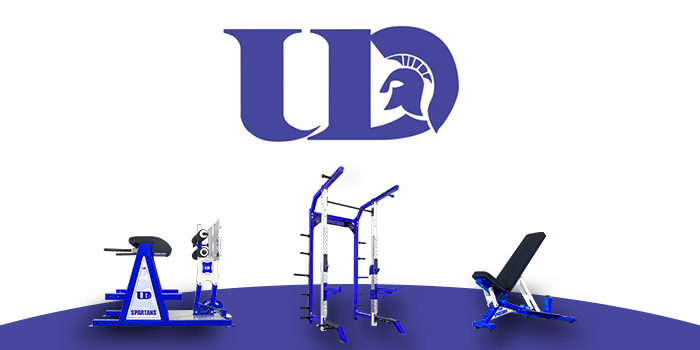 Originally published in December of 2018
On the western bank of the Mississippi River, a stone's throw from Illinois and Wisconsin, lies the town of Dubuque, Iowa. What could be confused for a Chicago suburb is actually a quaint college town that's home to the University of Dubuque. The UD Spartans compete in the American Rivers Conference and are a member of NCAA Division III athletics. The university boasts facilities many Division I programs would envy. In April of this year, I received a hot little tip: UD was building a new weight room and looking to gather equipment quotes. Dubuque is also home to one of my best friends, former teammate at BGSU, and current OC/OL coach at UD, Drew Nystrom.
---
 RECENT: The Rack Athletic Performance Center: Fear the Moose
---
For a little perspective: Until November of this year, 23 teams and numerous intramural sports all shared one weight room. As you might imagine, squeezing that many athletes in one room creates time constraints and serious space issues. With this in mind, the decision was made to expand upon the indoor sports facility, Veterans Memorial Training Center. This expansion includes a 4,200-square-foot weight room. This new facility, like many facilities at UD, would not have been possible without the generosity of alum, donor, supporter, and former Spartan football player, Mr. Joe Chlapaty, and his wife Linda. After one drive around campus, you will see just how much the Chlapaty family means to the University of Dubuque! With the weight room at Veterans Memorial Training Center complete, field and court sports each have separate strength training facilities. A system that will be much more conducive to athletes' specific needs and allow for some much-needed breathing room for athletes and coaches!
Upon learning UD was looking to furnish a new weight room, I had my first of many phone calls with head strength coach Mike Mandot. The amount of time Coach Mandot and I spent on the phone could be measured in days, not hours. But after our first conversation, it was obvious this man had a very specific vision of what equipment would go in this new weight room. He wanted half racks (a bunch of them). I had initially planned on quoting 10 collegiate half racks. By the time we were finished, we were sitting at 12 Signature Half Racks with five of these having attached Signature Lat Pulldowns (250-pound stacks) and single columns with adjustable pulleys (200-pound stack). The other seven half racks have a removable dip and core blaster attachments. He also wanted Reverse Hyper/Glute Ham combos. At the time of the first quote, I had personally only seen one of the Signature Reverse Hyper/Glute Ham combos, and it was on a visit to our manufacturing plant back in March! The weight room is now home to six Signature Glute Ham/Reverse Hypers (with custom logo panels).
The final bid had six of these monsters! Twelve collegiate 0 to 90 benches (with aluminum checkerboard spotter steps), 5- to 150-pound Troy 12-Sided Urethane Dumbbells plus storage racks, four sets of VTX Kettlebells plus storage racks, five sets of plyoboxes, 12 Texas Power Bars plus Croc Lock Collars, VTX Wall Balls (stored on custom bars on the half racks themselves), 72 pairs of DC Blocks, Troy Urethane Grip Plates, and elitefts Bumpers at every rack: (144) 45s, (48) 25s, (72) 10s, (24) 5s, and (24) 2.5s. Between the cable weight stacks, urethane plates, bumpers, dumbbells, and kettlebells, the Spartans have over 8.5 tons of weight to move around!
An auxiliary order added six Prowler Quads with Drive Pad attachments, 24 sets of 18-pound (5/8") chains, eight safety squat yoke bars, eight Multi-Grip American Press Bars, 10 Troy Hex Bars, 15 VTX Medicine Balls, five curl bars, and a shitload of bands, belts, straps, wraps, weighted vests, etc.! All of this equipment now sits beautifully over an ECore (Performance Rally) Rolled Rubber Floor, with 12 custom 4-by-8-feet inlaid platforms.
The new weight room inside the Veteran's Memorial Training Center is a combination of clean and rugged beauty! Training inside this room would be any strength coach's dream. And if space is ever an issue, all the Spartans need to do is open an overhead door to the turf field and get to work pushing their brand-new Prowler Quads (complete with Drive Pads).
All of us at elitefts are proud to be able to show off this Signature room and wish the Dubuque Spartans continued success! With the addition of this new weight room, their facilities are among the best in the nation, and second to none in NCAA Division III athletics!
---
The Veterans Memorial Training Center was named in honor of the V-5/V-12 Navy Training Unit on the campus of the University of Dubuque from July 1st, 1943, to November 1st, 1945. The anchor was dedicated on June 8, 1996, to honor all who served our nation while in military service, especially U.S. Navy Trainees at UD who died in uniform: Evan C. Harris (Chadwick, Ill.), Judd C Hogsdon (Dakota, Ill.), Richard G. Prather (Osceola, Iowa), John E. Purple (Peoria, Ill.), Don L. Southworth (Fort Morgan, Colo.), Robert E. Tigner (Lohrville, Iowa), and fellow trainee Ambassador L. Bruce Laingen, who was held hostage in the U.S. Embassy in Iran for 444 days.
Loading Comments...