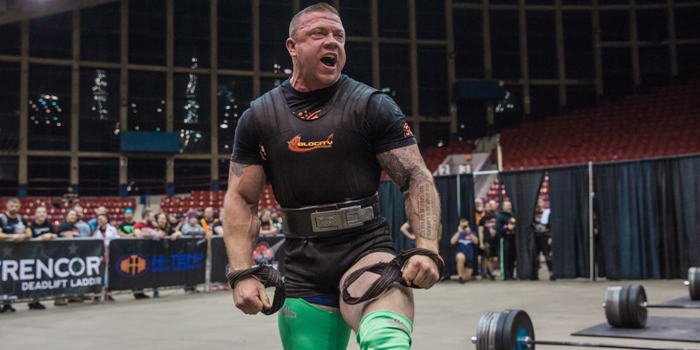 Anthony "La Flama Blanca" Fuhrman is an active duty US Army soldier, CrossFit and high school football coach, a middleweight strongman competitor, the 105-kilogram World's Strongest Man, and most recently, a contestant on NBC's The Titan Games. Between all of these things, it hasn't been easy for him to maintain a schedule. It required some hardcore time management and giving up personal time.
"But it was worth it every day as I saw how I was able to impact those athletes and people within my sphere of influence."
Influence is something that Anthony understood from a young age. Growing up, Anthony loved watching wrestling and cheered for the "bad guys" like Ric Flair (of all of his idols, Flair's the one Anthony wants to hang out with by going on a four-day clubbing bender and win the world tag team championships), Macho Man, and The Rock. He idolized them for their confidence in themselves and how they performed with the best — a quality he believes is inherent in his own personality. Enter La Flama Blanca, Anthony's alter ego:
"Flama Blanca is simply a manifestation of my personality that is amplified in order to be able to perform at a high level. I have always had a big personality; I think anyone who has known me can attest to that. I grew up watching wrestling and always identified with the characters who were the loudest, flashiest, and most boisterous. I think I took some of that into my own personality, and once I started competing in strength sports, I had a platform to let Flama Blanca run wild. I would say the main differences is Flama Blanca has zero problems letting his ego run the show, whereas day to day, I am a much more humble person."
Likewise, his start in strongman came from rather humble beginnings. He was stationed in Fort Carson, Colorado, as an infantry soldier and was recovering from a torn meniscus and took up strength training as a way to recover and stay in shape. It was there he met Mark Taysom, who ran a strength program for the 4th Infantry Division. That program included strongman implements.
"He picked me out and had me try to lift Atlas Stones. I lifted a 300-pound stone and became immediately hooked and dove headfirst into the sport."
He obviously did well, as he currently holds the title for the World's Strongest Man in his weight class. And yet, he's probably more well-known, at least in the general public's view, for competing in The Titan Games. He did not apply to get in because he didn't think he'd be selected. Instead, a casting producer reached out to him! They had a Skype interview. The producers asked Anthony to put together a video highlighting his performances, and before he knew it, he was on a plane to LA to meet all of the producers. Not long after, he got a call welcoming him on the show. The Titan Games didn't necessarily change his life — he doesn't have to worry about the paparazzi — but it did bring back his confidence. During the time of filming, he'd been going through a tough personal time and grew less and less confident in his abilities. But meeting these other competitors, who saw and recognized his strengths and complemented his personality, brought his confidence back out. On the plus side, he also got to meet one of his childhood idols. Dwayne "the Rock" Johnson hosted The Titan Games.
"(Meeting the Rock) was surreal. Something I could never have imagined happening in my life. I think I was so nervous about not living up to what he expected me to be. He was very warm, friendly, and motivating on set, which is a relief because oftentimes you hear of horror stories when you meet your idols."
Another person Anthony idolizes might surprise people. He's a huge fan of Taylor Swift — or Tay Tay, as he calls her. His favorite song of hers is "Blank Space," and her album Reputation is what he considers "the most complete album of her career so far" and the one he suggests working out to.
From my @MensHealthMag bio for the @nbctitangames. @taylorswift13 be motivating the hell out of me! pic.twitter.com/M4EdLCwyee

— Anthony Fuhrman (@FlamaBlancaTony) December 4, 2018
And speaking of reputation, specifically the reputation of middleweight competitors in professional strongman, Anthony has quite a bit to say on the subject. He prefaces this subject to note that he's fairly new to the entire professional strongman scene. But he's not new enough to be unaware that there's an uphill battle as a middleweight. There is no circuit for pro middleweights in strongman. The battle is one that fights the myth that people only want to see giants in strongman. Anthony's argument is that he thinks the organizations marketing strongman assume that people only want to see giants because they're the ones being promoted at the top. Anthony argues that's not the case; people want to see strength and agility, which is something his weight class can offer.
"The lack of competitions for high-level middleweights is ridiculous in my opinion. We possess the rare combination of strength, speed, and physique that could bolster the sport to unprecedented levels. I know there are a lot of old-school thinkers in charge, and I have been told by many people that this is how it's always been, and always will be. I refuse to just lie down and not value myself as an athlete. I refuse to let the old ways continue just because it's always been that way. Change is not a bad thing and could benefit everyone involved."
He says that if middleweights and lightweights want to be taken seriously, they need to be vocal about their wants and needs. If no one listens, then it's time to stop giving them money and quit supporting their federations. That said, Anthony doesn't intend to stop at strongman. He prides himself on being a multi-faceted athlete. He plans to compete in more sports in the future. Expect to see him competing as a heavyweight in the 2019 Arnold Amateur Strongman Competition from Friday, March 1st to Saturday, March 2nd, in Columbus, Ohio. If he makes it in the Top 10, he'll be there Sunday, March 3rd, as well.
"Keep your eye out for me because once I start this train trolling, it's not stopping for anyone or anything. Viva La Flama Blanca!"
Screenshotted header photo courtesy of Anthony Fuhrman © Twitter 
---
To keep up with Anthony's latest adventures, follow him on Twitter and Instagram. Sydney Schulte is elitefts' associate editor. She has degrees in English and journalism from Drake University. She has little to no experience lifting — no experience, if she's being honest — but plenty of experience writing and editing. When she's not working, she's probably at home watching Netflix, playing her PS4, reading or writing stories, or walking her dog.