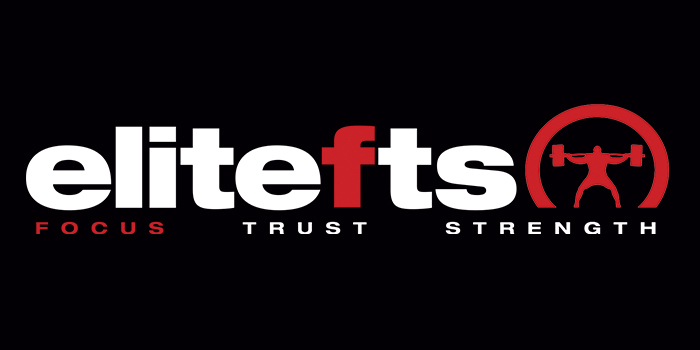 The mission of elitefts—to help the strong become stronger—has been and always will be powered by three core values: focus, trust, and strength. From owners Dave and Traci Tate, to every member of the staff and team, these values are more than nice rhetoric. They serve as more than fancy buzzwords. These values are the guiding force behind everything we do. This is what elitefts believes in.
---
It is Dave Tate's belief that everything you ever need to know about life can be learned in the weight room. This is the reason focus is the first core value of elitefts. In strength training, whether you're evaluating things from a micro level or a macro level, you have to have focus or everything will fall apart:
Micro-Focus: If you're preparing for a max lift or attempting a PR, your focus has to be 100% on that lift. No matter what's happening around you, your focus has to be on executing that lift. And then you have to have the focus to build those PR lifts with everything else you do during the training session, from your very first warm-up to your final accessory exercise. You have to have focused consistency to show up and do the work that needs to be done, day after day and week after week.
Macro-Focus: Where do you want to be four years from now? Where do you want to be one year from now? What steps are you taking to make it there? You must have the answers to these questions. This macro-level focus is what gives you the ability to set objectives and work toward reaching them.
The same component of focus applies to the business world. Just as in life and in strength training, in a company setting you can't be all over the place with wasted time and unclear goals. You must have focus on each segment of your work. For elitefts, there is focus in several key areas:
Equipment: The equipment is developed to be capable of use by the strongest of the strong. If a 1200-pound (or even a 3000-pound squatter, for that matter) is able to use an elitefts rack, every lifter on the planet can use it. If the strongest lifters on earth trust elitefts equipment, there's no question it will also work for the lifter who squats 200 pounds
Content: Every article, training log, coaching log, and Q&A post is meant to help readers become better, no matter their place in the strength training world.
Staff: The company can only become better when the right people are behind the wheel, setting the right goals and striving toward them.
Just like in the gym, in a business situation you don't want to bring in attributes that aren't going to help the overall plan move forward. You have to choose the right exercises to bring up the right performance attributes, and you have to choose the right activities for your company to achieve its goals. This is what elitefts seeks to do: there has to be focus on targeting the right customer segment, with the right staff, the right brand representatives, the right suppliers, and the right contractors to be able to help the company fulfill its aim to Live, Learn, and Pass On.