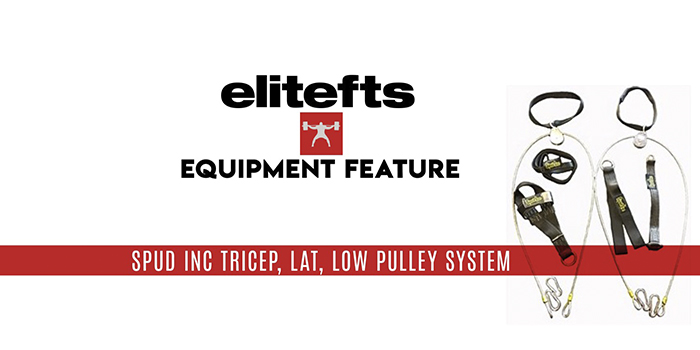 Training in your garage with your equipment, your rules, and your chosen training partners is one of the best things you can do. I have had a garage gym since 2006 and can't go back to a commercial gym. Having a garage gym can pose problems of its own, though. Space is one of these problems, and often cable machines are dropped for necessary pieces like racks and benches. Thanks to Marc and his minions at Spud Inc., we can now add more movements with his Tricep, Lat, Low Pulley System. 
---
WATCH: Equipment Feature — Spud Inc. Econo Triceps and Lat Pulley
---
Some will see this as merely a direct replacement for a lat pulldown machine, but it has many applications with a minimal footprint. When I had to downsize to a one-car garage, my lat pulldown went into storage. This Spud Inc. system has not only come in handy but has added exercises that are slightly different than what we could normally perform. Using some bands, chains, and creativity, you can do more than you imagine. As you will see in the videos below, not having a giant machine in the way allows the use of a 0-90 degree bench for some great variations.
This combo includes:
(2) 1/4-inch cables (each 75 inches long)
(2) swivel eye pulleys with attachment loop (weight limit 550 pounds)
(1) hamstring deluxe strap
(1) utility stump strap handle
(1) short triceps/ab strap
(1) 18-inch strap loading pin
(4) 3/8-inch spring clips
The stump strap is a little puzzling. I imagine if you need to attach your cable to a larger rack it can be used to adjust the height or under the legs for setting up the low pulley. There were no directions, so if someone has any other ideas please let me know.
With this product, you get two pulleys and both are exactly the same. This means they can be used independently without an issue. Before I got mine in the mail, I never thought to attach both cables to the top of the rack. My lat pulldown has one cable; if I want to do unilateral work I have use one arm and then the other. I can now hold one arm in a flexed position while doing the other, or alternating back and forth. Variety is the spice of life, and I like changing things up frequently.
It is obvious that you can do normal pushdowns, low cable rows, and pulldowns easily. The videos below are a few of the variations we have used to make things interesting. This includes the use of chains and bands for accommodating resistance. The bands will also keep the loading pin from swinging all over.
Decline Overhead V-Bar Triceps Extensions
This finisher is a combo of bands and pulley weight. Every 25 reps we would drop a band and keep going. The chest support keeps you from rocking and cheating. Putting more focus on the triceps will sneak up and get you.
Side Saddle Pulldowns
On our normal cable machine, we performed a similar movement as a warm-up, due to the loading limits. Rather than sitting up, we lie on the bench while it is inclined. We will pull to the front while we supinate the hand, or pull wide (think midline of body) in a wide arc while keeping the hand in a neutral position.
Andy Deck Pulldowns
This one is almost as lazy as benching: lay down and lift weights. Who doesn't like that? This is pretty self-explanatory in the video, so I am not going to write out an explanation. Face down is another great option to attack the lats.
Double Chain Pushdowns
We figured out how to use the stump strap! Connect the chains in the middle and you can use both cables (attached to grenades) at the same time. I like this version because it is easy on the elbow and great for a finishing pump. If you connect the chain individually to each strap you can alternate.
I recommended this piece of equipment in my article "Bare Bones Home Gym" and can't say enough good things about it. It's a winner for the home gym or weight rooms who need multiple stations. Lack of space or budget for multiple cable machines are problems that can be solved with the Spud Inc. Lat, Tricep, Low Pulley System. It is worth the investment for everyone who trains.