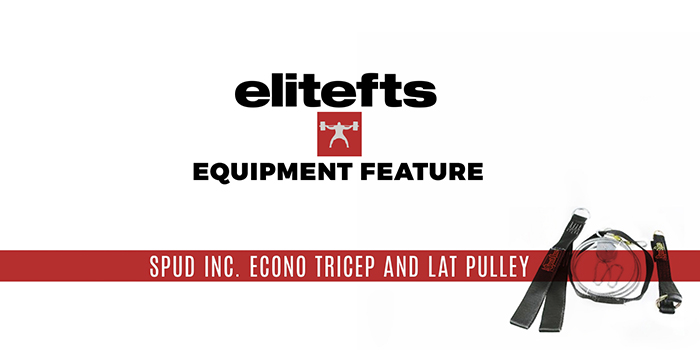 The first off-site equipment feature takes us to the G3 Compound — home gym of none other than elitefts Sales Director Matt Goodwin. In this video Matt discusses the many uses of the Spud Inc. Econo Triceps and Lat Pulley and demonstrate proper setup and use. This item is not only very useful for home gym owners but is also very popular for those attempting to save both money and space.
---
WATCH: Equipment Feature — The Setwear Boa Bar Clamp
---
Matt begins by showing the setup from the top of the power rack, with a simple loop through the chin bar. This enables multiple movements, including standard triceps extensions, overhead triceps extensions, face pulls, lat pulldowns, standing abs, and more. Having extensively used the product himself, Matt has learned that with a lot of weight, if you get moving quickly, the weight on the pulley may begin to swing. To avoid this, Matt came up with a simple solution for stronger lifters: attach a chain to the attachment carabiner. This will almost completely eliminate the swing by increasing contact with the ground.
If you also have a second unit, you can give yourself a low row pulley system by setting up one pulley high (attached through the chin bar, as demonstrated) and setting up one pulley low (attached around the bottom of the rack). This enables a plethora of additional movements, such as seated rows, biceps curls, and additional angles for upper back work. Matt has worked with hundreds of customers setting up their home gyms, and knows that the price of each piece of equipment is usually one of the most significant factors in deciding what to purchase. If you decided to purchase both a low cable row and a lat pulldown machine, it would run you around $3000 minimum, but with the setup demonstrated in the video, you won't pay more than $200. It is one of the most cost-effective ways to add a ton of variation to your training and enable you to perform a greater number of exercises.
Product Details
If you have a home gym then you need this simple, inexpensive pulley! Smash your triceps, lats, and upper back with one simple and inexpensive machine. There is no need to spend hundreds of dollars on a fancy machine when this simple machine does the same thing for less money. You can use free weights, bands, and even chains to do pushdowns for triceps, lat pulldowns, and many other exercises.

The Econo Pulley is designed for use in a rack that is around six to seven feet tall (for taller racks, extensions are available). The Econo Pulley comes with:
(1) 18" Loading Strap Pin
(1) Short Triceps/Ab Strap
(1) Pulley
(2) 3/8" Spring Clips
Specs
6'3" Cable, 0.25" Diameter
2.5" Swivel Eye Pulley (Weight Limit: 550 pounds)