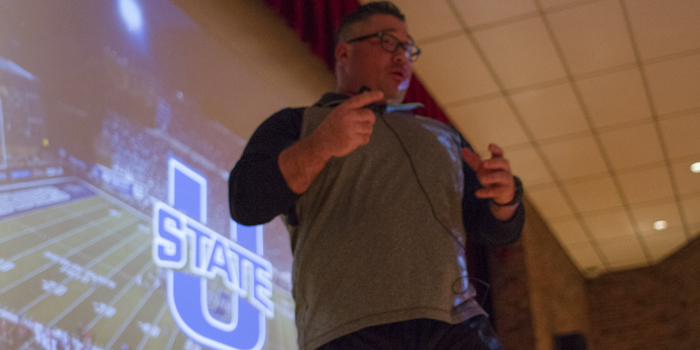 Rounding out our series of presentations from the 2017 elitefts Sports Performance Summit is Head Strength and Conditioning Coach of the San Francisco 49ers Mark Uyeyama. In his presentation, Uyeyama goes through what he has learned in each of the three stages of his career: where he has been in the past, where he currently is, and where he's going in the future.
Uyeyama has been involved with elitefts and its team members for many years — and this is how he begins his presentation. Discussing the experience he has shared with elitefts team members over the years, Uyeyama names several of the individuals that have had the greatest impact on his career. For instance, he shares a story of a day spent shadowing Buddy Morris, then training with James Smith, and then spending all night talking shop. Despite not receiving a single piece of paper or written information during this entire experience, Uyeyama shares all of the notes he wrote down from his interactions that day. Every single thing they shared, Uyeyama wrote down, saved and review. This happens all the time for Uyeyama; he is constantly traveling to meet new coaches and learn more.
---
WATCH: Dr. Ken Kinakin SPS Presentation — Subscapularis Strain and Testing
---
Uyeyama then gives a brief overview of his career path: Started from ground up as an unpaid intern in Utah, then became a graduate assistant at Arizona State University, a coaching assistant in the NCAA, a head coach in the NCAA, an assistant in the NFL, and finally a head coach in the NFL. Of these experiences, one of the most pivotal moments early in his career was with Joe Kenn on the lessons of problem-solving.
Moving forward, Uyeyama transitioned from Arizona State University to Utah State University, where he was able to gain his first head strength and conditioning position. He explains the biggest goals and challenges of both this move to Utah and the eventual move to the professional level. For instance, at this time it wasn't possible for NCAA coaches to transition to the NFL. The thought was that strength and conditioning coaches couldn't go from the collegiate level to the NFL level and be successful. Uyeyama defied this standard and made his way to the San Francisco 49ers.
As soon as Uyeyama started in the NFL, he had to hit the ground running. On his first day, he had to warm up the team because the head coach had lost his voice. Before even having met the entire staff, he was dropped into the role and immediately got to work. Throughout his time in the NFL both as an assistant and as a head coach, Uyeyama's first step is simple: talk to the sport coaches and find out exactly what they want out of each player in each position. Instead of starting with the weight room, first get a clear picture of what the coaches are expecting the players in each role to be able to do. This should be your starting point.
He then walks through the concepts that, based on this information, should be addressed in developing athletes:
Essential Abilities
Biological Qualities
Competitive Maneuvers
Integration of Components
Specifics: Art of Performance
By the minute:
(0:59) Lessons for your strength and conditioning career from Steve Jobs
(5:10) Uyeyama's relationship with elitefts
(9:43) Joe Kenn's influence
(12:30) Arizona State University experience
(17:11) Joining Utah State University
(21:10) Moving to the NFL
(23:42) Uyeyama's first day on the job in the NFL
(26:31) Talking to coaches about ideal player qualities
(28:40) Biological qualities
(29:53) Competitive maneuvers
(33:44) Integration of components
(35:35) Specifics of the art of performance