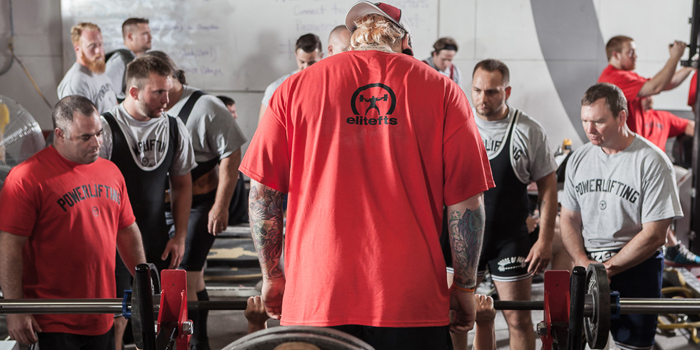 "The time to begin writing an article is when you have finished it to your satisfaction. By that time you begin to clearly and logically perceive what it is you really want to say." —Mark Twain
I begin this article with Mr. Twain because—and I believe all those who write for elitefts will agree—this quote is 110% accurate. About a month ago I, along with others at elitefts, was asked to share a story or experience we had at in the S4 Compound. To back up for a moment, in case you were not aware, Dave and his crew have been working on the elitefts S5 Compound, a facility that is 20 years in the making (along the way there has been the S1, S2, S3, and S4). This is what led to the request to write a short story or experience we had at the S4.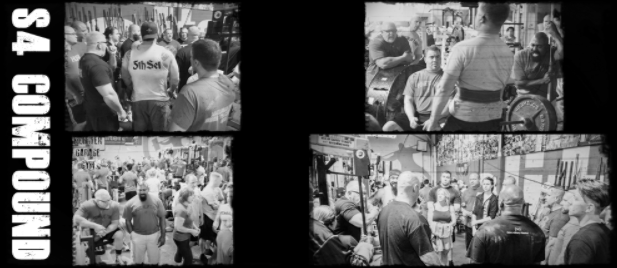 I thought to myself as I was reflecting back at my experiences there, "This will be cool!" Then I paused as I re-read the request, which started with the words, "In 200 words (no more, no less), share your story."
To borrow from Mr. Twain again, "Writing is easy. All you have to do is cross out the wrong words." As I began to reflect on my experiences at S4, my thoughts became more and more vivid. As I began to look at some of the footage I shot when at S4 and then some photos, my thoughts were bombarded with details that the photos and footage jarred free from the recesses of my brain (my 25 years of ammonia-smelling, pre-max effort brain). With each new detail that emerged, I found myself drifting further and further beyond the 200 words.
---
MORE: Saying Goodbye — Memories of the S4 Compound
---
When I came back to the Monster Garage Gym office after a coffee break from a Saturday afternoon of writing, I sat back down to see what was originally in my head typed onto the Chromebook and uploaded into the cloud. That is when the realization hit: I had not merely drifted past the 200 words, I had sailed full steam ahead with the throttle all the way down, to the point of the 200 words being so far behind me that there was no return.
So, all that said, if "writing is easy" and "all you have to do is cross out the wrong words," my problem was that I didn't have wrong words, but too many essential words. Better writers than I have taken on this challenge and honed and honed until they hit the 200, but for me—a powerlifter who writes, not a writer—whittling down to the 200 was also watering down what I wanted to share about the S4, and that was not something I found acceptable, for myself if no one else. I wanted my few but very significant experiences at S4 to remain intact and in living color.
During the time I was getting my first master's degree, I would spend a lot of time at the library at EIU. Something about leaving the dorm to go somewhere to study and being surrounded by volumes and volumes of work researched and compiled by those who came before helped me get in the right frame of mind for the cerebral tasks ahead. EIU's library, no doubt, often did the trick. But from time to time I would drive a bit down to the University of Illinois and study there at their historically famous library. The University of Illinois library is a place that lives up to its reputation of being able to inspire with its sheer gravitas, but it can be somewhat intimidating as well.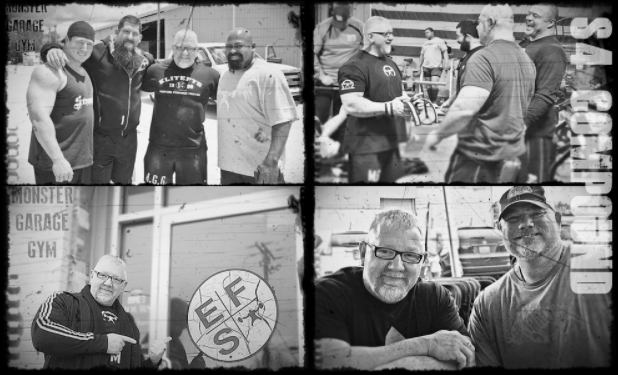 In its own way, and for some similar and some different reasons, S4 had that impact on me — I think in part because I have not been there nearly as often as some of the folks who live closer or who have been on the team longer, so in a way my infrequency to this mecca of powerlifting keeps the mystique in the forefront, untarnished by routine.
If you are a serious powerlifter, you know of the S4 Compound, you know all about Dave Tate, you know he is an original branch of the WSBB family tree, you have heard about the Underground Strength Sessions at the S4 and the sheer tonnage that has been lifted during those sessions, you know the names of those who have trained there from the past, you know about the immense knowledge that has been shared under that roof and within those four walls, and you know how the willingness to share such sacred and expert knowledge embodies the mantra, "Live, Learn, Pass On." So very much like my experience in graduate school, the S4 Compound is able to inspire with its sheer gravitas, yet can be somewhat intimidating as well.
The first time I made a trek down to the S4 compound was for the Powerlifting Experience II. It was a gathering of many of us, elitefts coaches, whose purpose was to assess, critique, and correct technique, then to apply that corrected technique all the way up to a max effort lift. That weekend some 60 aspiring powerlifting students came to the compound. After assessing, critiquing, and correcting their technique, these eager to learn powerlifters applied their vastly improved technique. At the day's end, the 60 lifters performing all three lifts with corrected technique produced an unreal 164 PRs. Dave Tate put the elitefts coaches with the pupils together at the S4 to put the theory of "technique matters" against the theory of "just lift heavy shit." In this one weekend, the team turned the theory of superior technique into fact.
Stop reading right here and watch the footage I shot at this event. Come back when you are done with this quick video.
The video that you just watched is five minutes of a weekend seminar, and those five minutes alone show enough information for any level of powerlifter to stop and take a good hard look not just at their lifting but also at their entire mindset regarding technique and its role in our sport. The weekend was chock-full of this type of critically important information, presented by coaches like living powerlifting legend Steve Goggins and so many others from elitefts who routinely gather for sessions like this at the S4 Compound. These are the experiences at S4 that require a writer better than I to convey in 200 words or less the mystique and the impact.
At the S4 Compound, even a somewhat routine training session gets sucked into the power-vortex of the place and gets transformed into an experience that remains with you for years to come. Following a trip out to the Arnold Sports Festival I, along with some of my fellow powerlifters from Monster Garage Gym, rang up Dave and met for a workout at the S4. This was some random weekend, there was no seminar going on, there was no Underground Strength Session, but as we entered the facility, there stood pro bodybuilder and CEO of Granite Supplements John Meadows (there for a photo shoot), elitefts team members Brandon Smitley, Julia Ladewski, Ken and Sheri Whetham, and of course Dave Tate himself. Point being, the typical day at S4 is not ever typical because this place and Dave Tate are magnets for the upper echelon of powerlifters. It is an unlimited resource of the highest quality information for any and all powerlifters, novice to elite level.
Watch our workout at S4, including photo shoot footage of John "made of granite" Meadows.
Most every training facility is similar in appearance, especially a warehouse type facility. There's a roof, four walls, some type of heater, lights, and a couple ways in and an egress out. The S4 is that type of physical structure. But what is so unique and special about this facility is what has happened there, and that is palpable when you enter the building. It has an actual physical effect on you. You are forced to stop and take in the moment, soak it all in. You can sense the history and virtually feel the knowledge when you enter the S4 Compound. When you walk over to the monolifts, you can visualize in your mind's eye the training that has happened on that spot over the years. It has a visceral quality to it, from the chalk on the bars to the bloodstains on the platforms. It is a space that lacks in appearance yet excels in utilitarianism, is short on amenities yet deep in pragmatism.
But the best feature of the S4 is that it is transcendent, and because of this all, that is embodied in it—all the history, all the depth of meaning, all the blood, sweat, tears, sacrifice and giving—will live on as those traits will come to life and are reborn with S5. The core values that have lived and have been breathed into S1, S2, S3, S4 and now S5 are the embodiment of Dave Tate — and where goes Dave Tate lands the essence of all that is elitefts.
To end where we began:
"The time to begin writing an article is when you have finished it to your satisfaction. By that time you begin to clearly and logically perceive what it is you really want to say."
As I have finished this article to my satisfaction, looking back I could write this article ten more times and I would still not do justice to the S4 Compound. But I hope this article, if nothing else, helps paint a tiny portrait of this giant masterpiece which was the S4 Compound.