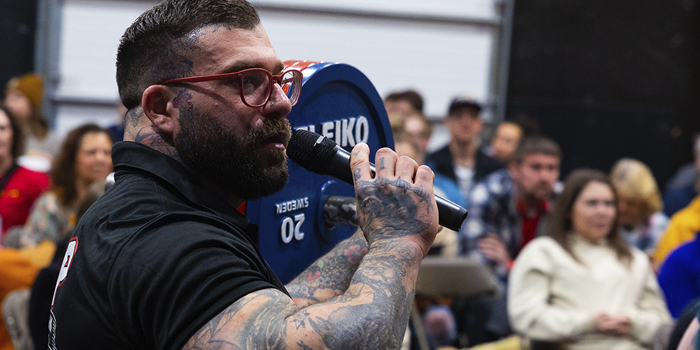 The following is a reflection on a past weekend, shortly after landing back in Maryland, after a trip to Ohio, for Table Talk and training at the elitefts facility.
Between the contorting patterns of glittering apartment buildings, parking garages, and university adjuncts, I watched white wings touch down on the black strips of my final destination. How fragile and small the plane felt, compliant in its screeching halt and light ding of the "safe to remove seatbelt" signal. I sat with groggy eyes, groping for our overhead luggage, trying to collect, or maybe more so, conceal my thoughts.
We often forget where we started. How intricate it all seems at first. The grizzled vets would groan and chuckle at us even though we were still the majority shareholder in the sport. Those first few meets, the aches and pains our bodies have not grown to expect, and the plentiful PR's within that first year that seems to elude us now. I recall when grips did not give, and the mind seemed so much more powerful than the body when surgeries and mobility did not dictate which throne we sat upon, but I digress.
A wide glass-topped table loomed in the corner, with dead cigars and grit-encrusted barbells laying just out of reach from plump black leather chairs. Dave wasn't there yet, and sitting promptly across from his spot, I swung the chair around, facing the opposite direction, and peered out into the vast void of twisted handles. There were metal animals lurking and hiding between bent bars, gnashing their teeth back at me; a true iron jungle of sorts. It was impressive just how easy it was to lose what you had fixated on only seconds ago. Its presence receded into the endless chasm of colors and equipment that ultimately, besides this table, was hard to pinpoint just where the room started and stopped.
From under a low-pulled baseball cap, Dave expressed how many times this had been taken from him.
I used to want a number one spot, to claim a rank among the rest of the greats, to see my shirtless photo adorning the memory-made mural, hoisted high in the confines of the elitefts facility, beaming down amid the Westside heroes. To sit across from the Dave's and Chad's and be held in such high esteem for total and rank, and lifts and championships, and wild win stories and over-the-top accolades and…
I'll Say It Again
We often forget where we started. How intricate it all seems at first. When I watched a young girl pull her first plate and ask me if it would be okay if she did a meet, how impossibly hard it was for me not to break down in humility. To weep openly in front of her excited eyes and show just how soft this has made me.
How I, sandwiched between flights, caught glimpses of the live stream, of a final pull of 800 plus, and a message to me that read, "Thanks for always being there, big dog," from a man I had brought into the sport. He returned later that week, and as we hugged, his towering stature consuming mine, he said how good it was to see me and how much he had missed this place.
Within that same night, I asked one of my closest to help me coach a first-time lifter and beamed at how well he spoke, demonstrated, and corrected. Then, supported by the safeties of a cage, I leaned against the rack and smiled, his mirroring mine, and gently said that perhaps one day, this place would be big enough to hire him.
It took sitting across an emblem-imbedded table to realize all this. This place, this thing, had always been big enough and only grew exponentially. That the majority of lifters were those first-timers, those newbie years, those ecstatic and excited individuals missing lifts from anxiously anticipated commands. That wasn't those with ten years of experience, a top 20 ranking, or invitational qualifying dots, but those shrieking in triumph from their first hideously-grinded third attempt. We all had a story of why we came into this, why we had let it consume so much of us, and just how much more we were willing to give to it. It dawned on me, however, just how far I had drifted. That I had taken on so much and tried so desperately to prove myself, and to what end?
Even the Chalk Felt Different
The white particles clinging to my callus-crowned hands, trapped so smoothly in the ravines of partially read palm lines. Each individual sound seemed to slow; the clamor of velcro suits ripping added cadence to the rising and falling of 5/8 chain. Voices in unison called out "rack," while other singular ones gave direct cues. And standing behind a kneeling curl, in between supersets, my eyes fixated on a woman once broken. She had borrowed a pair of briefs, something I had not seen on her in so long, a year's plus battle with Spondylolisthesis of L5 and S1 with minor fracturing. But I stayed silent, beaming from out of sight, too afraid to call out how proud I was and risk embarrassing her in front of the other geared girls. I sat back down on the pad, tearing up as she cried out in glee.
Dave spoke of an older time when raw was just rising when it had been so backward compared to what it is now. Smiling between swears, his mustached mouth parted ways, and like so many before me, when he spoke, I listened. We talked of past and present, feds and falters, programming and people, and just how this sport had made us whole. That once you were in the spotlight, under the scrutiny of so many eyes, no one would be happy, yet someone had to fill that spot. That, after all was said and done, and you issued your final "platform ready," and you signed off the mic for the last time, what would truly be left?
Descending the lesser iron steps, the small hub illuminated in the glow of its runway lights, I stepped from the tiny plane, feeling smaller than I ever had.
---

Travis Rogers currently resides on the Eastern Shore of Maryland, where he owns and operates a strength training facility, "The Bear Cave." He also works as a graphic designer, 10th and 12th grade ELA teacher, and is active in the community with his 501(c)3 charity organization for underprivileged children. He is the WRPF MD and DE state chairman, a national-level referee, and a meet director for the surrounding area.
Travis has been in the top-10 198 rankings for the last four years in both sleeves and wrapped divisions. After double quad rupture surgery, he's begun a new journey in equipment. In his first meet back from surgery, he totaled 2138 in the unlimited 198 division.