elitefts™ Iron Cowboy Power Bar - ALL ZINC
elitefts™ Iron Cowboy Power Bar is now available in all ZINC
It's about to get all Garth Brooks up in here…
Made in the USA
Zinc Plating
Aggressive Knurling
Great bar for all lifts
200,000 PSI Minimum
15" Loadable Sleeves
Typically ships in 1 business day. All Sales Final.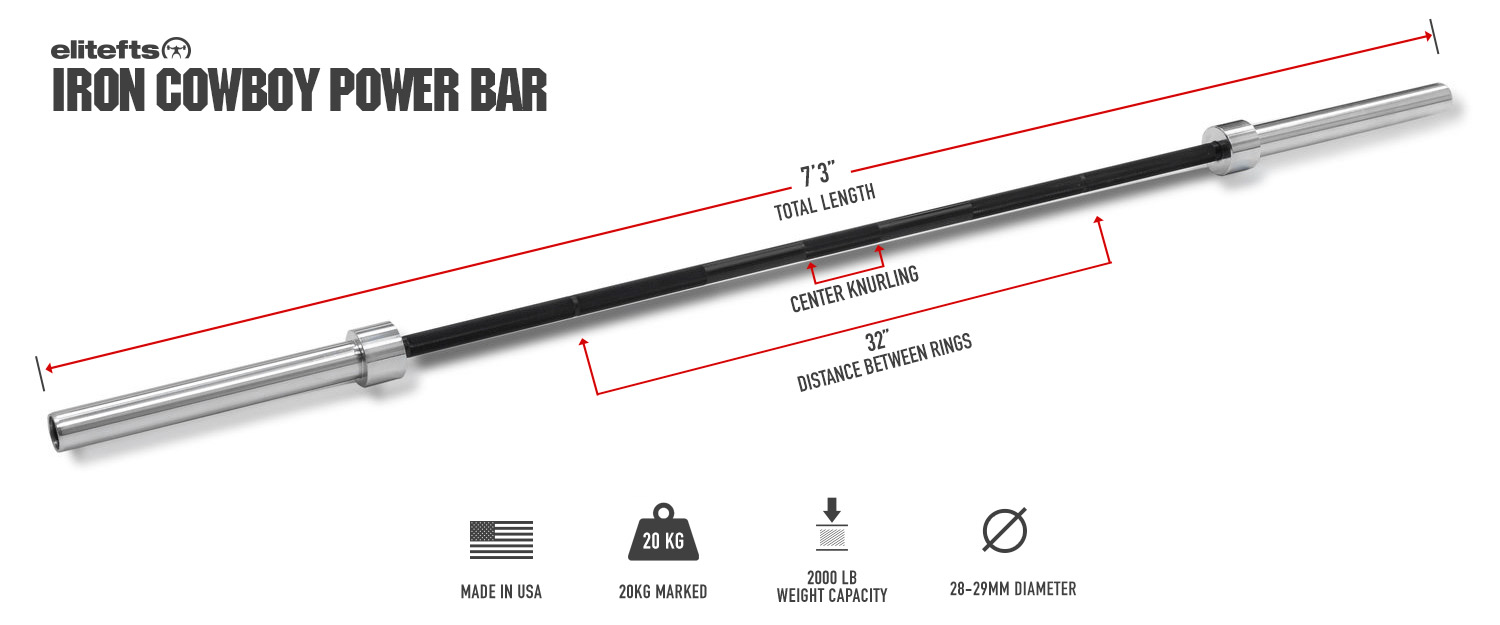 elitefts™ Iron Cowboy Power Bar
The elitefts™ Iron Cowboy Power Bar is proudly made and assembled in the USA, using only the highest quality steel, bushings, and coatings. It's make and model is a perfect choice for the squat, bench, and deadlift—a space saver, for sure. 
elitefts™ Iron Cowboy Power Bar Features
Bronze Bushing: The barbell bearings fit between the bar and the sleeve and reduce the friction between the outer and inner sleeves, making the spinning movement smoother.
28.5mm Diameter: Mix the shaft diameter with the high tensile strength and you have yourself a bar with little to no flex or whip.
Tough Diamond Knurling: Single powerlifting knurl marks and center knurling.
200,000 PSI Strength: PSI measures the tensile strength of the bar, which means the amount of force needed to permanently damage it. A bar with a low PSI will bend easily, and it will be no good after a few drops or one bad one. 
Zinc Plating: Having high-quality zinc plating on our bar prevents it from rusting. It does not prevent scratches, dents, or nicks. If your bar does not have any scratches, dents or nicks, you are not using it properly.
Bar Specifications
PSI Strength: 200,000 PSI Minimum
Weight Capacity: 2000 pounds
Diameter: 28.5mm black oxide shaft with chrome sleeves
Weighs: 45-pound bar 
15" Loadable Sleeves