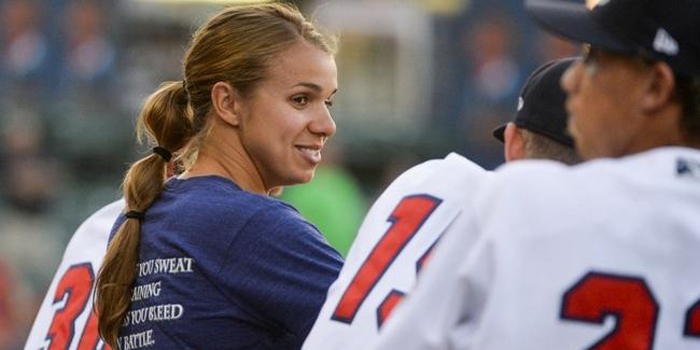 Photo Ron Johnson, Journal Star
Cardinals minor league strength coordinator breaks gender barrier in baseball
The St. Louis Cardinals knew exactly what — and who — they were getting when they hired Rachel Balkovec in a groundbreaking moment for professional baseball.The 26-year-old from Omaha, Neb., is the first female in baseball history to serve as minor league strength and conditioning coordinator for a major league team.
"Just 365 days ago I was a waitress," said Balkovec, sitting in the weight room at Dozer Park during the Peoria Chiefs homestand in mid-May. "I had this great resume and I contacted major league teams and I never heard back from them.
"My friends and family told me to take a college job working with female athletes. I didn't want to do that. I wanted to be in baseball. So I changed my name to Rae on the resume and sent them out again, and sure enough, I heard back from about 10 teams.
"I was hearing from people that teams wouldn't hire me because I was female. It's a male-dominated sport. It wasn't easy getting here. My path has been calculated and deliberate.
"That name change wasn't necessary for the Cardinals, though, who already knew about Balkovec, who had worked part-time in 2012 for their rookie league Johnson City team.
"She came in with a resume that was better than any we'd seen, and her interview blew everyone away," Cardinals director of player development Gary LaRocque said.
"She did a great job for us at Johnson City. We went through the process and she was the most qualified person we interviewed (out of more than 100 candidates).
"Balkovec was a catcher in college on the University of New Mexico's softball team, where she had a reputation for being devoted to physical training. She earned a degree there in exercise science. Then she went on to earn a masters in kinesiology at LSU.She was the top strength and conditioning coach in the Appalachian League for Johnson City in 2012.
In 2013, she worked for the Los Tigres Del Licey team in the Dominican Republic, and served part-time for the White Sox in the Arizona Fall League.
Now she roves around the Cardinals minor league system, overseeing 200 prospects. In Peoria, she jumped into the cage and took batting practice swings. Then guided second baseman Mason Katz in the weight room.
She takes rookie league players grocery shopping, to teach them how to read food labels and what to buy for their nutritional program."Strength and conditioning in baseball is not solidified yet," Balkovec said.
"Fifteen years ago, there were some teams that didn't even have strength/conditioning coaches. I think there's an opportunity to create some programs here, and I'm interested in implementing a nutritional regimen for our players and also working with them on their mobility.
Read the original article
here