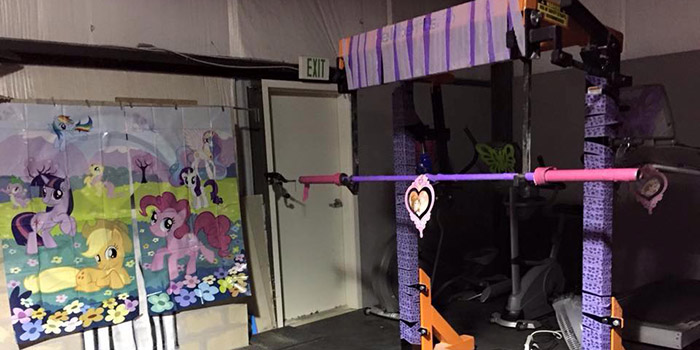 I don't like April Fool's Day. Since coming to the office at 8:30 this morning, I've fallen prey to some embarrassingly simple pranks.
8:30 a.m. — Sprayed with water from kitchen sink; faucet taped shut.
8:45 a.m. — Attempt to check emails with non-responsive mouse; clear tape covering laser sight.
12:30 p.m. — Answer the phone; earpiece covered in vaseline.
1:30 p.m. — Walk through doorway to bathroom; covered in saran wrap.
The day is only half over. I really hope the madness has stopped — at least here in the office.
In what will likely go down as the greatest elitefts April Fool's joke of 2015 (yes, even better than the vaseline on the earpiece), David Allen's gym received a particularly colorful renovation this morning.
"This is what I walked into this morning at 6 a.m. My entire gym had been princessed out."
We're still trying to convince Dave to make this an elitefts complimentary service.