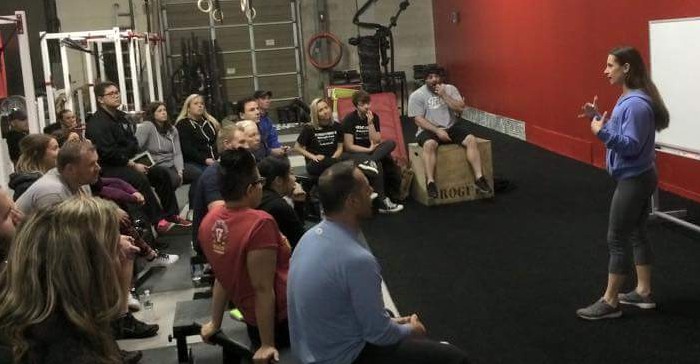 Powerlifting seminar with Julia Ladewski held at PUMP Strength and Performance in East Hanover, NJ, owned by Scott Paltos.
Julia spoke about nutrition, life and training, specifically balancing strength and aesthetics. Attendees were a mix of powerlifters, crossfitters, coaches, and strength enthusiasts.
Julia stated, We had about 20 women and 10 men. The nutrition stuff we talked about revolved a bit around macro nutrients, timing and peri-workout nutrition. And while the details are good and useful, what really hit home was the idea that when you have a goal, you make it happen. Eating good (or at least eating what you're supposed to for your goals) is not that hard. When your goals are so clear and focused, you don't care that you're eating chicken... again. When you aren't where you want to be, you eat your food cold, or say no to the appetizer when you're out with friends. You make it happen.

Elitefts teammate Dave Kirschen came down to help coach the afternoon hands on session, which consisted of squat, bench and deadlift. With the coaching session, we identified weaknesses and technique flaws and provided feedback on how to correct those through exercise selection and technical corrections.

As the speaker of the event, I always come away with my own feedback, always learning as well. The more I speak, the more I realize I don't know, which pushes me to learn more. The more I coach, the more I figure out more and more about training and people. I think that's what drives me the most to continue to do what I do. - Julia Ladewski
Coming Events
Julia will be speaking at Ohio State Barbelles group April 11th.
Julia's elitefts™ Team Page  <<-- Bio, Articles, Logs and Contact Info.