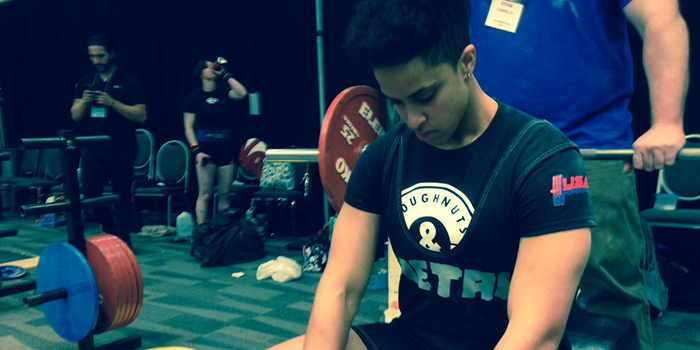 Elitefts team member Mickey Belaineh competes today amongst competitors from 80 different countries at the Arnold Sports Festival.
Belaineh, currently studying law at Harvard University, spoke briefly this morning prior to the meet about her experience preparing for this competition.
"Prep was pretty rough on me because of how busy last semester of school was," Belaineh said. "At first training took a hit, but I came out of it feeling pretty good."
In her first major meet since becoming a team member in June, Belaineh is off to an optimistic start with three white lights on her first squat. Stick with us on this post for regular updates as the day unfolds.
Squat Attempt 1: 319.4 Pounds
Squat Attempt 2: 340.1 Pounds
Squat Attempt 3: 363 Pounds
Two for three after one lift isn't a bad place to be in, but Belaineh knows exactly what happened on the third.
"Last attempt, I know I had the strength there but I got excited and rushed my setup," Belaineh said. "I paid for it in the end, but I know better for next time to not let the crowd and what not overwhelm me."
Bench Attempt 1: 187.4 Pounds
Bench Attempt 2: 193 Pounds
Bench Attempt 3: 197 Pounds
Following the trend set by her squat, Belaineh went two for three on her bench for four of six on the day and a 533.1-pound subtotal.
"The day hasn't gone how I wanted so far," Belaineh said. "But deadlift is my favorite lift so I'm just ready to get there."
Deadlift Attempt 1: 395 Pounds
Deadlift Attempt 2: 413 Pounds
Deadlift Attempt 3: 420 Pounds
"My first two deadlift felt fantastic and I felt like my technique really stayed intact," Belaineh said. "That has been a problem not in training but it has in meets. I would've liked to get my third deadlift but there was a little too much of a hitch."
Belaineh finished the day with a 946-pound raw total.