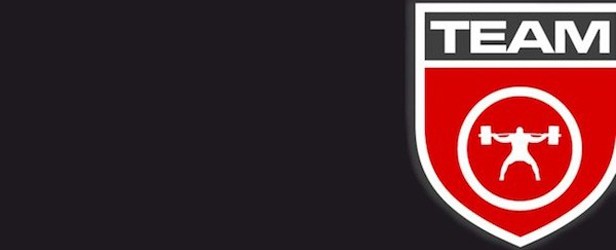 Yesterday was the USS St. Paddy's Day Smash Strongman competition held in my hometown of Paducah, KY. The last few years the competition has been held in Paducah and I've helped work the competition instead of competing in it. This year I decided to compete since I've never competed in my hometown. A few weeks out I decided to jump in the middleweight 220-pound class. Overall there was a large turnout of top athletes, from as far as 6+ hours away, looking to earn their qualifying spot for USS Nationals.
So how did things turn out?
Event 1: Last Man Standing Axle Clean & Press
1st Place (tie)
Pressing events are always my event. Throw pouring down rain in the mix and it seems to shake things up a bit. Our class started at 225-pound axle and made 20 pound jumps until the last man (or men in this case) was standing. Once we got to 305 pounds there was another guy and myself left. He went first and nailed the clean and press. Then I was up. With the axle being wet I actually missed my first clean which took a lot out of me. Since we have one minute to complete the lift I stepped back and regrouped. After a bit of a struggle I got the clean on my second attempt and hit the press pretty easily. Then we moved onto the 325-pound axle. I've hit this before in dry conditions no problem. The only other guy left was up first. He missed the lift, so it was my turn. Hitting this would secure a first place finish going into the next event. Unfortunately a wet axle and wet shirt made the clean almost impossible for me. I struggled on each attempt and finally time ran out. I still won this event with a tie, but it was not how I wanted to start the day.
Event 2: Last Man Standing Axle Deadlift
1st Place
Axle deadlifts are a different animal, that's for sure. I only pulled on an axle once before this competition and it felt like crap. The biggest issue is that there is no flex at all; it's worse than pulling on a stiff bar. And even though we were pulling off of flat tires, this still set the bar height to just under 10 inches when the bar was loaded. Not too far off a traditional bar height. The opener was 505 pounds and felt like a joke. We then made 50 pound jumps. Once we got to 605 pounds it was myself and another lifter left. We both hit it pretty easily. Then the weight jumped to 655 pounds. He was up first and after a couple failed attempts was done once time ran out. I didn't want another event win tie, so I knew what I had to do to win this event. I pulled it pretty easily and was actually surprised it wasn't more of a struggle than it was.  This secured the event win.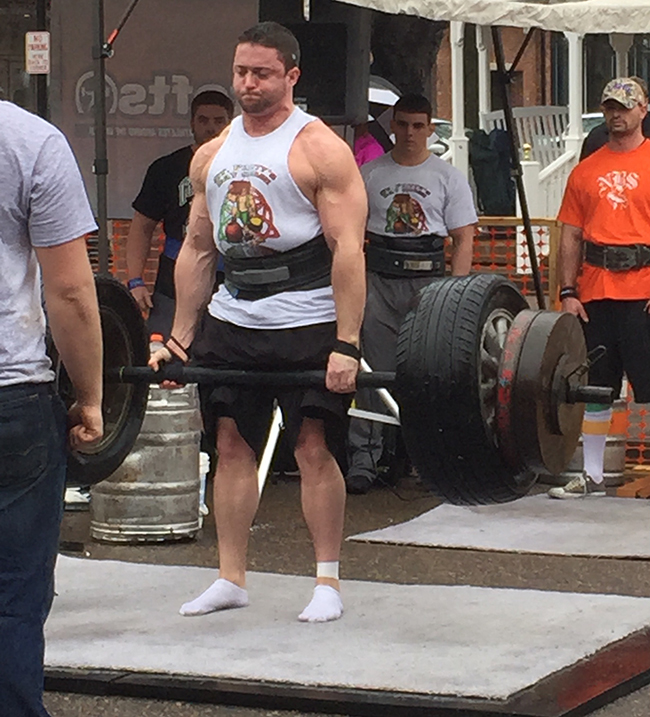 Event 3: Last Man Standing Yoke Squat (Bar set to 48 inches)
2nd Place
This event was interesting. We started at an opening weight of 600 pounds and each successful attempted we made a 50 pound jump. Competitors had one minute from completing one attempt to move onto and complete the next attempt. When I was up the weight to beat was 950. I paced myself and worked up to 1000 pounds hitting all attempts. One more weight jump and the yoke was loaded to 1050. I attempted the weight, but as soon as I started to feel the yoke break the ground I also felt my lower back starting to round under the load. I decided to play it safe and stop the lift because I thought 1000 pounds would be good enough for the win with only a few competitors left after me. And with the next event being a last man standing farmers deadlift, I didn't need to destroy my lower back just yet. While this was a smart move on my part overall, it did cost me an event since one of the guys up after me hit 1050 pounds.
Event 4: Last Man Standing Farmers Deadlift
1st Place
This event we all went through in the same fashion as the axle deadlift. We all took an attempt and rotated through. We made 40 pound jumps per hand and by the time we got to 385 in each hand there was two of us left. We both completed this lift and moved on to 405 in each hand. He was up first and missed the lift. I wanted the event win and not another tie, so I knew what I needed to do. I gripped each handle and pulled 405# (810# total) for the event win. At this point I had won the event, but was asked if I'd go for another attempt  for the crowd. I then decided to make a jump to attempt to beat the heaviest farmers deadlift of the day. They loaded 430 pounds on each handle and I had it almost locked out with I ripped 4 calluses total between my two hands. While it wasn't smartest decision on my end it was fun to attempt it and fun for the crowd. And at the end of the day I was there to have fun.
Event 5: 275# Keg over 54-inch Bar for Reps
1st Place
At this point I already had enough of a points lead that I could skip this event and still win the overall, which was a good feeling. I also had some nasty looking painful hands and was wondering how loading a 275-pound keg would feel on them. At first I thought about loading the keg once to get some points and be done. By the time I was up the number to beat for the win was four. I decided I'd do five and stop. Then a fellow competitor challenged me that I couldn't hit six. So I hit seven reps with time to spare and walked away with another event win and the overall win in the middleweight 220-pound class.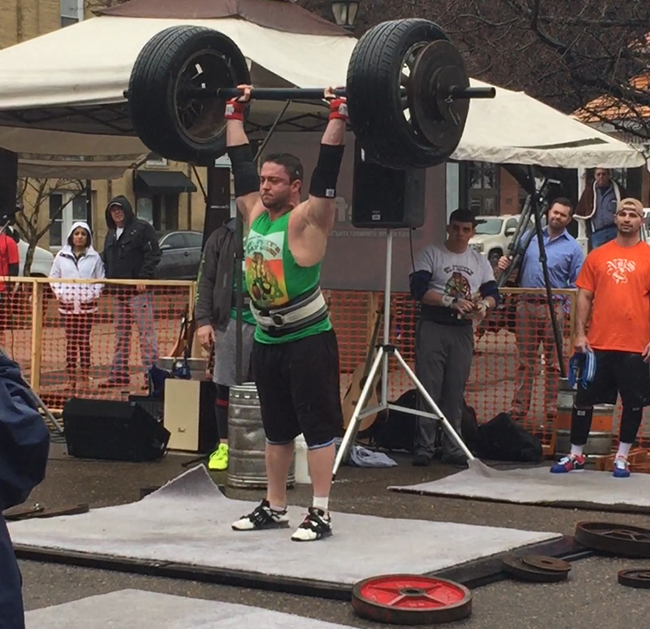 My goal for this competition was to go out, put on a good show for my hometown, and win. This was one of the most fun competitions I've competed in in a while. I met some great people, got to catch up with some old friends and most of all put on show for those there to watch. I'll be taking this next week off from training and my USS Strongman Nationals Prep will start next Saturday at 14 weeks out. Be sure to follow along in my training log as I prepare and peak for the big day.