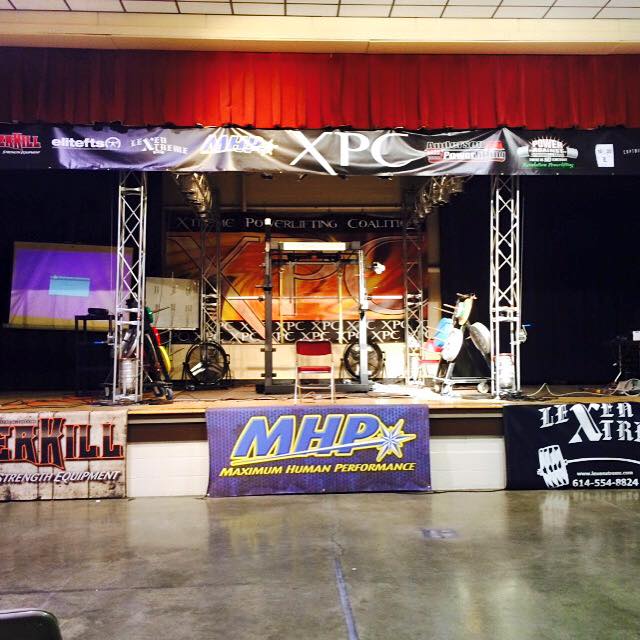 SOURCE: Eye Witness Report & Tank's Training Facility
Over the past 17 years we have sponsored over 100 athletes and coaches. Many were exactly what we expected, many exceed our expectations and others didn't live up to them. With a history of 17 years of giving back and helping others being a athlete/coach for elitefts carries a high level of responsibility and accountability. They do not just represent themselves but all the other team members, all those before them, and a company known for giving, quality and integrity.
Today I watched  last years XPC Finals Champion Chris Janek bust his ASS coaching his own team of lifters. Not just a team of lifters but a team of dedicated, no quit, passionate, relentless and humble lifters.
Chris WILL be lifting tomorrow but today he was their coach.
There was no doubt he was tiered from cutting weight, no doubt he wanted to rest, and no doubt he wanted to eat. One minute he was sitting beside me half asleep and the next up on the platform making sure his lifters were ready and set to break their own PRs. When they needed him he was ALL IN.
Today Chris was not worried about his PRs but theirs!
Was Chris Janek a great selections for team elitefts? Regardless of what he does tomorrow the answer is simple. There is NO DOUBT he is a great fit for elitefts!
Chris will rest, Chris will eat and Chris will be ready tomorrow when he hits the platform. I am looking forward to watching his team (as well as team elitefts) support him tomorrow in the same manner he supported his own today.  It's when people come together great things happen. It's easy to see why he was the overall winner last year.
Today I saw what Chris Janek is REALLY about and am damn pound.  I wish him all the best as he hits the platform tomorrow and can't wait to see how the plates load.
Here are some posts and pictures I ripped off his company facebook day as it was great watching his Powerlifters do their thing!
- Dave Tate
Well friends, this was the day I've been waiting for for what seemed like forever! Beyond ecstatic for this opportunity to share a platform with some of the strongest women in the world.. And I'm happy to say that I did exactly what I came here to do.

I can't begin to say how proud I am to be part of Tank's Training-Facility....we had 4 amazing women....Chelsea Chelsey LamprosKayla MarieKelsey BeckerChristy Lexow...do work today at the Arnold....very proud of these 4 girls for going on the big stage and getting it done and leaving everything they had on the platform....i know i am proud to be part of your lives and thanks for letting me be big brother and being great role models for my daughter!!!!!

Back in October when I was told I was going to be given the opportunity to lift at the Arnold Classic I couldn't believe it. After taking a few months off from lifting with soccer, I doubted being able to even to compete with some of the best not only in the country, but the world. Like wow. I can't even begin to explain what an experience today was. Ended up totaling my goal of 900. Went 6/9, not my best and was hoping for a bigger total but again I can't even be upset. Thank you everyone for the support and looking forward for big things to come!

— with Tank's Training-Facility and 3 others.

"I could focus on that number and let it destroy me, or I can move past it and (continue to) kill it." -Kelsey Becker
Words I've been reminded to live by.

These dedicated ladies (and men!), my teammates, are seriously my motivation and inspiration, to the fullest extent possible.
Regardless, I am so proud to be here representing all of you, our coach, and our gym.

— with Tank's Training-Facility and 2 others at Ohio Expo Center & State Fair.
Congratulations to all the lifters from Tanks Training Facility and all those who help coach and support them along the way.  You were all impressive and great to watch!