Team Elitefts will Represent on National Stage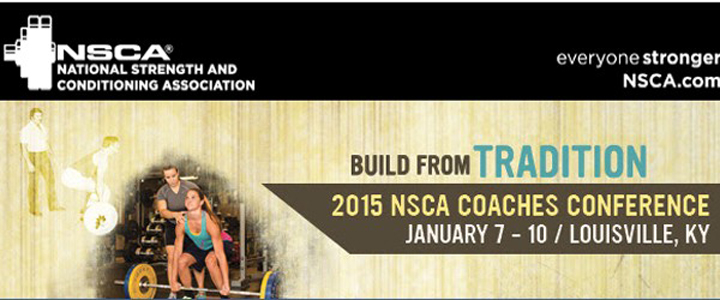 Coaches from Team Elitefts are no strangers to the National Conference scene. The NSCA National, TSAC, Personal Training, and Coaches conferences have had several coaches with elitefts.com ties. Julia Ladewski, Jon Mike, Mike Robertson, and Alwyn Cosgrove, Matt Wenning, Bryan Mann and Mark Watts have all presented in the past several years. The 2015 NSCA Coaches conference will be held in Louisville, KY January 7-10th.
NSCA Coaches Conference Session Descriptions
Developing Your Own Training Philosophy
by Dave Tate, CSCS
This session will show attendees how to use what they already know to accomplish more and stay one step ahead of everyone else. The secrets to developing an attendee's own training philosophy are simple and the results can be extremely rewarding. This session will show a step-by-step process of how to discover a unique, clear-cut path and how to build upon it.
Application of Powerlifting to Sports Performance
by Matt Wenning, MS
Powerlifting training, when applied to sports, has many benefits including increasing overall strength, correction and assessment of weaknesses, improving performance, and reducing the potential risk of injury, to name a few. Coaches have used the squat, bench, and deadlift as staple exercises for many years and across various different sports. This session will give coaches a better understanding of the best use of these exercises as assessment tools, and the development of absolute strength.
Training Power Exercises in a Team Setting
by Mark Watts, MEd, MS, CSCS, RSCC
One of the most difficult challenges for strength and conditioning professionals is incorporating non-traditional movements to develop explosive power in a team setting. While most explosive movements in the weight room are done in the sagittal plane, most movements on the field or court are done in the frontal or transverse planes. This session will review several unique exercises in multiple planes of motion to develop explosive power with a variety of equipment.
Fatigue and Readiness Monitoring from A to Z
by Bryan Mann, PhD, CSCS, RSCC*D
This session will talk about monitoring fatigue and readiness for any budget. With all of the different technological advances that have been occurring this past decade, it is easy to think that you cannot monitor fatigue and readiness without them. This session will provide different means to track readiness, fatigue, and training loads that vary from free to expensive.
Registration is available at:
http://www.nsca.com/events/conferences/coaches-conference-2015/
Loading Comments...