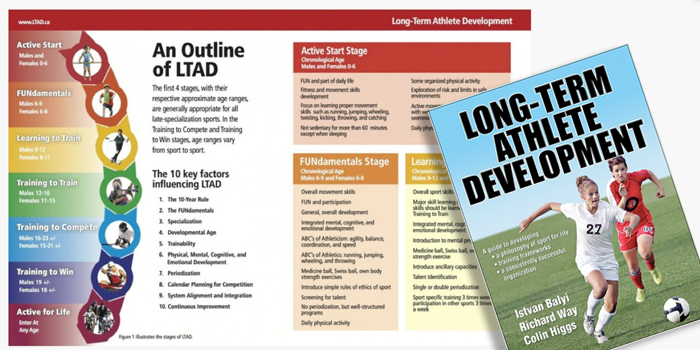 Children, youth and adults need to do the right things at the right time to develop in their sport or activity – whether they want to be hockey players, dancers, figure skaters or gymnasts. Long-Term Athlete Development (LTAD) describes the things athletes need to be doing at specific ages and stages.
LTAD Stages
Science, research and decades of experience all point to the same thing: kids and adults will get active, stay active, and even reach the greatest heights of sport achievement if they do the right things at the right times. This is the logic behind the Long-Term Athlete Development model (LTAD).
There are seven stages within the basic LTAD model:
Stage 1: Active Start (0-6 years)
Stage 2: FUNdamental (girls 6-8, boys 6-9)
Stage 3: Learn to Train (girls 8-11, boys 9-12)
Stage 4: Train to Train (girls 11-15, boys 12-16)
Stage 5: Train to Compete (girls 15-21, boys 16-23)
Stage 6: Train to Win (girls 18+, boys 19+)
Stage 7: Active for Life (any age participant)
Stages 1, 2 and 3 develop physical literacy before puberty so children have the basic skills to be active for life. Physical literacy also provides the foundation for those who choose to pursue elite training in one sport or activity after age 12.
Stages 4, 5 and 6 provide elite training for those who want to specialize in one sport and compete at the highest level, maximizing the physical, mental and emotional development of each athlete.
Stage 7 is about staying Active for Life through lifelong participation in competitive or recreational sport or physical activity.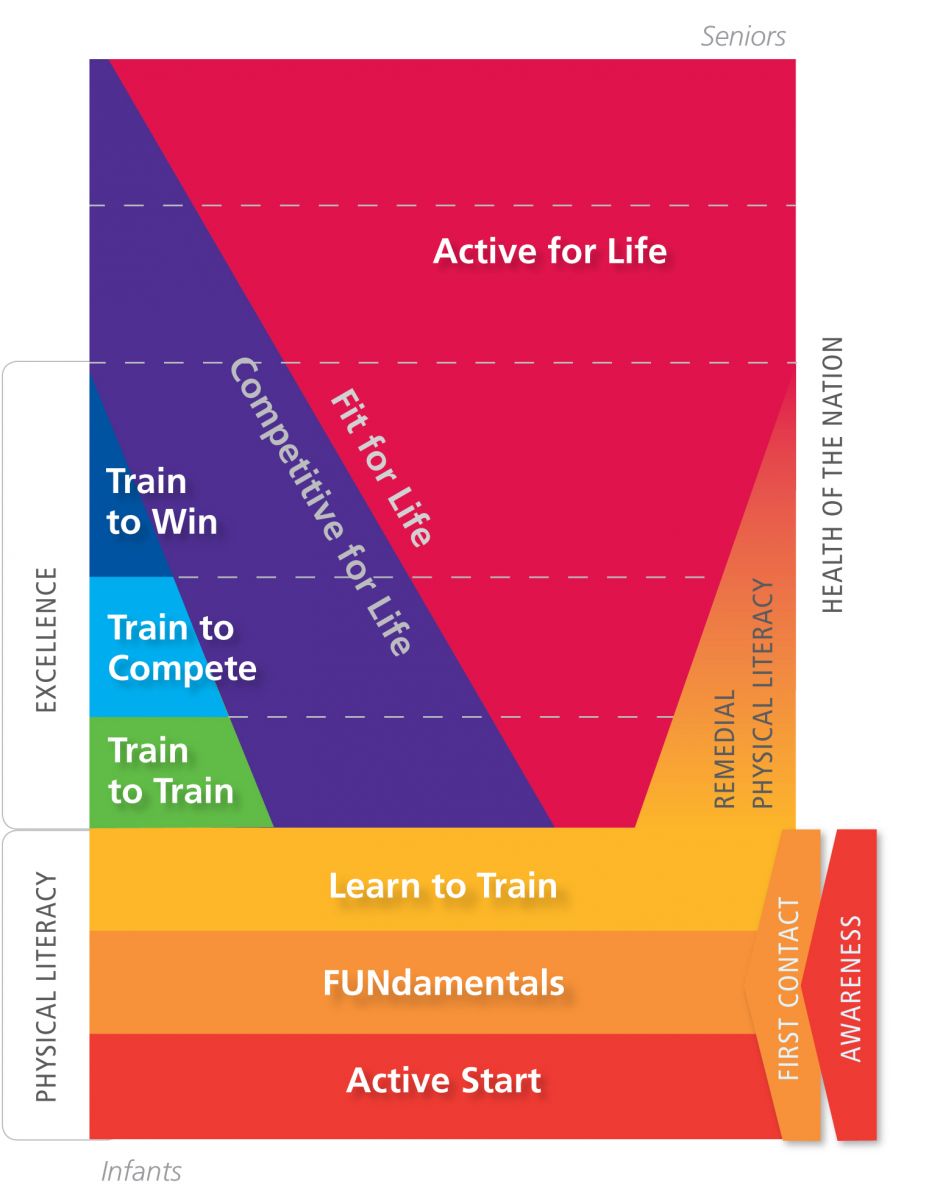 Source: canadiansportforlife.ca/
 More About LTAD
Throughout the seven stages, LTAD supports training, competition, and recovery programs based on developmental age — the physical, mental and emotional maturation of the individual — rather than chronological age. It is athlete-centered in that it is designed to serve the best interests of each athlete's long-term development, encouraging growth in skills and achievement while ensuring each individual remains engaged in sport.
The Latest Science
LTAD combines the best research in today's sport science with the best practices in coaching and training from around the world. These important research concepts and best practices have been codified into the 10 Key Factors of LTAD.
Fixing Past Failures
LTAD has been developed for a reason. Many traditional approaches to sport in Canada have served to reduce participation numbers, led to poor results, and even caused injury. LTAD is designed to maintain participation, increase results, and protect our athletes.
Improving Health 
LTAD is also driven by serious concerns for the health of all Canadians. Trends over the past two decades have been towards less physical activity and sport participation, and we are starting to see serious negative consequences through rising rates of obesity, type 2 diabetes, and increased risk of heart and stroke disease. LTAD aims to mitigate these trends by promoting lifelong engagement in physical activity and sport.
LTAD is for Everyone
LTAD is for all Canadians, not just elite athletes and the young. It is cradle to grave in scope, and it is also inclusive of athletes with disabilities. It provides a route for athletes and participants of all levels of ability and disability to develop from playground to Olympic podium, and it also allows individuals to choose their own training and competition goals at all points in between.
Editorial Reviews
"An indispensable guide for any coach or parent concerned with making sport healthier and more ethical. This book brings fresh ideas to the practice of sport and truly represents thinking outside the box. As human beings, we only have one body so we need to treat it well. Too many athletes leave sport with long-term injuries and a record of underperformance. The ideas in this book can change that and allow everyone in sport to get the most out of talents and ambitions."

Jim Denison -- Professor, University of Alberta, Director, Canadian Athletics Coaching Centre

"The authors show that programs of sport and wellness can be complementary, not mutually exclusive. Thus, long-term athlete development is consistent with the goals of North American initiatives—Sport Canada, the President's Council on Fitness, Sports, and Nutrition."

CHOICE: Current Reviews for Academic Libraries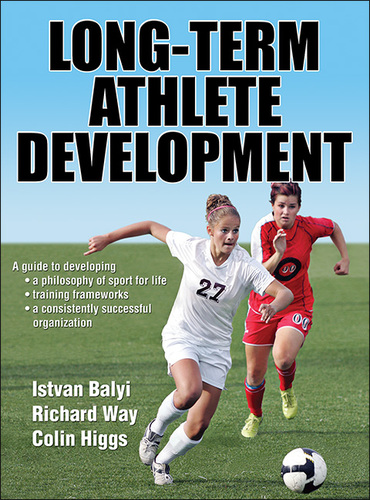 About the Book
Long-Term Athlete Development describes how to systematically develop sporting excellence and increase active participation in local, regional, and national sport organizations. This resource describes the long-term athlete development (LTAD) model, an approach to athlete-centered sport that combines skill instruction with long-term planning and an understanding of human development. By learning about LTAD, sport administrators and coaches will gain the knowledge and tools to enhance participation and improve performance and growth of athletes.
This text offers the first in-depth and practical explanation of the LTAD model. Long-Term Athlete Development integrates current research on talent development and assessment into practice to help sport leaders plan athletic development across the life span or design detailed programs for a particular group, including those with physical and cognitive disabilities. Authors Balyi, Way, and Higgs—pioneers and veteran LTAD facilitators—critique current talent development models, discuss the limitations of the LTAD model, and demonstrate the benefits of LTAD as a new approach. By integrating knowledge of these models, readers are able to analyze their own programs and take steps to improve sport and coaching philosophies and reach adherence and performance goals.
Explanations and visuals of concepts help readers understand the state of knowledge in talent identification and long-term athlete development. Chapter-opening vignettes offer examples of how the LTAD model can be used to alleviate common issues. Listings at the end of each chapter offer sources for further study, and reflection questions guide readers in applying the content. The text offers a logical presentation of current research:
Key factors that guide and shape the LTAD model, such as physical literacy, the differences between early- and late-specialization sports, and variations in trainability across the life span
Information on the time needed to develop excellence in sport and how periodization of training is related to the developmental stage of the athlete
The seven stages of LTAD, from development of fundamental movement skills to training for elite competition and the transition to lifelong physical activity
Considerations in the development of optimal programs for participants passing through each of the seven stages
Long-Term Athlete Development is an essential guide to improving the quality of sport, developing high-performance athletes, and creating healthy, active citizens. It offers parents, coaches, and sport administrators a deeper understanding of the LTAD model, helping them create an enjoyable, developmentally appropriate environment for both competitive athletes and enthusiastic participants.
Table of Contents
Preface
Part I. Introduction to Long-Term Athlete Development
Chapter 1. Long-Term Athlete Deveopment Model
Beginnings of LTAD
LTAD Model Explained
Sport for Life Philosophy
Framework for Working Together
Guide for Participating in Sport and Physical Activity
Tool for Change
Summary
Questions for Reflection
References
To Learn More
Chapter 2. Athletes With Disabilities
Sport for People With Disabilities
LTAD Stages for Athletes With Disabilities
Special Considerations
Supporting Athletes With Disabilities
Summary
Questions for Reflection
References
To Learn More
Part II. Key Factors in Long-Term Athlete Development
Chapter 3. Physical Literacy
Physical Literacy Definitions
Physical Literacy Development in Children
Appropriate Skill Development in Children
Summary
Questions for Reflection
References
To Learn More
Chapter 4. Specialization
Specialization Defined
Negative Consequences of Specializing Too Early
Positive Effects of Specialization at the Optimal Time
Optimal Time to Specialize
Specialization Groups
Sport-Specific Specialization Athlete Development Models
Summary
Questions for Reflection
References
To Learn More
Chapter 5. Age
Age Categories
Relative Age
Developmental Age
Measuring and Monitoring Growth
Summary
Questions for Reflection
References
To Learn More
Chapter 6. Trainability
Sensitive Periods of Trainability
Trainability of Stamina
Trainability of Strength
Trainability of Speed
Trainability of Skill
Trainability of Suppleness
Training and Competition During Puberty
Summary
Questions for Reflection
References
To Learn More
Chapter 7. Intellectual, Emotional, and Moral Development
Capacities
Interplay of Intellectual, Emotional and Moral Development
Physical Development
Intellectual Development
Emotional Development
Moral Development
Influence of Intellectual, Emotional, and Moral Development on LTAD
Learning Styles
Summary
Questions for Reflection
References
To Learn More
Chapter 8. Excellence Takes Time
Importance of Practice in Excellence
Importance of Multisport Participation and Free Play
Importance of the Physical, Cognitive, and Emotional Domains to Excellence
Perils of Premature Selection
Keys to Achieving Necessary Training Hours
Summary
Questions for Reflection
References
To Learn More
Chapter 9. Periodization
Periodization and LTAD
Components of Periodization
10-Step Approach to Creating an Annual Plan
Implementing the 10 Steps of an Annual Cycle
Summary
Questions for Reflection
References
To Learn More
Chapter 10. Competition
Competition and LTAD
Issues in Competition
Making Good Decisions
Training-to-Competition Ratios Through the Stages
Summary
Questions for Reflection
References
To Learn More
Chapter 11. Sport System Alignment and Integration
System Alignment From an Individual Perspective
System Alignment From a Sport Organization Perspective
System Alignment From a Sector Perspective
LTAD and S4LImplications for Policy Development
Summary
Questions for Reflection
References
To Learn More
Chapter 12. Continuous Improvement
Technology Changes
Paradigm Changes
Influencing Change
Actions for Continuous Improvement
Summary
Questions for Reflection
References
To Learn More
Part III. Stages of Long-Term Athlete Development
Chapter 13. Active Start
Active Start Importance
Physical Activity and the Brain
Critical and Sensitive Periods
Maturity and Body Movements
Appropriate Activities and Programs
Summary
Questions for Reflection
References
To Learn More
Chapter 14. Fundamentals
Evolution of Skills
Fundamental Movement Skills
Locomotor Skills in Varied Environments
Attaining All of the Fundamental Movement Skills
Learning and Teaching Fundamental Movement Skills
Key Training and Performance Characteristics
Summary
Questions for Reflection
References
To Learn More
Chapter 15. Learn to Train
Learn to Train Basics
Key Training and Performance Characteristics
Summary
Questions for Reflection
References
To Learn More
Chapter 16. Train to Train
Train to Train Basics
Key Training and Performance Characteristics
Summary
Questions for Reflection
References
To Learn More
Chapter 17. Train to Compete
Train to Compete Basics
Key Training and Performance Characteristics
Summary
Questions for Reflection
Summary
To Learn More
Chapter 18. Train to Win
Train to Win Basics
Key Training and Performance Characteristics
Summary
Questions for Reflection
Summary
To Learn More
Chapter 19. Active for Life
Active for Life Basics
Importance of Active for Life
Competitive for Life Basics
Fit for Life Basics
Sport and Physical Activity Leaders
Summary
Questions for Reflection
References
To Learn More
Epilogue
Appendix A: Yearly Training Chart
Appendix B: Step-by-Step Process for Creating an Annual Training, Competition, and Recovery Program for Developing Athletes
Index
About the Authors
Suggested Reading