XPC 2019: Jo Jordan's Post-Surgery Return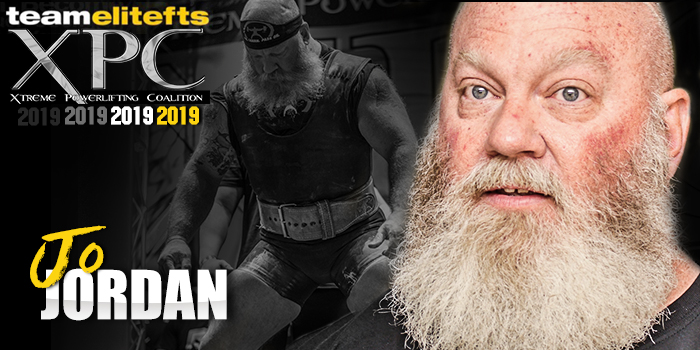 It's been two years since Team elitefts athlete Jo Jordan competed in the XPC Worlds. The last time was in 2017, when he won second place in the 275-pound Pro multi-ply event with a 2,400-pound PR total.
Jo's coming off of a shoulder surgery, and though it's not his first post-surgery meet, it's giving him a bit of concern, as his strength isn't where it was — but that's not stopping this guy from competing. Not even close.
Competition Details:
What:

 XPC Worlds

When:

 Saturday, March 2nd, 2019

Where:

 Columbus Convention Center in the Arnold Expo

Weight Class:

 275

Division:

 Multi-ply
Goals for Competition
Hoping to make it onto the 275 all-time top-20 list for squats.
Competing Post-Surgery
This is my second meet post-surgery, but my concern is that I won't be able to keep up with my competition since my strength hasn't recovered completely.
Post-XPC Plans
I don't plan on "retiring" until I'm no longer competitive or my body just gives out. Focusing on my bench and deadlift since they are the banes of my existence.
Competition Gear
I'm using the Metal Ace Squat Suit and Briefs with the All Black Knee Wraps for squat. For bench, I'll be using the Metal Jack and Poker Bench Shirts with the Metal Orange Wrist Wraps. For deadlift, I'm using the Metal King Sumo Pro Deadlifter.
Loading Comments...