XPC 2019: Bryan Doberdruk's Doing More Than the Deadlift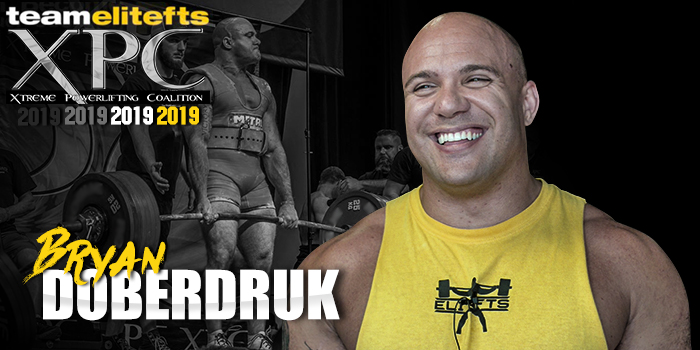 As of today (February 15th), the 2019 Arnold Sports Festival is 15 days away, and members of Team elitefts are training and preparing like there's no tomorrow.
Placing the spotlight on Bryan Doberdruk (one of four athletes who'll be representing Team elitefts), here's where you'll find him come meet day.
Competition Details:
What: XPC Worlds
When: Saturday morning on March 2nd, 2019
Where: Columbus Convention Center in the Arnold Expo
Weight Class: 220
Division: Full Power Pro
Goals for Competition
I've had these numbers in my mind since the last full meet I competed in (September 2017).
[I hope to] squat 700, which would be a 25-pound PR; bench 440, a 10-pound PR; and deadlift 760, a five-pound raw PR, which would put me at a 1,900 total. If you asked me a few years ago, I probably would have told you that was unrealistic.
I've been very fortunate to be surrounded by good coaching and training partners over the past few years and be able to train at the elitefts compound on a weekly basis, which forced me to raise my expectations of myself.
Going From Deadlift-Only Event to Full Meet
I competed in the full meet on the pro day at the XPC Finals in 2015 and 2016. In 2017, they offered the 21 Deadlift Salute for the first time, which was on the main stage at the convention center, as opposed to the full meet, which was held at the Ohio State Fairgrounds.
The deadlift is my best lift, and you don't get too many opportunities to lift in front of a crowd like that, so I immediately knew I wanted to do it. In both 2017 and 2018, I won the lightweight division of the 21 Deadlift Salute with multi-ply deadlifts of 777 and 782, respectively.
This year, the full meet is at the convention center at the actual Arnold Expo for the first time, so I think it will be the same opportunity to lift in front of a big crowd, just like the past two years at the 21 Deadlift Salute.
I also am ready to compete in a full meet again. The past six or seven years, I have done two full meets per year.
My last competition was the 21 Deadlift Salute at the Arnold, and prior to that was an RPS meet in September. I was planning on competing again in September of 2018, but life is funny like that. I had a crazy summer that involved selling my gym, moving to the opposite end of the state, starting a new gym, buying and remodeling a house, just to name a few things. I never, ever get stressed out, but this did me in. So, to say I'm ready to finally compete again is an understatement.
I'm not overly concerned about getting back into the full meet. I've been competing for almost a decade, I'm pretty confident in myself. I love the nervous excitement feeling of stepping on the platform in front of a crowd.
Working Through Benching Technical Difficulties
It was September 2015, [the] last bench PR I hit. Since then, I've had a few pec strains that set me back and messed with some setup and grip changes that didn't seem to help anything.
Since moving back to Northeast Ohio this summer, I have been training with Angelo Berardinelli, an old school long-time Westside Barbell lifter. He had me slow things down and work on everything from my grip, unrack, set-up, bar path, and elbow positioning. I've really lucked out finding a powerlifting crew with a great knowledge base and a lot of people willing to help me out. The thing I have been doing that has made the biggest difference is making sure my warm-up sets are perfect.
In the past, I just did reps to do reps to warm up, [with] no real regard for technique. Now, I will take a few extra sets, but all my warm-up sets are usually three or fewer reps and treated exactly like my heaviest sets. I'm more confident than ever going into the bench in this meet.
Loading Comments...