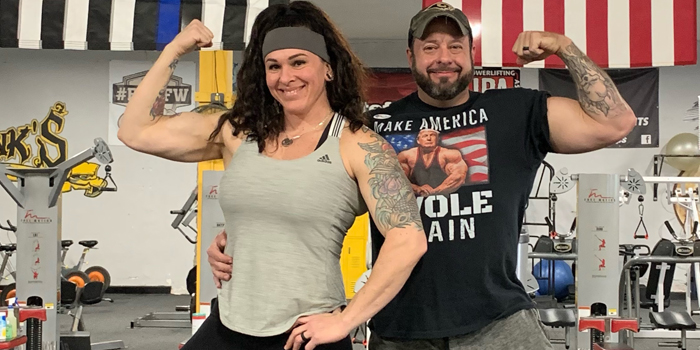 Almost everyone who will read this has been in a relationship—married, dating, or just "hanging out," as the young ones say. And almost everyone reading this has either competed in powerlifting or is training at some level for powerlifting. When you put the two worlds together (relationships and powerlifting), it can result in disaster or a Godsend.
Like anything in life, it is always great to look to ones that have been and there done that. To ones who have been in the "trenches" and have gone through the good, the bad, and the ugly but have made it work. Blending relationships and powerlifting, both at a high level (marriage and elite status), is a tough thing for most. It is amazing to see Aaron and Kelly Grosos from our facility make it work day in and day out, not only out of the gym but in the gym as well. They are training partners who always show up to TRAIN. It has been pretty awesome the last few years watching them grow as powerlifters and work together.
---
---
Today I am fortunate enough to pick Kelly's brain on how they make it work.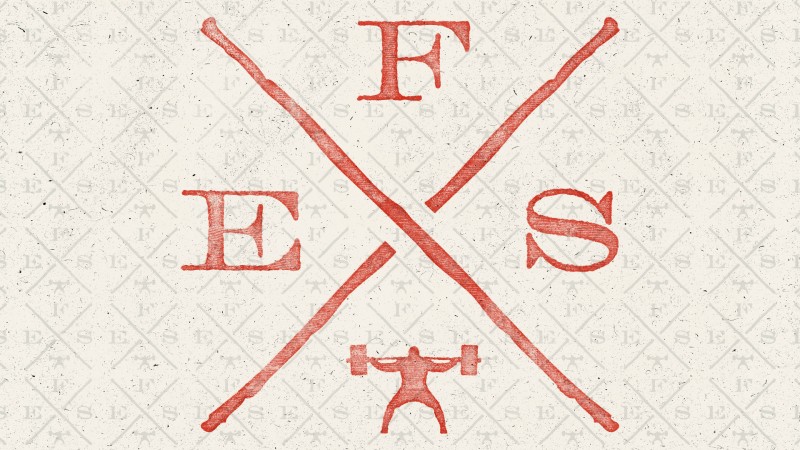 Please give us some information on your relationship? 
Aaron and I met back in the summer of 1998 at a club in New Port Richey, Florida. We got engaged in February of 1999 and married in June of 1999. We have four incredible kids and two grandkids! Our oldest boy has two sons; he was in the Army and got hurt in Iraq. He loves working out and lifting but has restrictions due to the injury he sustained. Our daughter is currently in the Army and has gotten into powerlifting. She wants to compete when she is closer to home. As of right now, she's killing the gym PRs. Our other daughter is also into fitness and works out to stay fit and healthy. Our youngest boy is a competitor in karate and kickboxing.
When did you guys start training? 
Before we met, we were both very active people. Aaron used to work out, do martial arts, and play hockey. I was into working out and playing basketball along with martial arts, too. Once we got together and had kids pretty quickly, the available time for certain activities became hard to keep up. We would play tennis and rollerblade and do what we could. As the kids got older, we started a basic gym to build muscle and shed some weight. That didn't last too long. We were living in Arkansas, and the gym was quite far. As a result, we fell off and tried to go when we could, but it wasn't consistent. We started to drink quite a bit and hang out in our spare time. In July of 2011, we moved to Illinois, and by this time, drinking was more of a habit and something we started to do a lot. Aaron nearly tipped the scale at 300 pounds, and we both realized we needed to make some changes for ourselves and our kids, who started to notice the frequent behaviors we had.
Aaron and I have always been a buddy system, which really works out. Since we both knew it was time for a change, we started going to Gold's Gym back in 2015, and that is when we really got serious about lifting. We have very addictive personalities, so instead of drinking, we got hooked on lifting. We both got addicted to the progression and the battle between ourselves and the weights. Aaron started to lose weight, look healthier, and feel good about himself. I started toning up and building muscle—I loved it. So, 2016 is when our full dedication to powerlifting had begun. We have been extremely dedicated to the sport ever since.
When did you start competing in the sport of powerlifting? What are your best-to-date lifts and totals? 
We started competing in 2017. My first meet was in May on Mother's Day. It was a great first meet. I broke the Illinois state records for the squat, bench, deadlift, and total in the USPA for sub-master and open as a raw lifter. Aaron's first meet was in November of that year, and he broke the Illinois state records for bench in the USPA for masters 40-44. As for our best lifts to date, I have a 415-pound squat, 235-pound bench, 460-pound deadlift with a 1,110-pound total. I currently hold records in the USPA in open and sub-masters as a raw lifter, deadlift only, and classic raw lifter in masters, also in the SPF and RPS in open and masters as a classic raw lifter. Aaron's best raw total is 1,317 pounds. He currently holds Illinois state records in the USPA for bench, masters 40-44, deadlift masters 40-44, and deadlift in masters 45-49. Aaron is now lifting in single-ply and has a 625-pound squat, 430-pound bench, and a 565-pound deadlift. These are gym totals; his past two meets have been canceled due to COVID-19.
What are your future plans for life and powerlifting? 
Our current plans for powerlifting are to continue to stay healthy, support each other, push each other, and keep going as long as possible! Aaron will continue to compete in single-ply and eventually go to multi-ply. I will continue as a classic raw lifter as long as I'm competitive. In his meet coming up, he will be competing as a 220-pound lifter. I would love to coach young up-and-coming lifters at some point and pass on the lessons I have learned and battled with. We both started this journey by self-teaching each other. Instead, we could have avoided injuries and/or progressed at a rapid rate if we had some guidance.
Are there any tips you can provide the reader to help them avoid any pitfalls you might have encountered or anything that has helped you along the way? 
Our journey of powerlifting has been great and challenging all at the same time.  At times it can be extremely difficult to do as a married couple. Trying to balance our work schedules and putting on the Uber hat for the kids and their sports and events can be trying. It's also hard to stay focused on your own goals and support your partner through injuries or if you're having that horrible day in the gym. I have had 3three surgeries. I was supposed to compete in a meet with Aaron, and I couldn't due to my injury. The hardest thing to do is put aside your own bitterness and envy and be there for your partner. We are each other's strengths and weaknesses. So, sucking it up and making sure he had the encouragement, training, and handler became my top priorities.
---
RELATED: A Thank You to My Valentine
---
Aaron had ruptured his bicep two weeks out from his meet, and he was in the gym the very next day after surgery, working on legs and being there for me as my biggest fan and motivator as I prepped for the Chicago Fit Expo. He was devastated, but he knew I needed him. Granted, it's definitely not all rainbows and butterflies; there are times when we can screw up each other's lifts.
You know, those relationship bickers over something small, and now its gym time. Sometimes it rolls into the workout, and those lifts suck due to not having that spark to fire each other up. Luckily, that doesn't happen often. Or when you have bad lifts, it's hard not to take it out on your partner and consider their feelings. It also sucks when one of us is sick or stuck at work. We don't want to go without each other, but we also don't want to miss our own workout. We have become pretty good at juggling it all. We have at times gone solo, and it wasn't the same. There is just that special connection we have now going through all these challenges together. Lifting and competing together has strengthened our bond as a couple. Simotanesouly, it has taught our kids a good work ethic and proves to them that hard work pays off.
Along the way, we have learned to surround ourselves with goal-oriented lifters that are good supportive lifting partners. Ones that will help push you to be your best and to have fun with it! Trying to deal with a negative person or one with little work ethic will affect your day and lifts. Even though we lift together, we have noticed that we need different training blocks that work for us, so definitely find a program that works for you. If you're new at this, seek a coach to avoid injuries and learn the proper technique.
The one thing that's hard to do when you're competitive is to avoid those ego lifts and not to worry about other lifters and their numbers. We found it best to set personal goals and focus on yourself, your partner, and your lifting crew. You only get out what you put in! ALWAYS listen to your body. We both have made the mistake of working through pain instead of stepping back and healing, then pushing forward. It's really the hardest thing to do. Find a gym that you love that has everything you need to reach your goals, as we have at Tanks Training Facility!
To sum it up, marriage, in a lot of ways, is very much like powerlifting. At times there's love, joy, happiness, pain, misery, and sorrow. It is a rollercoaster for sure! If you feed it right and put in the effort, it can be a rewarding and beautiful thing. I'll repeat it for the people in the back of the room: When it comes to marriage, powerlifting, or just life in general, you get what you put in!
HAPPY VALENTINE'S DAY!