Milestones National Autism Conference — Presenting Men's Aspirations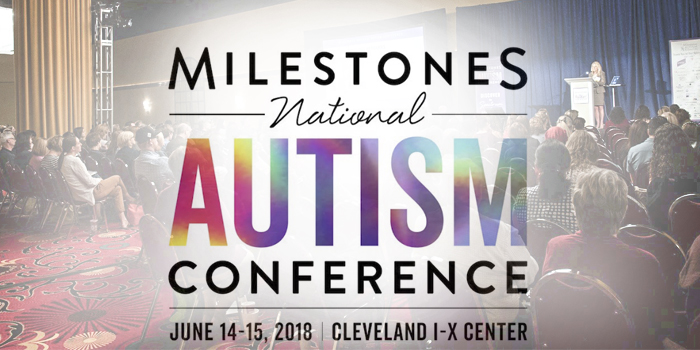 Rather than attending another highly acclaimed conference centered on helping individuals with autism, Jeffrey Siegel, director of Aspirations at OSU, pitched the idea to present at one. With the success of Men's Aspirations within the past year, I placed my efforts to propose Year One with Men's Aspirations — Developing Social Skills with Substance for Young Adults with ASD, to Milestones Autism Resources.
---
RECENT: 2018 Zoo Run Run: Team Not Team Old Man vs. Team Old Man
---
Milestones Autism Resources originated in 2003 by cofounders Ilana Hoffer Skoff and Mia Buchwald Gelles in Cleveland, Ohio. These two mothers with children touched by autism realized the need for education and training in their local community. Their mission was and is to improve the lives of individuals on the autism spectrum by educating, coaching, and connecting the autism community with evidence-based information. What started as a full day conference with a few workshops reaching 400 attendees has turned into a two-day event with over 90 workshops and 50 exhibitors reaching thousands of professionals, families, and individuals with ASD.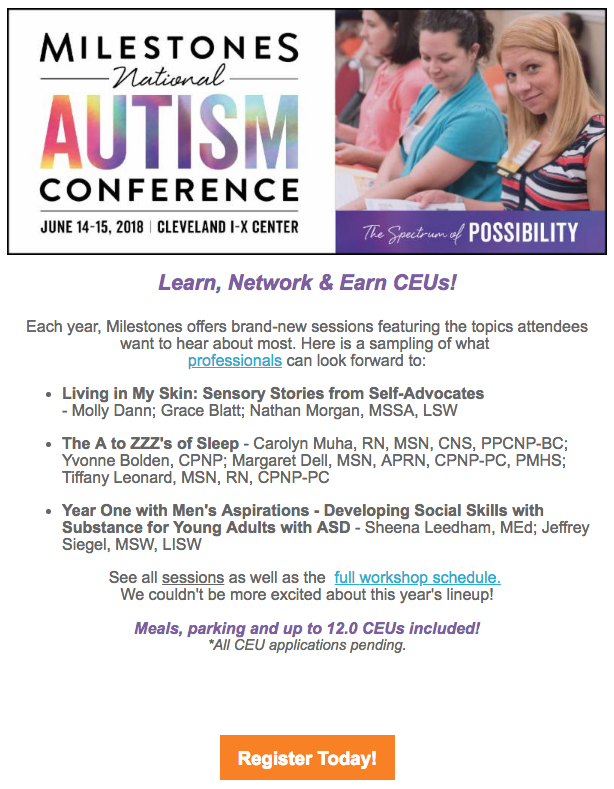 Following our proposal acceptance letter, Jeffrey and I, using evidence-based strategies, shared the Men's Aspirations model, program logistics, and program's success through traveling, dining, exercising, and exploring the greater Columbus area at Milestones National Autism Conference. I definitely used my article recap previously written for elitefts.com as a springboard for presentation ideas, but as you can expect, physically presenting a topic is totally different than passively writing an article based on a prior experience. With a different medium and live audience, the information shared about Men's Aspirations took on new meaning, covering pertinent topics I hadn't discussed. Along with sharing my conference presentation (and a newly found writing tip), I hope you can use this article to further your programming aspirations to better serve the children and adults under your care.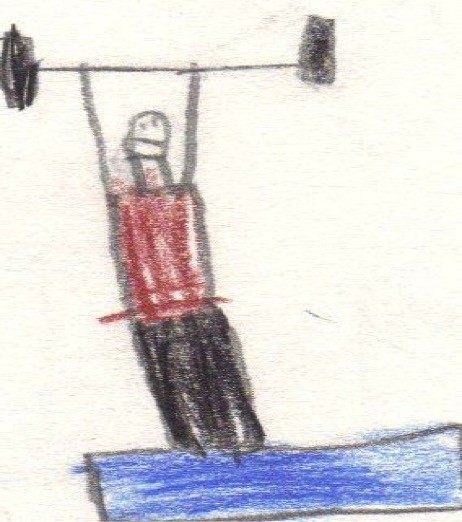 My professional glamour shot drawn by Tommy, a third grader with autism during my Edinboro internship, ten years ago.
Speaker Acknowledgement
In an industry full of stacked degrees and certifications behind a last name, I spent the first eight minutes sharing my prior experiences and how they led me to Men's Aspirations and its development. As an attendee, I know I like to see presenters rooted with degrees and certifications, but without knowing what they've done with them they are meaningless.
Rooted in recreation administration, with a Master's of Education certified K-6, my professional role began as a behavior specialist in a private hospitalization program catering to children on a variety of spectrums (depression, bipolar disorder, autism, schizophrenia disorder, and more), to a program supervisor for a recreational and social curriculum for K-12 students with high-functioning autism, to a special needs director in a fitness facility administering Raise the Bar© program for children and adults with autism while simultaneously writing for elitefts as a columnist on special needs and figure,  to accepting a position at elitefts as a managing editor while simultaneously training Blaine (Dave Tate's son). Interestingly at the time, Dave's mentor on everything-raising-a -son-with-autism was Dr. Beversdorf (who trained at Westside with Dave, who created Aspirations at The Ohio State University and is currently a professor of radiology, neurology, and psychology at MU School of Medicine) to currently the program facilitator of Men's Aspirations and an educational consultant for OSU's PLAN and ACE programs. Briefing through ten years of work, I wanted to illustrate how my professional endeavors came full circle — giving more value to my temperament and programming style. Also, for parents looking for programs similar to Men's Aspirations in their hometown, I wanted them to be able to compare skill sets with another support staff. For program directors bringing on staff, I wanted them to consider their staff and their cumulative experiences and pinpoint if they've neglected any key players.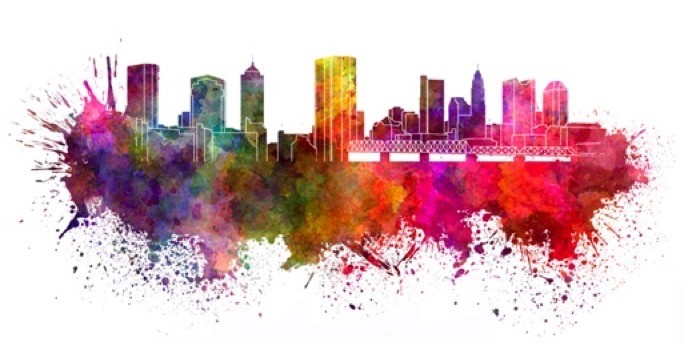 What is Men's Aspirations? 
Aspirations is a huge network of social programming for young adults on the spectrum at The Ohio State University. Men's Aspirations is just one spoke of the wheel. Interestingly, when I started my efforts (thanks to Dr. Beversdorf connecting me to Jeffrey Siegel) with Men of Aspirations (yes, you read that right) there was no clear definition of what it was other than it was gender specific. Based on their historical fingerprint, it seemed like a group of traveling taste-testers, since food took a front seat to monthly events. After I began connecting with the guys, I found they had a lot of aspirations away from the dinner table. This was my first clue to change the group name. In essence, I wanted them to be possessive of their aspirations rather than a floating entity, and so, by dropping "of" and adding an apostrophe, Men's Aspirations became our new name. After more listening, our itinerary soon changed, too — their interests led us to museums, caves, jump parks, toy stores, laser tag parks, renaissance festivals, hiking trails, and more. Most appropriately, our working definition changed to and now reads:
An off-site social skills program of Aspirations, tailored for male young adults (ages 16+) with high-functioning autism. This program is intended to develop social skills with substance through culture, movement, and exploration in the greater Columbus area. 
As you can see, this clearly states our mission, detailing the who, what, when, where, and why of Men's Aspirations. This definition too, is easily communicated to prospects, colleagues, parents, teachers, staff members, and directors so there's no question of what we're trying to accomplish.
Program Logistics
It's easy to get lost in the functions of programming and make what's easy complicated. Therefore, to carry out the definition, the logistics are broken down into four simple categories: make a connection, plan the schedule, know your role, and develop social skills. Buyer beware: without making a connection, planning the schedule, and knowing your role, positively developing social skills of young males on the autism spectrum is nil.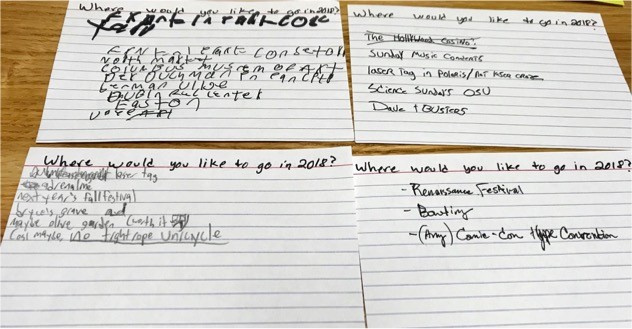 Make a Connection
Before color-coding a schedule and mapping out fun events around the town, start with whom you are serving. What are their interests? Just like yesterday, I remember sitting with the guys at the dinner table with awkward stares and silence. Dinner talk is not where I excel nor is it where the guys socially excel. So I passed out pieces of paper and had them list their interests. This was the ah-ha moment. Away from the dinner table, the guys had lots of written aspirations. They wished to be active, experience culture, sightsee, get dirty, and have fun.
After this initial writing exercise, and with four months of planning the schedule based on their lists, they realized, "Sheena is listening. I'll keep talking." Just think, if I never listened to them, we'd still be staring at a tabletop full of crumbs hoping for the check to come.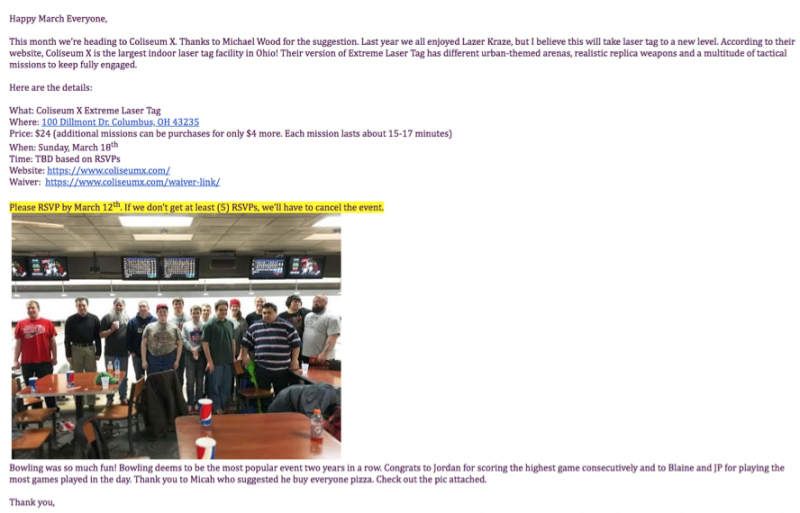 Plan the Schedule
Lists full of aspirations based on the connection made, plan the schedule. Consider the time of year, the weather, how much things cost, and the location. Do ideas overlap? Is everyone being accommodated? Are we covering the greater Columbus area? These are just a few questions to consider.
Each month, over a course of three emails, the schedule is then relayed to the guys. The first email reflects on the previous month and details the plans for the current month with a RSVP deadline. The second email calls for action, reiterates the details included in the first email and lists the RSVPs by name. The final email is individualized for the RSVPs and is set up much like a social story — everyone has a sturdy understanding of the location, expected target behaviors, and the projected schedule that welcomes flexibility and change.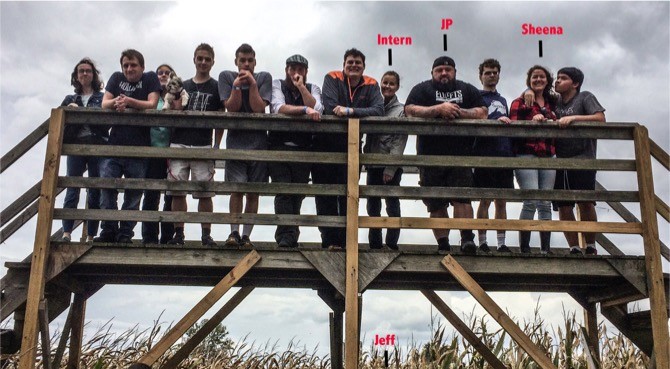 Know Your Role
Aligning the roles of staff and members with the definition of Men's Aspirations, our roles complement one another to reach the overall goal: to develop social skills with substance through culture, movement, and exploration. Whether a director, coordinator, bro, parent, intern, volunteer, or member, we each have a job to do (before, during, and after the scheduled event) that allows everything to flow and for everyone to excel.
The newest role is that of JP. I mentioned him in the previous article of how I imagined his role unraveling for future programming. Naturally, he immediately assumed the role as "Bro", someone with a genuine interest in the guys who is looking to have a great time. Although I too have a genuine interest in the guys and am looking to have a great time, I'll never be able to have a long-winded conversation on beards and the Cavs' game from last night — it would be forced and the conversation wouldn't go too far. Another dynamic that the director, the parents, or I can't create is the bro-messing-around-dynamic, which guys yearn for and do. It was as if before JP arrived, the guys were almost waiting for permission to be sarcastic, funny, and loose towards each other.
I'll never forget when Evan (one who is typically pretty serious yet extremely caring toward others) told JP he'd need a tow truck to move him. He was light, funny, and in full acceptance of a playful feud — a freer version of himself.

Develop Social Skills
Finally, right? I break developing social skills down into three digestible categories: ecocultural validity, social validity and functional skill, and naturalistic elements. Understand (again), this category is dependent on prior connection, the planning process, and knowing your role (the above logistics).
Ecocultural Validity
The environment in which we're in is based on the guys' interest. They choose to be where they're at. The offspring of this is automatic engagement, listening skills, and patience. In the first picture, ecocultural validity is in full swing. The guys are surrounding the teacher in the center, who is giving a lesson on the missions they can expect to experience and the artillery they'll be using. No one is bored, distracted, or impatient. Instead, they're enthusiastic and present — you can feel the sense of urgency.
Social Validity and Functional Skill
In the middle picture, social validity and functional skill is in full swing. Here, Evan and Keenan are on the same team, wearing the same gear, and checking out the artillery options. They are so excited to discuss strategy, the mission, and what gun to use. You see, they are sharing the same experience where they need to work together with a clear objective. Therefore, nothing is forced — it's real!
Naturalistic Elements
After sharing an experience together that had the guys create alliances, take on leadership roles, and exercise sportsmanship, they formed a bond outside of the laser tag arena. Naturally, they begin to hang out in the café during a break. Here we see Blaine and Derek talking about video games and playing around; they make gun gestures with their hands and reenact they're previously shared adventure. Resting and drinking water, they talk about what they're doing at home afterward. Realize, we wouldn't have been able to get here without the two categories above.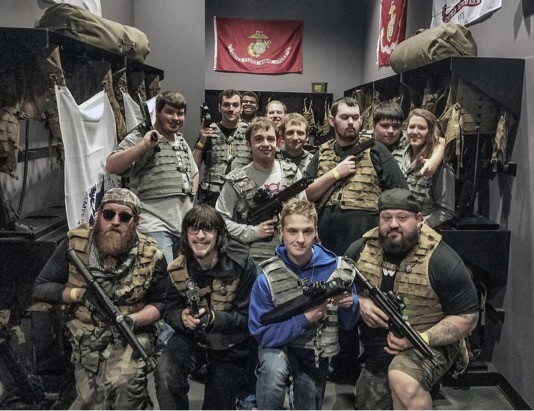 A Year in Review
In a year's span, here is what we accomplished. In each event, consider the logistics behind the planning, the physicality of each event, and the developing social skills the guys are exposed to.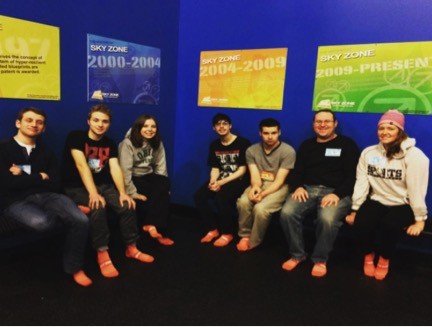 Sky Zone 
For our first event away from the dinner table, we went to Sky Zone's Trampoline Park. Compared to other trampoline parks in the area, Sky Zone is a great park for first-time jumpers.7 It's here there is a definite start and end time, staff supports every area, and jumpers are segmented by size, with enough individual jumping space. Also, every jumper has free reign to rest, use the bathroom, and get a drink or snack.
Our schedule had us go through the jumping formalities (pay, acquire lockers, change socks, and listen to rules) and then get creative with what to do with our 30-minute jumping time. In 30 minutes, the boys led the way: we warmed up as a group in open jump, played dodgeball in the dodgeball court, took turns jumping in the foam pits, and returned to open jump where we played Monkey See, Monkey Do.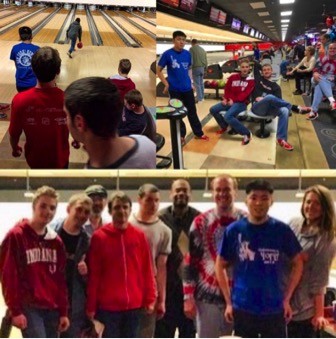 AMF Bowling
Bowling brought new faces with a total of 14 bowlers — our biggest turnout yet. We secured two lanes side by side. Two captains chose their teams and we took our time plugging each name into the system as we changed shoes and picked balls.
Two guys (one 20 years old and another in his 40s) had never bowled before. Two guys graciously took the role of coach and provided frame-by-frame assistance. We played one game, took a mini break to eat, and then played the second game. For our second game, one gentleman showed up and continued to run away as quick as he got a few steps closer. All he needed was acceptance and a hand. Finally, he joined the group.
We celebrated balls rolling down the lane, one pin falling, spares, and strikes.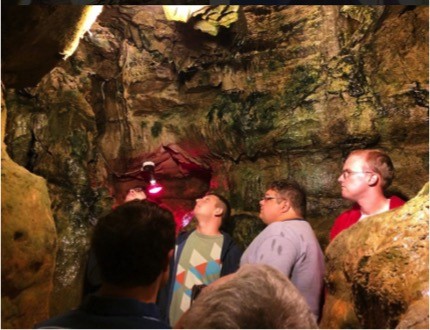 Olentangy Indian Caverns
One hundred feet below the earth's surface, we toured the Olentangy Indian Caverns. A tour guide led the way through the maze of winding passages and underground rooms. In addition to coaxing direction, she also provided an in-depth history lesson of how the Wyandotte Indians used the caverns for utility and survival.
This exploration relied heavily on trust and patience. The pace was slow while moving through the slick and narrow caverns. We had to trust our tour guide and give her our undivided attention while remaining cognizant of our surroundings and insecurities. In this environment, the guys helped each other get up and down ledges, they motivated each other to keep going, and they congratulated straining efforts. It became a group effort to get everyone through safely.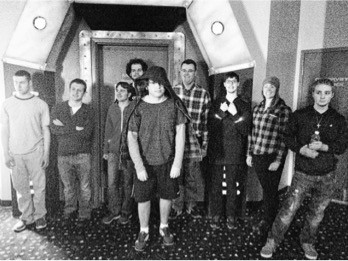 Lazer Kraze
Two missions of multi-level laser tag were sandwiched between arcade games, snacks, and planning what we'd like to do as a group for the next three months.
New to this event, front and center was Blaine, and behind him, Tommy. Working with Blaine for five years, the gym is now one aspect of our weekly training. He now joins us monthly in Men's Aspirations to meet new friends and have fun.

Franklin Park Conservatory and Botanical Gardens
Franklin Park Conservatory and Botanical Gardens is situated within the 88-acre Franklin Park and is just two miles east of downtown Columbus. The Conservatory operates two parcels of land on the eastern side of the park which accounts for approximately 40-acres of the 88-acre Franklin Park.
This month (every month has a new feature) bonsai tree workshops were featured, and bonsai trees took up space throughout the conservatory — some trees had over 300 years of training.
As most of us were first-time attendees, Evan picked up on this quickly and assumed the role of our tour guide since he'd been there countless times. JP assisted Evan's navigating efforts with periodic map checks when asked since we didn't want to skip any part of the living landscape. Evan's granted request allowed the other guys to confidently assume their own role — Sam brought his camera and became a photographer, Trey and Jordan were game for everything and trusted where the group leaders led us, and Brett stayed longer than he normally does before making his silent escape.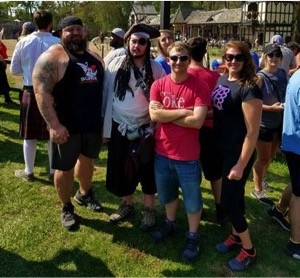 Ohio Renaissance Festival
The Renaissance Festival was one of the most unique events experienced by everyone, to date. Imagine a 50-acre park stocked with villages, mud pits, hills, arenas, and ponds — full of pirates, gypsies, fairies, weapons, jewelry, and food with live musical, historical, comical, and barbarically athletic entertainment.
Evan, Derek, JP, Michael, Sam, and Alec, including their parents, walked amongst the villages for three hours where we gripped swords, axes, and guns, chanted for the defeated jouster, felt the fur of a skinned wolf, picked up trinkets of glitter, crystal, and gold, pretended to talk like pirates with fellow pirates, dressed up like pirates (Derek and Michael), dined together, listened to music, and ewwww'd and awwww'd witnessing a variety of torture chambers.
This was also the first event where we were one group sharing space with thousands of others. Overall, it was so fun that we're saving the date for September 16th, 2018.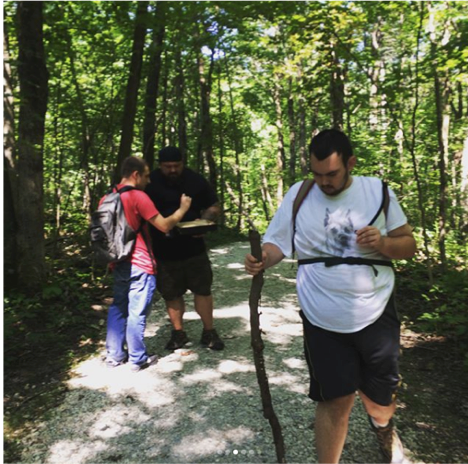 Little Darby Creek
Escape the city and head to the west side of Columbus. Only 20 minutes away from downtown, Battelle Darby Creek offers more than 7,000 acres of forest and 20 miles of hiking trails. This giant park stretches along 13 miles of the Big and Little Darby Creek. Bison has also been reintroduced to the park and freely roam within two of the enclosed pastures.
We split into two teams, each with a team leader, shoe box, and a marker. We brainstormed what we'd search for and collect while on our hike — giving our walk cadence with an urgency to remember names, stay with our team, and work together. Mid-hike we stopped to eat packed lunches and play parachute games. A few elected to take home their collection favorite, perhaps as a keepsake.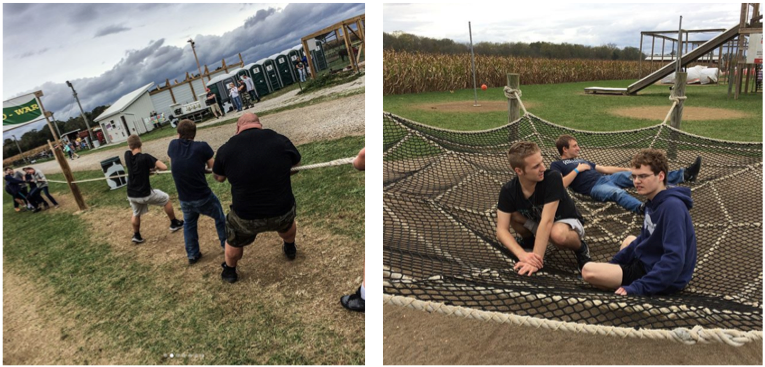 The Maize at Little Darby Creek
For October, we navigated through a nine-acre corn maze, fed goats, battled in tug of war, fired paintball and laser guns, picked pumpkins, raced rubber ducks, and blasted corn at The Maize at Little Darby Creek.
New faces, number exchanges, sportsmanship, non-stop action — it was a perfect day. The guys were given free reign of the grounds.  Our groups continued to change based on interest. This is also where a friendship blossomed, and now, two of the guys meet up every weekend to hang out.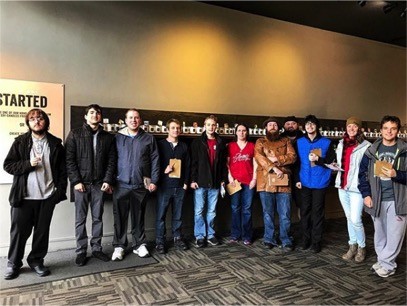 Short North / The Melt / Big Fun
In Short North, our first destination was the Candle Lab. Here we made hand-poured custom-designed candles, choosing over 120 fragrances. Waiting for our candles to set, we walked across High Street to dine at The Melt and marvel at vintage toys shelved at Big Fun.
Different from other events, the Women of Aspirations joined us too. This brings in a whole new group dynamic and reaches the guys' needs of meeting and talking to women. Also, with three different attractions lined up, the guys experienced all three even if they were interested in only one. This secretly broadened some perspectives.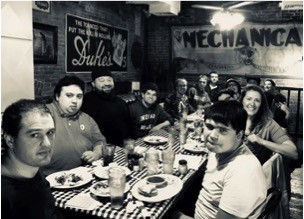 The Spaghetti Warehouse
It's here at the Spaghetti Warehouse (our annual Christmas lunch) we reflect on our favorite adventures in a year's time and brainstorm what we look forward to doing in the upcoming 12 months. Surveys in, their favorites and what we'll repeat in 2018 include: Spaghetti Warehouse, Sky Zone, Renaissance Festival, Franklin Conservatory, Little Darby Corn Maze, bowling, and Lazer Kraze. New places we'll explore, per consensus: COSI, Columbus Zoo, Splatter Park, North Market, and Columbus Museum of Art.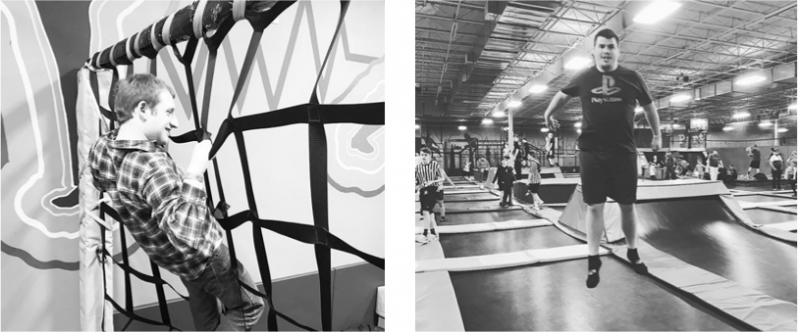 Get Air Trampoline Park
Blaine's choice this month took Men's Aspirations to Adrenaline for January. Last year we went to Sky Zone as a group, which definitely serves as a warm-up to Adrenaline's increase of space, minimal grounds control, elevated noise, and higher level of intensity.
In 60 minutes, we jumped, climbed walls and ropes, balanced on a tight rope, played basketball, and competed in the obstacle course.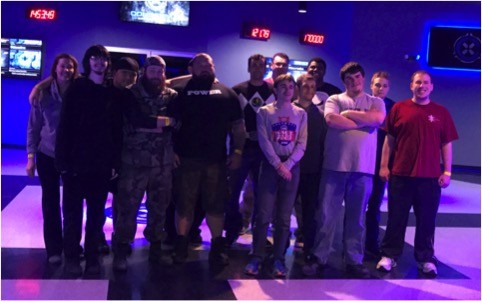 Coliseum X
For this month, thanks to Michael's choice, we headed to Coliseum X — Extreme Laser Tag, the largest indoor laser tag park in Ohio. Coliseum X has different urban-themed arenas, realistic replica weapons, and a multitude of tactical missions.
Our group of 14 played four missions together. It was so high energy, as our group leader proposed a new agenda for each mission — the guys loved this. The need for leadership among the guys was key here, as it was vital to create a plan. Naturally, the guys formed alliances, took on leadership roles, and carried out instructions per strategy. The guy's sportsmanship shined as they "died" yet high-fived the remaining gunmen. This truly was the first event where socially everything was effortless. Between missions, we hung out, ate snacks, talked, and drank water to physically and mentally recoup.
What the Parents Have to Say
After the year was complete, the parents were surveyed to get their feedback. Remember, in many cases, they too have to make the time and monetary commitment each and every month to compliment their child's interest. In this attached survey you'll see the parent's (an even mix between mothers and fathers) responses highlighted in green. Overall, the parents are very pleased with the programming, and their only criticism is that we meet more often in a month's time.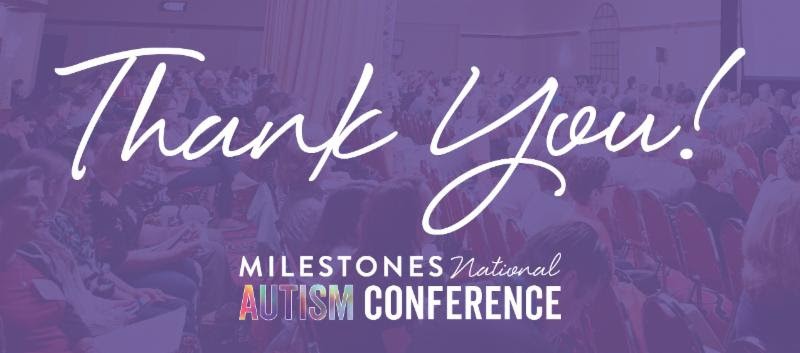 As you can see, our program's initiative is to get like-minded individuals connecting with one another in their community. In turn, they're physically moving, experiencing culture, and developing social skills — through substance.
Thank you to Milestones for accepting our presentation proposal in April. What you're providing the community in Cleveland is spectacular. Traci and Dave Tate, thank you for constantly supporting my ongoing educational efforts and opportunity to share my findings within this column. Also, a big thank you to Jeffrey Seigel for giving me a chance in 2015. Good luck to you as you explore retirement.
Writing-wise, I realize now when writing an article how evoking it is to think of it as a presentation you'd be speaking on to a live audience. A part of the writing process, every time you practice the presentation for friends, family, and co-workers another draft forms. Once you flip the script, it's amazing how the original message transforms from something passive to active (much like our program's initiative).
Resource Guide
Here are all the places we traveled to in one year. Find places that are similar in your hometown and start filling out the schedule if these places interest your group.
References
Baniel, A. 2012. Kids Beyond Limits. New York: Penguin Group.
Dawson, G., Rosanoff, M. (2009) Sports, Exercise, and the Benefits of Physical Activity for Individuals with Autism. Retrieved from www.autismspeaks.org.
Doyle, K., Schmidt, C., and Garland, K. (2017). Social Scripts to Teach Conversation Skills to Adults Significantly Impacted by ASD. Document of Defense Form. University of Cincinnati. Retrieved from www.edt.ohiolink.edu.
Hieneman, M., and Dunlaps, G. (2001). Factors affecting the outcomes of community-based behaviorial support. II: Factory category importance. Journal of Positive Behavior Interventions, 3(2), 67-74.
Hillier, A., Murphy, D., Ferrara, C. (2011). A Pilot Study: Short-term Reduction in Salivary Cortisol Following Low Level Physical Exercise and Relaxation among Adolescents and Young Adults on the Autism Spectrum. Retrieved from wileyonlinelibrary.com.
Hillier, A., Fish, T., Cloppert, P., and Beversdorf, D. (2007). Outcomes of a Social and Vocational Skills Support Group for Adolescents and Young Adults on the Autism Spectrum. Retrieved from Focus on Autism and Other Developmental Disabilities, 22(2), 107-115.
Jacobs, P. L. (2018). NSCA's Essentials of Training Special Populations. Illinois: Human Kinetics.
Leedham, S. (2016). Take Your Training Day to the Trampoline Park. Retrieved from https://www.elitefts.com/education/take-your-training-day-to-the-trampoline-park/.
Luiselli, James K., Russo, Dennis C., Christian, Walter, P., and Wilczynski, Susan M. (2008). Effective Practices for Children with Autism. New York: Oxford University Press.
Sansosti, F.J., and Powell-Smith, K.A. (2006). Using social stories to improve the social behavior of children with Asperger syndrome. Behavior Interventions, 8(1),43-57.
Sundberg, M., and Partington, J. (1999). The need for both discrete trail and natural environment language training for children with autism. In Autism: Behavior analytic perspectives (eds.P. Ghezzi, W. Williams, and J. Carr), pp. 139-156. Reno, Nev.: Context Press.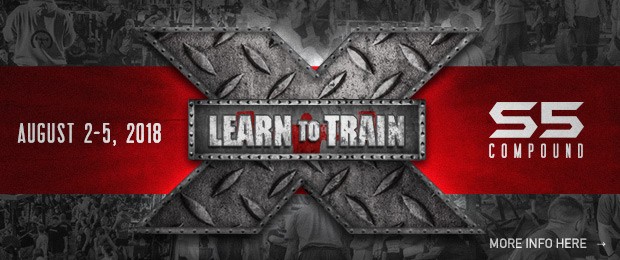 Loading Comments...