Year One with Men's Aspirations — Developing Social Skills with Substance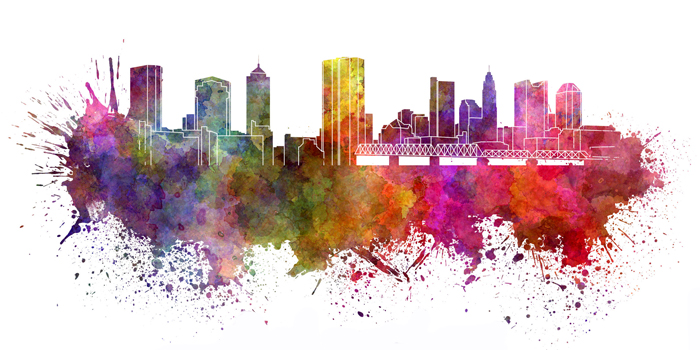 Originally published in July of 2017
Brought to you by The Ohio State University's Nisonger Center, Aspirations (established in 2002) provides multiple monthly social outlets for teens and young adults with high functioning autism. This program possesses the versatility to be used as its own entity (no strings attached way of making friends and having fun), or it can be utilized as a gateway to enroll in numerous programs at OSU, geared for social, academic, and vocational development.
My main duty when coordinating events for Men's Aspirations (an off-site program under the umbrella of Aspirations, tailored for the guys) is to create a socially welcoming environment where the human-to-human connection is probable and guided. Dependent on the needs of the guys, combined with my background, interests, and prior experiences with formalized and organically run programs set up for individuals with autism, my working vision of the program lies somewhere central of all worlds.
---
RECENT: Skip the Gym — Create Training Space Indoors and Outdoors
---
As we continue to travel, dine, exercise, and explore the greater Columbus area, approaching year one, I want to share how I've made this program my own. If you're part of a similar organization or looking to create something similar, hopefully this can be a source of helpful ideas.
Prime Mover: Interests and Aspirations
If you've read any of my articles up to this point, especially my social integration series, I take the interests of the children I work with very seriously. It's my prime mover to get kids moving and doing things out in left, center, and right field when they'd strongly prefer to stay seated on the dugout bench.
With the youngest member at the age of 15 and the oldest in his mid 40's, interest is where I placed my efforts when beginning to work with Men's Aspirations. Simply passing out pieces of paper with pens and requesting a written list of passions and aspirations (go figure) is where I started. How I schedule and plan for events is courtesy of overlapping interests, which are directly affected by the season of the year. Different from previous coordinators, rather than have dining etiquette be the heart of the program, I wanted this group to develop social skills with substance through culture, experience, and exercise.
Program Logistics
Every guy that has ever attended a Nisonger Center social group and every family that has requested notifications of monthly events receive an email at the beginning of each month. Pictures and news from the previous event are attached with details of the upcoming monthly outing specified — idea generation, location, website details, cost, time, suggested wear, plan B's (if appropriate), and a loose schedule. Everyone is asked to RSVP by a specific due date, and if at least five guys RSVP, the event is a go. Social media posts provide most of the past and upcoming details, yet always funnel to my email to obtain more information. A final RSVP reminder is provided at the deadline date, as this usually adds a few more names to my list. Note: we meet every third Sunday, so if an event conflicts with a holiday, we'll skip the month and reschedule.
The groundwork begins by securing a location, making reservations, choosing an appropriate time, and creating a two-hour schedule. These planning strands provide just enough traction for the hangout to be manageable, free-flowing, and stress-free (for everyone). Pairing interest with peace, the kids are excited to see each other. They greet one another, they're excited to get started, and are curious and naturally work together to ensure everyone has a good day. Never is there an end-all, be-all inflexible expectation. Instead, the schedule is setup so that each participant can attain some level of developmental success (as little as showing up) and the effort deserving acknowledgment. For what it's worth, I participate in every event in addition to adjusting the schedule accordingly.
Participants have the choice to stay as long as they'd like, they can partake in one activity and not another, and a parent or sibling can accommodate throughout the entire experience.
A Year at a Glance
Here's a glimpse of a few places we dined, exercised, and explored in the greater Columbus Area this past year. The finer elements of each event feature the social development that took place.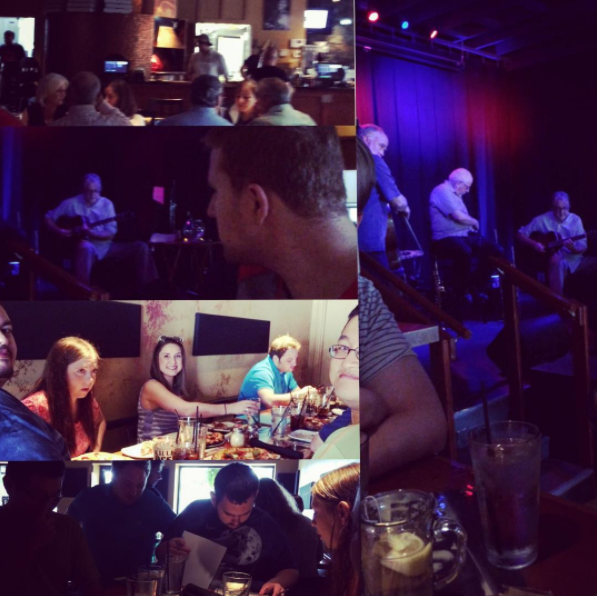 Natalie's
My first event took us to Natalie's on High Street to listen to a jazz trio while eating coal-fired pizza for brunch. The atmosphere was personal within each circle, the light was dim overhead, and the jazz trio played their instruments loud enough we could still talk and not scream to hear one another.
We have a "food crew" that feels very comfortable in a sit-down environment — they specialize in small talk, menu dissection, and appropriate transfer of communication back and forth with the waiter. Although everyone loves the eating part, not everyone feels comfortable with what it takes to get the food (patience, sitting, making decisions, ordering, small talk) and requirements after eating (more patience, more small talk, paying, tip configuration, and packing leftovers).
For the seasoned food patrons, this was a great opportunity to model appropriate behavior and help those who needed assistance. As an example, a new member joined while his grandmother waited for him outside in the car (just in case he wanted to leave). He was made to feel at home as one guy calmed him down, navigated him through the menu, and helped with the ordering and payment process.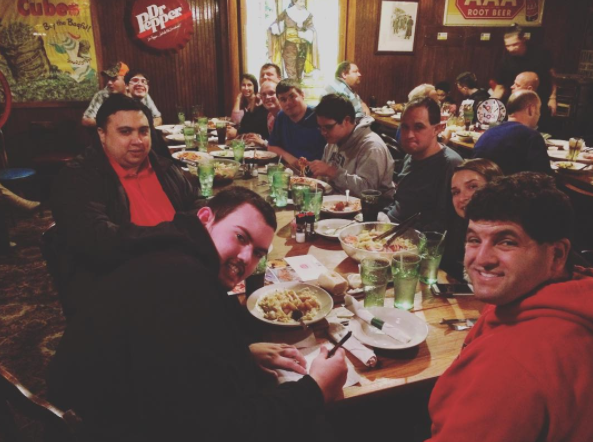 The Spaghetti Warehouse Restaurant
I wanted to skip this part and move on to experiences other than eating, but it was here where the course changed for future events (the power of spaghetti and garlic bread).
Backing up a bit, different from Natalie's, at The Spaghetti Warehouse (our second event), we shared an upstairs space with five other large parties (one including a birthday party). The parties were loud in celebration and distracting, as children (under ten years old) blew up balloons to playfully smack their friends. Reminders were needed to take a break from the commotion and sudden bursts of clatter, to go downstairs, take a breather, and return when ready.
Believe it or not, despite the ruckus, everyone felt a little more comfortable (with each other and restaurant formality) from the previous event. I think this gave them the opportunity to turn down the background noise since most of the situation was "under control." Therefore, we had a chance to talk outside of restaurant etiquette, which led to a whole group discussion about "everything we should do," electing the following votes: trampoline park, laser tag, roller-skating, bowling, amusement parks, and the conservatory.
Phone numbers were exchanged before leaving. This is the moment where parents widen their eyes and cover their mouths in awe, quiet in celebration. Although this doesn't happen every event (it's self-led not by me), when it does, it's a big deal. For future articles, I'll share how relationships are being fostered outside of the program hour and what the parents are doing for a call to commence.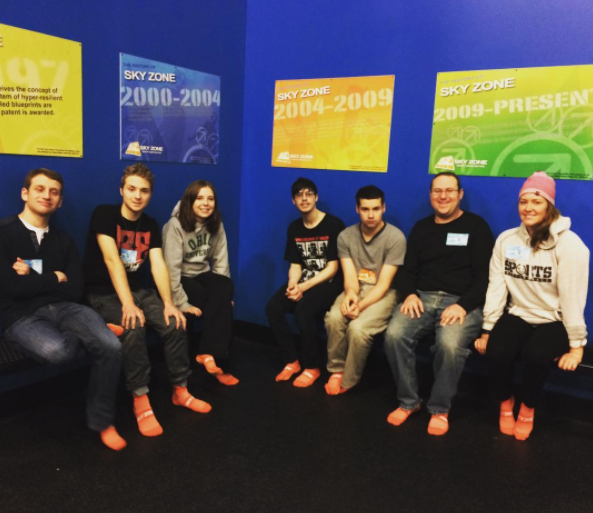 Sky Zone
For our first event away from the dinner table, we went to Sky Zone's Trampoline Park. Compared to other trampoline parks in the area, Sky Zone is a great park for first-time jumpers. It's here there is a definite start and end time, staff supports every area, and jumpers are segmented by size, with enough individual jumping space. Also, every jumper has free reign to rest, use the bathroom, and get a drink or snack as needed.
Our schedule had us go through the jumping formalities (pay, acquire lockers, change socks, and listen to rules) and then get creative with what to do with our 30-minute jumping time. In 30 minutes, the boys led the way: we warmed up as a group in open jump, played dodgeball in the dodgeball court, took turns jumping in the foam pits, and returned to open jump where we played Monkey See, Monkey Do. We played to play and didn't pinpoint a winner or loser.
Bowling
Bowling brought new faces with a total of 14 bowlers — our biggest turnout yet. We secured two lanes side by side. Two captains chose their teams, and we took our time plugging each name into the system as we changed shoes and picked balls.
Two guys (one 20 years old and another in his 40s) had never bowled before. Two guys graciously took the role of coach and provided frame-by-frame assistance.
We played one game, took a mini break to eat, and then played the second game. For our second game, one gentleman showed up and continued to run away as quick as he got a few steps closer. All he needed was acceptance and a hand. Finally, he joined the group.
We celebrated balls rolling down the lane, one pin falling, spares, and strikes. Again, we played to play and didn't pinpoint a winner or loser.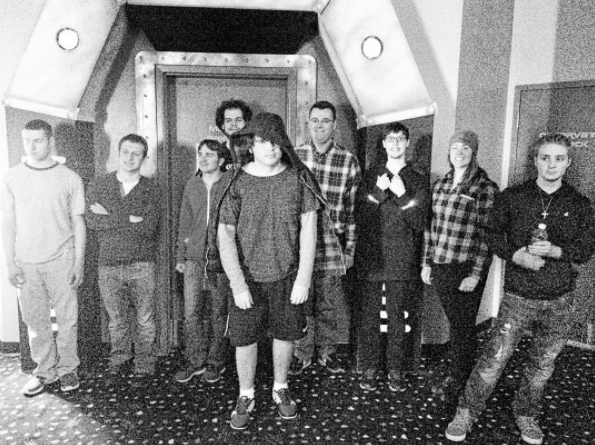 Lazer Tag
You can see a central core of members that come to every event. These guys are very comfortable with each other, and notably, their parents have time to bond and form relationships as well.
New to this event, front and center was Blaine, and behind him, Tommy. Working with Blaine for over four years, the gym is now one aspect of our weekly training. His interests continue to evolve our training and social development through off-site play, dining, and building robots — essential accessories for strength.
Therefore, inviting Blaine to join our group seemed most appropriate. I propose it as an opportunity to hang out with guys that all want to do the same thing. He also knows this is not a way to get out of gym training, yet an addition.
Categorizing this off-site trip separate from training took some adjustment from Blaine. Therefore, in the group mindset, he was not going to get 100% of my attention 100% of the time. To aid with this transition and instantly be a working part of the system, he helped get a few guys set up their laser vests and get acclimated to how their laser guns function. The transition ran smoothly and I'm confident he'll continue to join us when something sparks his interest.
Two missions of laser tag were sandwiched between arcade games, snacks, and planning what we'd like to do as a group for the next three few months. Blaine was the only kid in tune with who ranked high and low in the mission. He happened to be the top scorer and made it clear to everyone. The guys acknowledged what he had to say (I congratulated him), but they didn't seem too concerned with the results. Again, they played to play and have fun.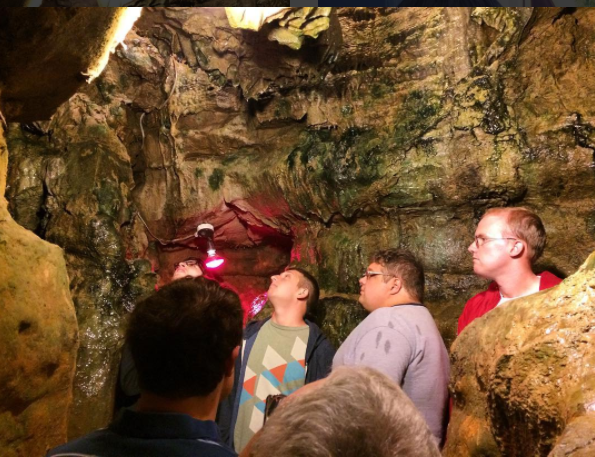 Olentangy Indian Caverns
One hundred feet below the earth's surface, we toured the Olentangy Indian Caverns. A tour guide led the way through the maze of winding passages and underground rooms. In addition to coaxing direction, she also provided an in-depth history lesson of how the Wyandotte Indians used the caverns for utility and survival. Intertwined with history, she had us stop along the way to pay attention to unique environmental features of flowstone, limestone, horned coral, crinoid stem fossils, and plant life. Throughout, participants could ask questions and share their observations and thoughts.
This exploration relied heavily on trust and patience. The pace was slow moving through the slick and narrow caverns. We had to trust our tour guide and give her our undivided attention while remaining cognitive of our surroundings and insecurities. In this environment, the guys helped each other get up and down ledges, they motivated each other to keep going, and they congratulated straining efforts. It became a group effort to get everyone through safely.
Afterward, we congregated to the museum and relived our tour experience. Mention of Chief Leatherlips was reoccurring. We all agree we'll be going back once the underground river opens to the public.
Franklin Park Conservatory and Botanical Gardens
Last month at the Olentangy Indian Caverns, the guys asked if we could go to the Franklin Park Conservatory and Botanical Gardens. So for July, it took precedence of any other plan. This month (every month has a new feature) bonsai tree workshops were featured, and bonsai trees took up space throughout the conservatory — some trees had over 300 years of training.
As most of us were first-time attendees, Evan picked up on this quickly and assumed the role of our tour guide since he'd been there countless of times. JP assisted Evan's navigating efforts with periodic map checks when asked, since we didn't want to skip any part of the living landscape. Sam brought his camera and took pictures as if it were his job. Trey was curious about everything and asked the most intricate questions with urgency. Jordan was game for everything and trusted where the group leaders led us. Brett stayed longer than he normally does before making his silent escape.
---
MORE: Social Skill Integration Through Movement and Strength — Gym Training
---
As OSU interns come and go, I'm looking forward to JP joining and helping with the monthly events. He naturally takes on the coaching role that'll allow the program grow in size and strength.
For many individuals (and families), planning is where efforts fall short. Without that base, once things don't turn out as expected, social engagement and leaving home is quickly associated with fear, anxiety, and meltdowns. Therefore, as you can see, the chances of future exploration, social connectedness, and development quickly dwindle. Coordinating events for Men's Aspirations, my duty is to guide the planning process and create a socially welcoming environment to allow exploration and human-to-human connections thrive. As a group in twelve months, excusing ourselves from the dinner table, we've become compassionate leaders, helpers, and sportsman with more social insight than we came with.  My approach being one approach, we'll continue to travel, dine, exercise, and explore the greater Columbus area to develop social skills with substance through culture, movement, and experience.
---
Special News
Thank you to Jeffrey Siegel, Program Manager of Aspirations, for allowing me to be a part of this program's efforts. Come this June, this very topic, Year One with Men's Aspirations — Developing Social Skills with Substance, will be presented at Milestones National Autism Conference. Here are more conference details, if this is something you'd be interested in attending. This presentation will include the above information, along with more event details, the delegation of multiple roles behind the scenes, and parent survey feedback.
For more information on this program, feel free to message me at sheena@elitefts.net. Thank you.
Header image courtesy of paulrommer © 123RF.com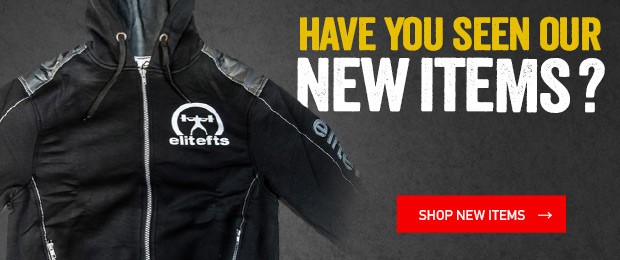 Loading Comments...