2018 Zoo Run Run: Team Not Team Old Man vs. Team Old Man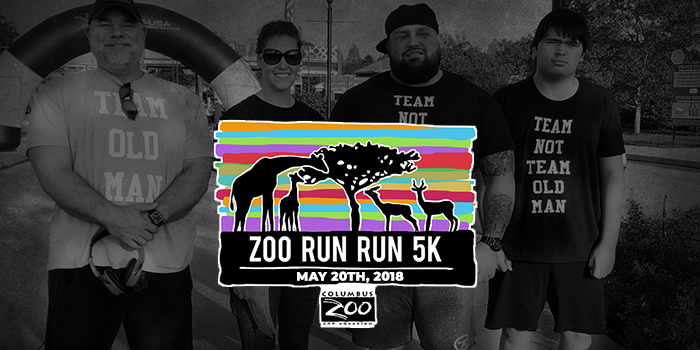 As we crossed the finish line in 2017, Dave proposed to Blaine he try to beat his old man for 2018. Thinking Dave must've been delirious from a night of sleeping without his CPAP snug around his nose, it was then and there: Team Not Team Old Man vs. Team Old Man was born. As you can imagine, Blaine and I (mostly Blaine) have had the pleasure of taking jabs at the old, bald, fake-hipped competitor for a year. Different from the last two years, this prep would serve to be different from all the rest.
For starters, no special presentation arrangements were needed to encourage Blaine to want to compete this year. Instead, the new projection was that we are seasoned competitors and this is what we do. Heck, I couldn't tell you how many times I heard Blaine tell the story of when a race volunteer was ushering runners to the shorter route during last year's 5K thunderstorm. He boasts, "We trained all year for the 5K, not for shortcuts." Therefore, eliminating the sugarcoating, my efforts could focus on the physical shortcomings from the previous year to plan a better program for this prep (as you'll read below).
---
RELATED: 2017 Zoo Run Run: Blaine Tate Runs a Faster 5K
---
Secondly, this prep encompassed a team mentality in order to demolish Dave's time. JP Carroll was invited to join Team Not Team Old Man, taking on the role of Blaine's bro and later as his Anger Manager. In an effort to curve Blaine's improved yet in-need-of-improvement skills managing his anger at school, Traci and Dave asked JP if he'd be willing in helping Blaine weekly (since JP too has been in many of the same situations growing up and they naturally were buds since day one). Therefore each week you'll read the notes JP logged, as we fit this nicely within the early stages of the conditioning work.
Obviously, this was more than a 10-week prep geared to beat our previously recorded race time of 52 minutes and 32 seconds while flying past a self-proclaimed mashed-up meathead. More than a 10-week prep, it became an opportunity for Blaine to connect with a new friend, improve his anger management skills, redefine efforts outside of the gym, and test himself outside of his comfort zone.
Before we get to the results, here's our 10-week prep, play by play: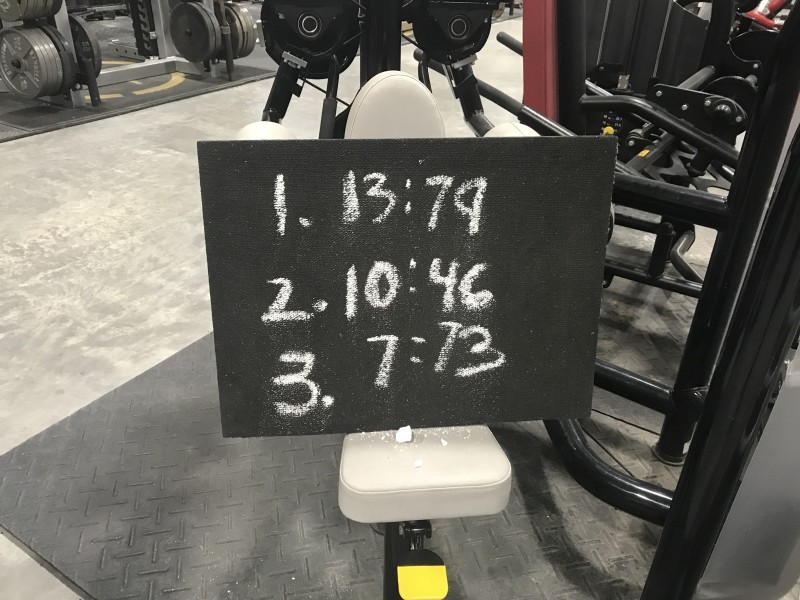 10 Weeks Out — Upper Body
Warm-Up
Bike (Upper Body Only) x 4 minutes
Skill
Basketball Aim + (1) game 
Work
Conditioning
Walk/Sprint with JP in Bay x 10 minutes
JP Talk
We talked about the incident at school during our ten-minute walk. Blaine noted we have a lot more in common than he thought. We finished by sprinting three laps. Blaine said I was more athletic than I looked. Thanks. I guess.
Legos 
We always end with something related to robots or Legos. Blaine has the choice. This week we continued to build our Star Wars Eclipse Fighter. 
Summary
10 weeks out, this was our third wave for upper body. The wave gives us three weeks to get comfortable with a rotation and the chance to go up in weight or reps to "beat the log book." A lot of exercises are new here. You'd think after five years of training together, we'd exhaust our possibilities. Wrong. New exercises include push-ups, sandbag rows, medball throws, and basketball aim. I've incorporated basketball work to always keep some dynamic of sport in the mix. This trickles to sportsmanship and the idea of moving better for another form of play. The walks with JP at this point are to build rapport while intensity is low. Outside of the gym, Blaine doesn't move a lot, so we have to start small.
Blaine earned enough tallies today for a McDonalds meal.
9 Weeks Out — Lower Body 
Warm-Up
Work
Conditioning
Walk/Sprint with JP in Bay
Rickshaw Carry for Timed Intervals
JP Talk
We talked about ways that he could either avoid situations that trigger him or process the anxious feelings that ultimately lead to a violent outburst. We spoke about cartoons while walking and we sprinted four laps this time. Again, Blaine noted our likeness and also mentioned I'm in better shape than I look.
Drawing
We ended with drawing this week — we continue to add to our robot blueprints of the exo- and endoskeleton.
Summary
Training lower body is something he likes less than upper body (AKA "arm day") but knows lower body training fuels the Rickshaw and our 5K efforts. This was a new wave for lower body. We'll run this for three weeks. Banded laterals are those small exercises that Blaine realizes are important since he's rationalized that without them he'll end up like his dad (broken and in need of Dr. Rusin). New exercises in this wave included sandbag squats, banded laterals with push, and rickshaw carries for timed intervals.
8 Weeks Out — Upper Body
Warm-Up
Skill
Work
Carpet Seated Rope Row, 3 x Gym Length
Mag Grip Pulldowns (Top of Head), 3x10
Sandbag Incline Press, 3x6
Conditioning
Weighted Vest Walk with JP
Rickshaw Carry for Distance (Minimizing Rest)
JP Talk
We continued to talk about the tally system at school. Blaine seems to like being rewarded for good behavior. I always ask how's school been and when I hear the, "Oh well, let's just say it wasn't great," I shoot back with, "Did we think about the tally system and getting a meal?" He says it's always on his mind, so I guess that's a small victory. We walked ten minutes, and Sheena joined us for a jog for distance instead of sprints. Blaine wore a weighted vest and did well.
Blaine's Choice
We played Foam Roller Sword Fight instead of drawing or Lego work.
Summary 
Eight weeks out, Blaine is ready each training day and starts off by asking, "What do we have today?" This is our new wave for upper body. New exercises include carpet seated rope row and the sandbag incline press. I haphazardly came up with the seated rope rows one day when the load was heavier than me. Before I knew it the load maintained position as I rowed forward. It ended up being a real challenge so I knew I wanted to share it with Blaine.
Different games that Blaine and I have played for years, Blaine loves to teach JP how to join us (giving him rules and the point of the game, etc.). It's nice to see Blaine in the teacher role. Also, this has Blaine accepting how to lose more often, which is great.
Blaine asks when we're going to the track next (read this article to understand how huge this question is, coming from Blaine).
7 Weeks Out — Lower Body
Warm-Up 
Rower (2 Minutes), Bike (2 Minutes) Banded Laterals (Distance of Gym) x 2 Rounds
Work
Lying Leg Curl, 2x12
Sandbag squat, 3x12
Box Jumps, 3x5 (add weighted vest) 
Conditioning
Rickshaw Carry x 4 Rounds (add 100 pounds for one length, run back to starting point without rickshaw)
Blaine's Choice
Create Video Message for JP
Summary
This week we progressed nicely, as it's week two of this wave. Blaine decided to not warm-up for sandbag squats and go right into his work weight. "I know what I'm doing," was supersetted with plopping on the bench for his reps. Shutting it down early, I reminded him that proper warm-ups typically lead to great squats (like last week) which grant us tallies. He had that "oh darn" look on his face, so I'm confident he'll rethink his warm-up for our next leg day.
JP flew in late that afternoon, so he missed training. Checking in at the airport during training he texted me how he had to get his balls checked by security. Relaying this information to Blaine, Blaine laughed hysterically and, interestingly enough, it fueled the rest of our workout. So as if JP didn't get his balls busted enough for the day (a horrible play on words, I know), Blaine requested to send a bro-to-bro message to JP to, you know, cheer him up.
6 Weeks Out — Upper Body 
Warm-Up
Work
Carpet Seated Rope Row, 3 x Gym Length
Mag Grip Pulldowns (Top of Head), 3x10
Sandbag Incline Press, 3x8
Conditioning
Walk with JP in Bay (with weighted vest on)
London High School Track Run
JP Talk
Blaine was mostly focused on cartoons. We talked about what if he was a cartoon character and what he would do if someone else, namely Bryce (Blaine's brother) was a cartoon. It seemed a way for Blaine to vent, so I let him take up the ten-minute walk with the scenarios, with reminders that that is all fantasy and in real life we have to deal with people who annoy and bother us differently. Feeling like a hypocrite at this point, I too am learning from Blaine.
Summary
This week our gym training concluded with track work. The mission: run once around the track WITHOUT REST and earn an automatic McDonald's meal. We've been to the track plenty of times and Blaine always needed to rest at least three to four times. Based on how well training has been, I knew he could run it without rest and I wanted him to experience this to build some confidence. Note: I have never used McDonald's like this before, so I wanted to test both.
The automatic McDonalds wager motivated Blaine beyond belief. Three-fourths of the way through (running along side him) I reminded him of the hot meal and the possibility of a hot fudge sundae — this had him sprint to the finish line.It was a beautiful sight.
Blaine earned a McDonald's meal and JP got a taste of the drive-thru order routine. 
5 Weeks Out — Lower Body
Warm-Up
Boxing
Banded Laterals with Push
Work
Lying Leg Curl, 2x12
Sandbag Squat, 3x12
Box Jumps, 3x6 (higher box)
Conditioning
Walk with JP in Bay
Rickshaw Carry for Distance (Down and back without rest, beating our previous time)
JP Talk
Today Blaine expressed to me he had a bad day in school two days—back-to-back, to be exact—while being sick and missing school to see Dr. Serrano. When he returned to school he was behind on his school and homework. This made him "not so happy." When I asked him how he handled it he said it could have gone worse — much worse. He also told me that if he got worse he would have asked to go outside the room. Removing himself out of the class and away from others seems to be a good and healthy way for him to get his bearings straight and not feel so overwhelmed.
Hearing this made me happy. Instead of getting pissed and lashing out he recognized that would only make things worse for himself. I explained to Blaine being crabby and pissed off is a regular emotion most of us experience, and that how we handle them is what matters. For that gem, I received Blaine's patent, "Huh, makes sense."
We talked cartoons and a little about Dave Tate making fun of how big my hats are. Ten minutes at a faster pace all while we chatted, he is focused and excited about the run, as long as it doesn't rain, AGAIN.
Drawing
Blaine came up with the idea to use our 10 minutes of drawing to create a robot of our choice and then present it to the group. JP's Flame Thrower robot was in the hot seat as Blaine reviewed (video above).
Summary
This training day was pretty straightforward as this concludes our three-week wave. As we get to the third week, there's no question of what we're doing. We get in and get out. Overall, we progressed nicely with weight and reps. Today Blaine made sure to warm-up properly and ended up using the 40-pound sandbag with great form. Taking full advantage of the spring weather, you'll see the weeks ahead transition us outside of the gym and closer to the terrain we can expect to see come race day. You'll also see our typical schedule changes naturally.
He definitely earned tallies here.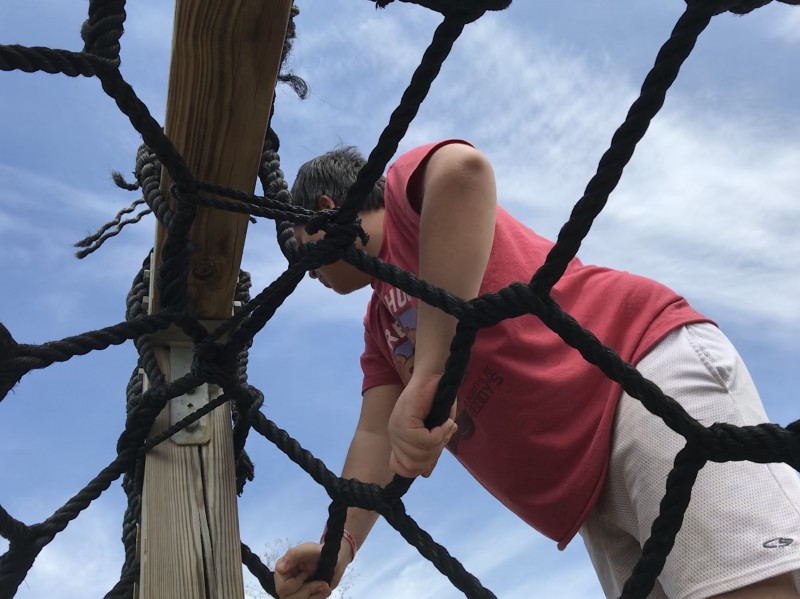 4 Weeks Out — Scioto Challenge
Warm-Up
Walk to Tire Pit Using the Trail
Work
Tire Step-Up Around the World x 2 rounds
Partner Tire Flip x 10 reps
Tire Run x 1
Tunnel Crawl x 1
Tunnel Mound Climb x 2
Rope Climb x 1
Balance Beam x 1
Rope Jump x 1
Monkey Bar Hang or Climb x 1
Log Shuffle (Forward, Backward, or Side)
Summary
Courtesy of my latest lesson with OSU's ACE! program at Scioto Metro Park, I knew I wanted to incorporate this place into Blaine's training. Maintaining alignment with the overall vision of this year's training plan, we traveled to Scioto Metro Park to jump, climb, flip tires, balance, and hang.
Based on my hunches of needing more outdoors training time for this prep, this day served to reinforce why I planned as I did. Blaine started off with low effort to the demands of the challenge. In his mind, the gym is where effort is high and anywhere else outside of the gym is for leisure and fun. Even the printed workout with sets and reps didn't close that gap. After a few stations, his buddy JP called him out with the low effort business and may have even tossed out the wimp word. Blaine takes criticism very well from him since "they're buds and have a lot in common." Blaine always says, "We're just two tall dark dudes with big muscles."
JPs remark, therefore, motivated Blaine. After the challenge was complete, Blaine decided to redo one of the hardest stations (the rope climb). Blaine must have climbed it another five times to earn back that bro respect.
He earned another three tallies for the day, too.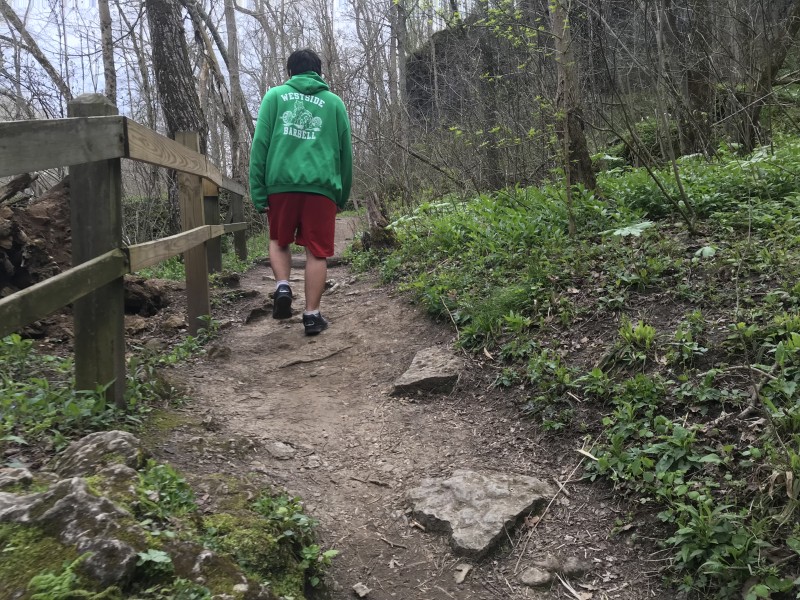 3 Weeks Out — Clifton Gorge
Work
Summary
Three weeks out, we ventured to new training territory for Blaine: the Clifton Gorge in Springfield, Ohio to hike. Our mission was to park our cars and hike to the "big bridge" and turn back. Next time, we'll know to use better trail descriptors because there are approximately ten big bridges in a two-mile span. Thankfully, Blaine was accepting our redefined definition of the endpoint a few yards in. A year or two back, this could have been a disaster.
With the Scioto Challenge under our belt, Blaine was able to treat this day more like a training day rather than a day of outside torture. A mile in he relayed how his legs and back were tired climbing rocks and hills. I had to constantly remind him this is why we climb and jump tires, squat, and move the Rickshaw in the gym — so we can enjoy activities like this outside of the gym. This is obviously a concept that will take some more time to understand and accept.
We finally touched the halfway point: the "big bridge that connects from one side of the gorge to the other and has a sign on it that the trail on the other side of the bridge is out of service."
3.6 miles total, Blaine earned two tallies for the day.
2 Weeks Out — Choctaw Lake
Warm-Up
Work
Run Home
Row to Bridge and Back
Bike to Dam Wall and Back
Summary
Two weeks out, this training day served as our peak week. To get the volume and demand up comparatively, I created a triathlon course on familiar turf (where we live) so we could use the lake for our disposal. In approximately three hours, we ran, rowed, and biked. Here's what the course looked like: From the gas station to Blaine's home (on the lake's edge), we ran and walked for two miles. Reaching home, we put our life jackets on and rowed on the kayak for 40 minutes (to the bridge at the end of the bay to embarrass JP about rash ointment), and back at the dock we climbed on our bikes and rode for 40 minutes (to touch the lake's dam wall).
Like the track run without rest, this day too served as an automatic McDonalds if everything was completed.
We concluded the night with a car ride to McDonald's and dined inside.
1 Week Out — Off
Although I wanted this week to be a breather week, having us doing something fun outside of the gym based on Blaine's choice, Blaine was out of town visiting his grandparents. 
Race Day
Together we waited for the siren to ring, and out of the gate, Team Not Team Old Man left Team Old Man in the dust. Interestingly, the only thing that occupied Blaine's mind was his immediate victory as Dave trailed miles behind — beyond the competitors using crutches, wheelchairs, and strollers. Despite mine and JPs persuasive emotional and motivational campaign to beat last year's 52-minute PR, Blaine's mind was set. He was winning the bet and already dreaming of the incoming video game he was soon to receive. As you can guess, beating his previous time was no longer relevant.
Beyond crossing the line in 58 minutes and 42 seconds (six minutes slower than our previous time), Blaine became a true competitor on this day. Playing by the rules, he trained his ass off, stared his competition in the face, beat the competition, and so, saved his energy to celebrate rather than beat his previous time.
Although I know he could've beaten last year's time, I can't say I'd change a thing — this was more than a 10-week prep geared to beat our previously recorded race time of 52 minutes and 32 seconds while flying past a self-proclaimed mashed-up meathead.
Well done, Blaine.
As you can guess, our training will ensue.
---
Here are some pictures of our day at the zoo following the 5K as Dave drove home to soak in the hot tub.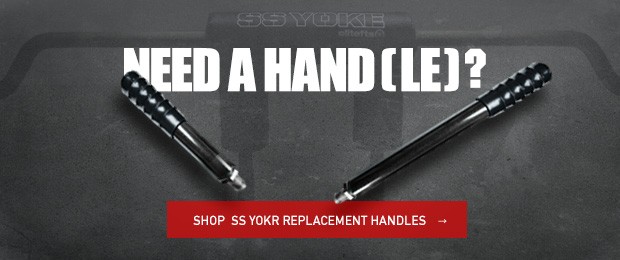 Loading Comments...