More Meathead Meals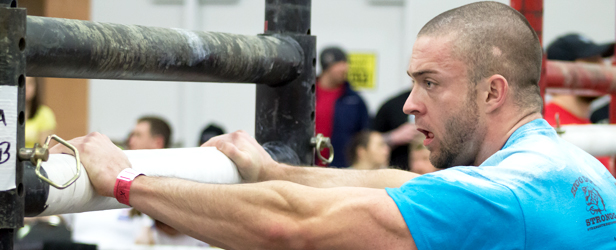 With the same theme as my "Meathead Meals" column from last year, here's the second installment, Meathead Meals #2.
Too many meatheads (including myself in years past) don't realize just how easy it is to make their food taste good while still consuming the calories and macros needed to fuel their training and aid in recovery. Like most things in life, the recipes I fix are cyclical. Some will fall off for a while and I'll fix something else for a few months.
In the first installment, I kept it simple with a great steak and chicken recipe. In this installment, we venture out a little more, but the recipes are just as easy to fix and, best of all, they taste great. These are also some of my go-to meals for the past few months. With just a little effort, basic ingredients and a stove top, you can fix some great tasting, high protein meals.
*Each recipe below is one serving. Double everything if you're fixing the meal for two or want leftovers for the next day.
The Fried Egg Sirloin Burger
There is a new local gourmet burger restaurant in our city. After eating there and seeing their wide variety of burger ideas, I was inspired to make this creation. After a few trial versions and tweaks, I came up with this final product.
What you need:
6 oz. ground sirloin
1 whole egg
1 slice 2% pepper jack cheese (or the cheese of your choice)
1 tbsp. olive oil mayo
½ tbsp. butter
2 slices bread
Salt
Pepper
1. Pat the ground sirloin into the shape of a burger. On each side, add salt and pepper to taste.
2. Coat a medium size skillet with olive oil spray and pre-heat on medium-high heat. Once the skillet is pre-heated, place the burger in the skillet and cover with a lid. Cook for four minutes and then flip it over and press firmly with a spatula. Cook for another four minutes or until the internal temperature has reached at least 150 degrees Fahrenheit. Cooking times may vary slightly based on your stove. Once the beef has hit the desired temperature, place the cheese on the burger in the skillet and turn the burner off. (This will allow the cheese to melt on to the burger.)
3. After the burger has been flipped the first time, coat a small skillet with olive oil spray and pre-heat on medium-high heat. Once the skillet has pre-heated, place the egg in the center of the skillet and cook for two minutes or until the white has started to set. Then carefully flip the egg (keeping the yoke intact) and cook for another 1–2 minutes, depending on how runny you want the egg.
4. Once the egg has started to set, place the two slices of bread in a toaster and toast to your desired setting.
5. Once the burger, egg and toast are ready, place the butter in a small microwave-safe bowl and melt the butter.
6. Place the burger on a slice of toast, top with the egg, add a bit more salt and pepper and add one tablespoon of olive oil mayo to the top piece of toast before placing it on top of the egg. Now your burger is complete and ready to eat.
Nutrition facts:
Calories: 690
Protein: 58 grams
Carbs: 26 grams
Fat: 39 grams
Tuna Scrambled Eggs
I came up with this next concoction when I was looking for a high protein, high fat meal to eat before Strongman event training days. I also like to fix this up for a pre-bed meal on nights when my calories or protein is lacking or for a quick and easy lunch. It's very simple to fix, and despite how it may sound, I promise you that it tastes great.
What you need:
4 whole eggs
Approximately 6 oz. of tuna in water (pouches or cans)
1 tbsp. of coconut oil
Salt
Pepper
Ketchup (optional)
Hot sauce (optional)
1. Preheat a medium-sized skillet over medium heat. Add one tablespoon of coconut oil and allow the coconut oil to melt and coat the bottom of the pan completely.
2. Add the eggs to a bowl and mix. Then add the tuna and mix thoroughly.
3. Pour the mixture into the skillet and stir frequently until cooked.
4. Once finished, place on a plate and add salt and pepper. Add ketchup or hot sauce if you desire.
Nutrition facts:
Calories: 587
Protein: 64 grams
Carbs: 2 grams
Fat: 35 grams
Iron Skillet Sirloin with White Rice
With the arrival of fall and winter approaching, many people don't like to be outside grilling on those chilly evenings. So how can someone fix a steak indoors that actually tastes good? Simple. All you need is a cast iron skillet and a stove.
What you need:
8–10 oz. sirloin steak
8 oz. Italian dressing
Cast iron skillet
Minute rice
Butter
Olive oil
Salt
Pepper
Garlic salt
Onion powder
Ziploc freezer bag
1. Marinate the steak by placing in a large Ziploc freezer bag. Marinate the steak for a minimum of 30 minutes, but I prefer marinating it overnight in the refrigerator.
2. Once you're ready to cook the steak, remove it from the refrigerator and lay it on the counter, allowing it to sit for 10–20 minutes before cooking. Now turn your oven's broiler on.
3. Coat the cast iron skillet with one tablespoon of olive oil.
4. Pre-heat to high heat.
5. Start cooking the rice per the box instructions. Once the rice is finished, add one tablespoon of butter and stir. Add salt to taste.
6. Once the skillet is preheated, place the steak in the skillet to sear for one minute. Then flip the steak and sear the other side for another minute.
7. Place the skillet in the oven (which should be on broil) and cook for 2–4 minutes. Remove the skillet from the oven, flip the steak with tongs and cook for another 2–4 minutes. Cooking time will vary depending on how you like your steak. Using a meat thermometer is a very easy way to monitor this.
Internal temperature guidelines for steak:
Medium-rare: 135° F
Medium: 140° F
Medium-well: 150° F
Nutrition facts (with two servings of white rice):
Calories: 908
Protein: 63 grams
Carbs: 96 grams
Fat: 30 grams

Loading Comments...