Motivation, Sports Performance
Matt Holmes' Journey of a Warehouse Gym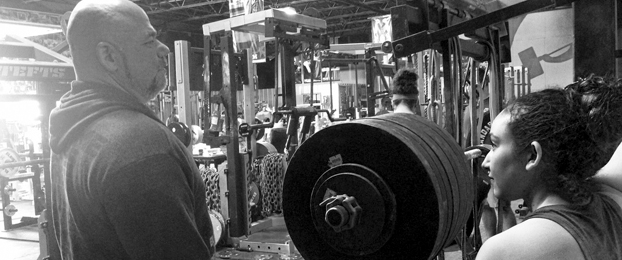 ZE: Matty, tell the readers of EliteFTS about yourself, how you started in the fitness industry, and what you have going on right now.
MH: Zach my brotha! First off, thank you and the rest of the EliteFTS crew for giving me this opportunity. You guys have been there with me from the start! I will do my best to keep my story brief, as I tend to ramble on a bit. I first got into lifting back when I was 15 (I am currently 23) when I picked up my first muscle magazine and took a look at Ronnie Coleman and Arnold. I was hooked from there. I wanted to look just like those guys, so I read those magazines front to back over and over. I talked my dad into getting us a family membership at the only semi-decent gym around, which happened to be a brand new Gold's Gym.
Man, I spent hours in that place. I remember training for four hours a day every day before I went to work. If only I knew what I was doing back then! Shortly after that, my dad bought me my first bench and barbell set, so I started training at the gym and at home. I couldn't get enough!
We all have a story, and I had some crazy things going on in my life. These crazy things caused me to turn to drugs. I had moved from Utah to Los Angeles (where I am now) and got even more heavily involved into drugs. I didn't step foot in a gym for a few years. After everything I had done, I felt that something was missing. So one day I asked my mom if she could introduce me to the owner of this local gym a few blocks from her house. She just happened to train with him.
I went in to talk to him. I was this tall skinny kid who looked like he hadn't lifted anything before! Ha ha! I told him I would clean the toilets or do whatever he wanted for free if I could come in, train, and learn from him. So after that, he gave me a week, and I busted my ass off. I was offered a job after that. So I guess you can say training saved my life from the deep hole I was in with drugs.
From there, I started learning anything and everything I could about training. My friends started asking me if I could train them as well. After doing this for a few years wondering what to do with my life while doing what I loved, it clicked. I'll train people for money!
After that decision, I went out and got certified. The gym owner offered me a manager's position to help start up his new, high end, private training facility. Fast forward about three and a half years and a few "training" jobs for other gyms and here I am doing my own thing! Like I said, it isn't a short story and it's a little crazy with some speed bumps in it.
So what am I up to now? Just a few weeks ago, I signed the lease to my dream, which is my very first facility! It's a 3,000 square-feet warehouse space in Burbank, California. This has to be one of the craziest things I have ever done. I remember a year ago when I quit my gym job. It was June 29, 2008 to be exact. I couldn't take it anymore because I had always dreamed about having my own old school, hardcore training gym, just like the ones I had read about growing up. It's pretty insane to think about how just a year ago I came to a do or die attitude. I didn't plan anything. I just quit and decided that I would figure it out!
ZE: Tell us how you developed a client base before opening your current warehouse gym. How did you find these clients, what marketing methods did you use, and where and how did you train them?
MH: As I mentioned, I really didn't have anything planned or a steady client base already lined up for when I quit working for "the man." However, I did have two clients who loved me so much that they left the gym. I trained one of them in his backyard and another in a park close to my house. It wasn't anything crazy, but it was mutually beneficial. They trained with me at a low cost, and I could pay my bills. From there, I started to just let anyone and everyone know that I had started my own training business.
The biggest key I think was that I didn't have a solid plan. But I had a vision of what I wanted to do. I knew what area I wanted to start my business from, and I also knew that doing more of the underground style of training was the way to go. It was a low cost to make my own equipment.
As far as my marketing, I started blogging just to get my name out there and have a place where people could go to find out about me. This really helped and is helping even more now in the long run with social networking. People find me via Google, Twitter, and Facebook. I made little flyers, put them up all over the place, started a meetup.com group, and told friends I would give them money for referrals. You name it, I did it. I tried just about everything that was little to no cost out of my pocket to pick up clients.
Not everything works for everyone. One thing I did that failed might work great for someone else. One of the things that really helped get me started was posting up Craigslist.com ads for my women's boot camp at least once a day. I also posted up a free Saturday boot camp to get them in and then worked on closing them at that point. The first week I did this I had 20 RSVPs and no one showed up. I was so frustrated and was ready to stop doing the free camp before anyone started, but thanks to my boy, Elliot Hulse, I didn't quit. He told me to keep at it. The next week I had up to 10 people. From there, I converted some and then some just flaked out. It was nothing big, but it got the ball rolling.
For my men's camp, it was really just a few friends. They brought a guy or two in, and it was a small select group. We trained out of my tiny 10 X 12 foot garage (my girls trained in a local park). Since opening up my gym, they have been visiting my blog and my Twitter, Facebook, and YouTube pages wanting to train at the new facility.
I still run the Craigslist.com ads. Since then, I've made postcard-sized flyers with the logo and contact information on the front. The back has a free, two-week trial on it. I have left them at local businesses that I know and also have given them to clients to hand out. I've offered them money for referrals. One of the biggest things that really helped me grow for my women's camp was putting up my FitMommyBootcamp.com website. When I launched it, I grew 400 percent in one month just because I rank so high for my keywords. I didn't pay some crazy fee. I just had some help from friends, and about $50 later it was up.
The warehouse is off a major street so there isn't a lot of drive by traffic. But that's ok because I'm not planning on my clients coming from the traffic. As far as the lease and how I negotiated such an insane deal, I just randomly came by the warehouse. I was driving around one day looking for some spots. Due to the economy, there are many places up for lease right now. I had almost run out of options for where I wanted to open up my gym and also had searched the only place where it's industrial with warehouse spaces. I turned down the street, saw a giant building, and said, "Fuck it. I will call just to see."
Well it just happened that the 8,000 square-feet building had 3,000 square-feet that needed to be leased out. From there, I set up an appointment with the realtor and told him I was very interested, but I wanted to work out the deal on how much per square foot. I told them what I did, where I was, and what I wanted to do and just came at them with the maximum of what I could afford each month. Because no one is renting right now, I knew this worked to my advantage. I also offered to fix up the building because it had a wood shop in it for 60 years and was in need of a facelift. I just went in with a do or die attitude and it stuck. Two weeks later, I signed the lease and walked into my very first facility!
ZE: I see you're already training clients inside your warehouse even though it reminds me of the movie Saw. You're going at it with them. Do they care about the mess that's inside there now? How are you adjusting membership for those who sign up now while the warehouse isn't complete? Tell us about who is fixing up the inside and if you found a way to strike a deal to cut costs for you.
MH: That's hilarious but so true with it being kind of dark and scary in there with all the mess we have. But they are hitting it hard every session. I think the whole place is adding to it. It's straight to the point with nothing fancy, just how I want it. The members don't really care at all. When my existing clients started there, I warned them that there would be renovation stuff going on. But it isn't in their way so I haven't had any complaints. With new clients, I just let them know right away what's going on with the place or they follow/found me online and know the story so they think it's really cool.
As far as adjusting memberships, I haven't really done anything besides some of the specials that I was planning on doing to get some high flow into the gym. Members are still getting the same quality service as if the place was 100 percent finished so why discount it? Like I said, I let them know the situation up front and how I'm doing the whole place on my own. I've found that most people are totally fine with that and actually are happy to pay for the great service. They think of it as helping me out, and they have said that they don't want a discount because they can see my passion and drive for putting it together.
That brings me to your next question. I'm fixing the place up all by myself with the help of pulling the friend card with some of my friends. That is how I was able to cut many costs. I didn't have to hire other people to do it. It's also how I got the place for much cheaper. If I would have asked for build out costs to update the building and all that, my rent would have been at least $500 more a month. So yes, it's more money out of my pocket up front, but in the long run, I'm saving that much extra each month from paying cheaper rent.
I won't lie. It has been rough, especially my first month. But I'm determined, and I will make it happen. With less than two weeks left, I've had about 12 people come to me interested in the gym and in training. However lame it sounds, I think the saying "if you build it, they will come" is very true. There is nothing out here like what I have, so I'm just doing it and letting people know through word of mouth that it's starting.
Loading Comments...