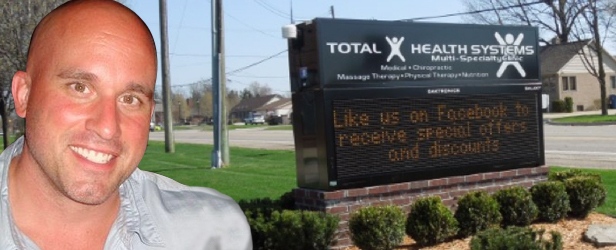 When we at elitefts™ first met Dr. Aaron Lundgaard, he was an attendee at one of our seminars with aspirations to build Total Health Systems (THS) as expansively as he could. His eagerness paid off quickly; as THS grew, Lundgaard worked actively to develop a multitude of wellness specializations. Through the specialized training of THS and their staff, they offer drug free medical approaches, chiropractic care, physical therapy, massage therapy, nutrition, fitness, and wellness.
Lundgaard has described their mission as, "to not only get patients out of pain, but to provide them with the tools necessary to obtain and maintain total health and wellness."
This is Lundgaard's story. Here, in a letter he shared with elitefts™, he details how Total Health Systems has grown to success.
The relationship between Total Health Systems and elitefts™ began as a personal one. I started powerlifting years ago, and began to look for help and information. A training partner of mine directed me to the site and I decided to check it out. I started to follow the site closely and, as my experience with powerlifting grew, so did my relationship with elitefts™. I went from buying shirts, wraps, and belts, to attending their seminars and purchasing large amounts of equipment for our patients — all within two short years.
To provide healthy lifestyle choices for the patients of THS, we expanded our exercise programming. We began by only offering free stretching seminars once a week but have grown to the point that we now have a full-time athletic trainer who heads up all fitness programming. We also have four trainers and fitness instructors. This makes us able to offer personal training, small and large group classes, and transitional rehab.
These kinds of successful expansions, as all entrepreneurs discover, do not happen easily. They require a perceptive eye to discern which risks are worth taking and which are best left alone. As staff chiropractor, Lundgaard has witnessed and contributed to every step of the THS building process. From practical concerns, such as the necessity for resilient equipment, to broadening disciplines, to developing a concise vision for the company, Lundgaard has seen it all.
To expand our programming, we needed versatile equipment. We needed equipment with multiple attachments that could offer multiple exercise options. By making each piece of our equipment more adaptable, we would be able to increase efficiency and better serve our patients. The elitefts™ erect-a-rack was the perfect fit for this purpose. The dip, rope, chin-up, J-Hook, and safety attachments have allowed us to more thoroughly implement our small group training, which we call Fitranx.
We also purchased ropes, bands, bars, bumper plates, plyo boxes, jump ropes, and other equipment as we discovered a need for them. They have all been great additions and enabled us to provide a controlled environment for our patients during the transition from rehabbing and injury to establishing or re-establishing a fitness program. This equipment and our programmed have worked together to develop a well-rounded wellness facility.
At Total Health Systems, we have combined multiple medical and alternative disciplines to better serve our patients. We feel that a team concept is extremely important. Oftentimes, we have to put our egos aside and defer to other healthcare providers in the practice. This is for the sake of the patient. Total Health Systems has taken one discipline (chiropractic care) and expanded to include competitive services, such as physical therapy and traditional medical care. Once you are able to see past the underlying turf war between these practices, it is obvious that they complement each other well. Our team has been able to put asides differences and educational biases to find what is best for each patient.
In addition to collaborating with other members of Total Health Systems to build the recent improvements, Lundgaard offered input on with whom the company would work — and more importantly why they would choose to work with them. Lundgaard unabashedly voices support for companies that operate on similar ideals of THS.
There were companies we could have chosen during our development, and many companies wanted our business. But there was only one company I wanted to work with: elitefts™. I've always felt that, although we are difference businesses, we follow a similar model.
I have never been able to put the THS mantra as succinctly as elitefts™ has done with Live, Learn, and Pass on. We have many common threads with this concept.
LIVE
We always ask staff and practitioners to "practice what they preach," and live the lifestyles that they promote in our patients. Note very employee is able to lead a perfect lifestyle, but we want each of them to pick things that are important and incorporate them into their lifestyle.
LEARN
We ask our practitioners to continually educate themselves. We provide schedules learning opportunities, continuing education units (CEU) and training seminars to expand the breadth of knowledge that we can offer.
PASS ON
Why do we do this? To ultimately pass the knowledge and experience on to our patients. If we can improve their health and wellness while also offering to them everything that we have experienced and learned, we consider our work a success.
This final aspect, to pass on could not be exemplified more aptly than Lungaard and THS do so. The enduring question of any person's life comes down to the legacy they leave behind. Lungaard chose to end his letter to elitefts™ by focusing on what he sees as truly important: giving back to those in need.
The final value that led me to elitefts™, and one that is particularly important to me, is the charitable nature of an organization. My support for elitefts™ and their products was solidified by the enormous contributions they have made to the Make-A-Wish® foundation. This has shown me that I deal with an organization that is focused on more than just the bottom line. Total Health Systems has always been charitable as an organization. We provide complimentary community education services to our senior population and the county school systems to further health education. We donate services for charitable organization and raffles. We even reward our patients with free services for donating their time to non-profit organizations.
Choosing a company to collaborate with is about more than just shopping for the cheapest price. We want to work with companies that have a similar mission and values. I feel that we have found that with elitefts™.