WATCH: Equipment Feature with Steve Diel — elitefts Core Blaster
Last week we shared an inside look at the home gym of Steve Diel. While in his home gym, Steve also walked us through the use of several pieces of equipment, demonstrating the design, setup, and proper use of the items. For today's equipment feature, Steve shows the elitefts Core Blaster.
The elitefts Core Blaster is a small, compact piece of equipment that can fit easily on the floor, making it ideal for home gyms that are limited on space. It also adds a large number of potential exercises, including core work, rows, and presses, making it the perfect implement for the home gym. Very simple to use, Steve shows that the only setup required, using any traditional bar, is to slide one end of the bar into the sleeve and load the other side of the bar. You then place your attachment of choice onto the loaded end of the barbell and you're ready to perform the exercise.
Steve demonstrates a standard bent-over row using a T-bar row handle, as well as a one-arm row using a single row handle. These two accessories enable you to hit different angles and change up the movement to work the back in various ways. There are a number of additional handles available in the elitefts store, which will add even more variety to the movements capable of being performed with the Core Blaster.
---
Item Specifications

The Core Blaster is an extremely versatile piece of equipment and is perfect for rotational core work and rows. The universal joint allows for complete freedom of bar movement. All you need is a bar and you're ready for a core workout like you've never experienced. 

Comes in black textured finish.
Core Blaster Attachments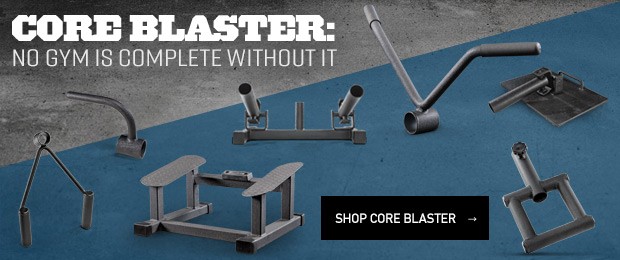 Loading Comments...