WATCH: The Vision and Growth of Showtime Strength and Performance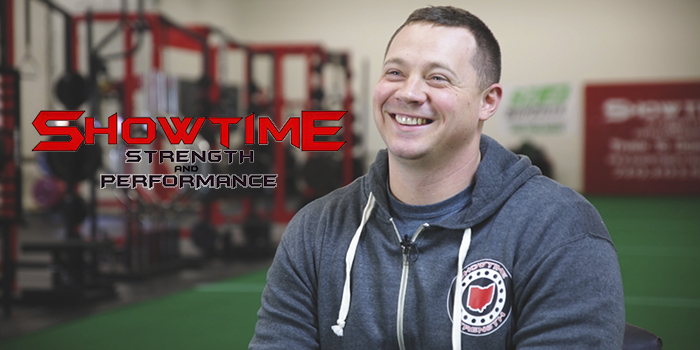 Interview by Sheena Leedham and filmed by Josh Goedker
---
Familiar with the area from growing up in blue collar Central Ohio, Nick Showman opened Showtime Strength and Performance because he felt that it was his way to give back to the area he has lived his whole life. Located in the direct center of Newark (a city east of Columbus with an average income slightly lower than Central Ohio), Showtime Strength and Performance can be reached through nearly every major road in the area, from every direction. This location was chosen because Showman felt that Newark needed something positive, and that opening a performance facility and putting it an accessible place would provide an area full of great athletes and people with a resource they lacked.
---
WATCH: Inside the Home Gym of elitefts CFO Steve Diel
---
In this video, Showman explains how and why he started his facility, the services it provides, how it has grown over time, and what he hopes to build for the future.
Starting the Facility
Showman began working at Denison University with Mark Watts in 2010. Near the end of his three and a half years there, he was also working part-time at another private training facility and was coaching at Granville High School. As he continued to learn from Watts and from his own experience, he started seeing a need in the area for a true strength and conditioning facility for youth athletes. In 2013, when Watts left Denison to become Director of Education at elitefts, Showman decided to make his own career move, and opened Showtime Strength and Performance. He recalls that, between first having the idea and choosing to actually move forward with it, no more than three weeks passed.
In the beginning, his facility consisted predominantly of athletes. Then he partnered with Westside veteran Josh Gutridge and started putting on powerlifting meets to bring in more money. This led to a number of serious lifters training at Showtime, and eventually to Showman receiving an invitation from Louie Simmons to start training at Westside. Now Nick is a regular at Westside and Louie often appears at Showtime meets, where Westside lifters frequently compete. These relationships have helped Showtime evolve to a point that it not only caters to athletes in need of strength and conditioning training, but also hosts many serious lifters.
The Softball Niche
Showtime has become known in the area for its expertise in softball players, who at one point came to Showman primarily for rehabilitation from an injury but now also seek help in building strength. It all began with one high school athlete who, as a sophomore, received a full tuition scholarship. Then she suffered an injury and the scholarship was pulled. She visited Showman and, using guidelines from her doctor, they developed a plan to bring her back from injury, which she did successfully — so successfully, in fact, that she won a state title, was named pitcher of the year in Ohio, and was re-awarded her full tuition scholarship.
After that, more and more softball players began coming to Showtime to learn from Showman and his coaches (currently, Showtime has four coaches in addition to Showman). It became well known that Showtime was the place for softball players to improve. Showman's belief is that this group doesn't receive much attention in the strength and conditioning world, and that by finding a way to provide for these athletes, he is able to help an under-served group. Through this process, he and his coaches have trained athletes who have gone on to win multiple state titles.
When he started, Showman just wanted to work with athletes, and then softball became the niche of his facility. Now, through growth both inside and outside of the niche, his facility is exactly what he desired and envisioned: some teams, some young kids, some older clients, some college athletes, and some serious lifters.
Equipment at Showtime
The equipment at Showtime Strength and Performance was selected based on criteria of quality and space optimization. According to Showman, the most important items include:
Power Racks; there are four in the gym that are constantly used
Specialty Bars; in-season athletes rotate through specialty bars for building strength and staying healthy
Turf; where athletes spend most of their time
When he chose to outfit his gym with elitefts equipment, Showman kept in mind that he wanted to buy quality items once, and have them last. The relationship he had with Mark Watts, as well as his previous interactions with Dave Tate, played key roles. He felt loyal to the company for the information constantly shared through the website. Then when Showman reached out to Director of Sales Matt Goodwin, Matt helped him put together a plan to optimize space. He shared the pros and cons of different options, based on his experience of helping hundreds of other coaches set up facilities in the past. This wasn't something Showman received when he reached out to other equipment providers.
The Westside equipment in the facility was added based on Showman's experience training at Westside and recognizing that his personal weakness in his hips—the same weakness common in many athletes and clients—are best improved by the belt squat and the reverse hyper. Knowing that these were two of the best items available for bringing up his weakness and his clients' weaknesses, it was an easy decision to add them.
Additional Services and the Future
In addition to the training and coaching, Showtime Strength and Performance provides several additional services. Each year it hosts two to three sanctioned meets including one in the winter, one in the late spring, and sometimes a smaller push-pull meet. It also provides two small conferences or seminars each year (hosting up to 30 people) designed to educate new lifters on training concepts and teach them how to implement them.
As Showtime expands in the future, Showman envisions the facility and its coaches reaching out and being more visible outside of the local area. His goal is for the facility to also continue becoming a destination for serious lifters and athletes. In the past, this has included visits from strongman competitors, Olympic weightlifters, and even professional athletes. His primary goal is for the facility to be more involved, to do more writing, and to further the field of strength and conditioning, especially in Showtime's niche of softball players.
More elitefts equipment at Showtime Strength and Performance:
To learn more or contact Showtime Strength and Performance:
www.showtimestrength.com
41 Anthony Drive Newark, Ohio 43055
740-403-9325
nick@showtimestrength.com
Loading Comments...