Introducing New elitefts Columnist and Coach Dr. Jordan Shallow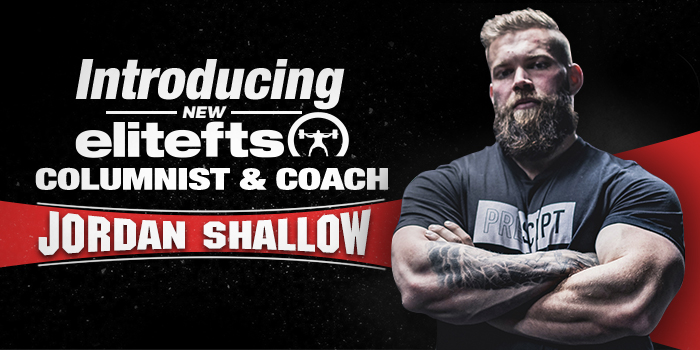 The doctor is in! Or to be more accurate, Dr. Jordan Shallow has joined Team elitefts as a columnist and coach.
Dr. Jordan Shallow, DC, is a strength and conditioning coach, powerlifter, and consultant and chiropractor from Windsor, Ontario. He is the founder and president of Pre-Script.com, former strength and conditioning coach for Stanford University rugby, and former chiropractor at Apple World Headquarters.
He competes in the 242-pound class in men's classic raw powerlifting. His best competition lifts are a 749-pound squat, a 441-pound bench press, and a 755-pound deadlift.
Dr. Jordan currently travels on behalf of Pre-Script and lectures and consults on principles of applied biomechanics centered around improving sports performance and injury risk management. He offers online coaching and online consultation services.
When he's not doing that, he co-hosts the podcast RX'D RADIO, in which he offers "insightful and sometimes irreverent perspective on all things health and fitness."
Welcome to the team, Dr. Jordan.
Loading Comments...