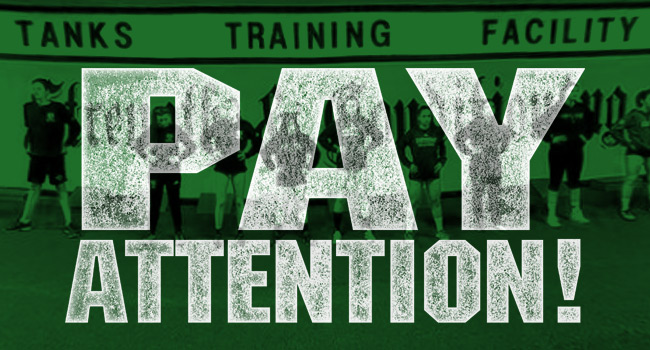 Most of you reading this have, at some point, played sports or coached an athlete. While we do the best of our capabilities to improve the athlete, we need to remember that much more goes on "behind the scenes."
They spend a few hours per week with you training as you develop a good relationship. However, at times, we forget how hard they work towards being the best in their sports. Working towards a collegiate scholarship is the goal for most.
Along with training, juggling practices, school, homework, and trying to have a social life, schedules seem impossible.
---
RECENT: Juggling Powerlifting, Life, and Love
---
Transitioning into college as a student-athlete adds even more stress to their plate. Their stresses can be sky high even when we don't notice them.
I wanted to open the reader's eyes and have some athletes share with you what they did to get to where they are today.
This can be beneficial for the coach, parent, and athlete to better understand what they are going through and possibly to help during this process.
Here are a few questions I asked some of my athletes, ultimately showcasing the sacrifices they made to get into college and rise above their peers.
Can you give the reader some background information about yourself?
Can you describe what your high school is like and what sports you played growing up?
What sacrifices did you make through high school to earn your collegiate scholarship?
How much time and effort did you spend to reach your goals, along with practice and training at Tank's Training Facility (TTF)?
Do you have any regrets?
Do you have any suggestions for parents or coaches reading this—what to do or what not to do to best assist the athlete?

Jake Mann
My name is Jake Mann. I am 17 years old and I am a wrestler attending Princeton University.
Growing up I mainly stuck to the sport of wrestling. I was able to further develop my wrestling skills at Ladue High School. Ladue is a great school where athletics are taken very seriously and they have high expectations for every team.
Countless hours were spent throughout my high school career training and becoming the best wrestler I could be. A lot of time needed to be put in in order to have the opportunity to compete at the college level.
I typically spend six to eight hours a week at wrestling practices. On top of that, I train at TTF about the same amount of time per week
I wish I could have started training at TTF sooner than when I started my freshman year. It's a great place that helps athletes achieve their goals.
I would advise parents and coaches to remind their athletes to enjoy the process because sometimes we tend to focus on the negative when instead it's much better to just be thankful that we get to compete and train.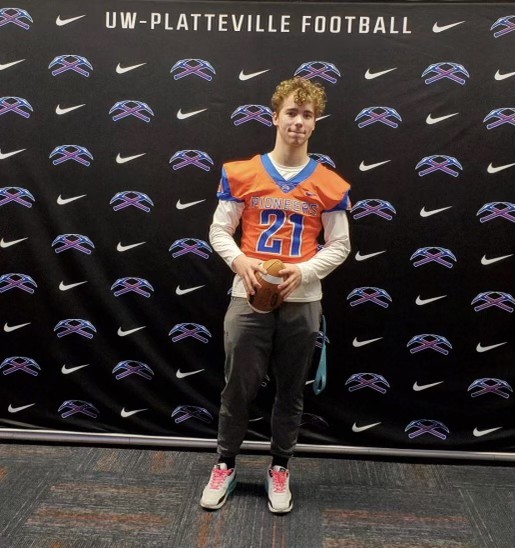 Nicholas Alberico
I'm 18 now and played football, baseball, and basketball growing up as a kid. I am currently playing football and attending UW Platteville.
I went to a small high school which was different from middle school. My high school only had 300 kids in the entire school with 85 kids in my graduating class. The class size allowed me to get to know every kid in my graduating class. Also, I was able to get to know the teachers a lot better. Everyone was there to help you succeed. It was easier to seek help in school because you felt like there was a relationship with the teacher. What a change from the public school I went to where there was 1000-plus kids in two grades. It was easy to hide there and get lost in the crowd.
As a kid, I played three sports. During the fall into winter, I would play football. I was a running back and defensive back. I played both ways in little league. Then into the winter and spring, I would play basketball for the YMCA and then for an AAU team when I got into sixth grade. For the spring and summer, I would play baseball. I was the centerfielder and I also was a pitcher. This allowed me to always stay busy as a kid.
I think the sacrifices that I made for my scholarship were just all the hours of dedication and discipline to try and become better. It's deciding to stay home and get another workout instead of going out and partying. Also making sure I took care of school first because without good grades you can't go anywhere.
During high school, a typical practice would be from 3:30 PM-6:30 PM, then we would watch film till 7:30 PM. After this, I would come home and do whatever homework I had to finish up for the night. On Tuesdays and Thursdays, I would work out at 6 AM before school. On Saturday, we would have film at 7 AM till 10-11 AM, depending on how the game went on Friday. After this, I would go home and rest. On Sunday, there would be two workouts—one from 12 PM-2 PM then the next workout would be at 3:30 PM-5:30 PM. During the off-season which would be December to August, I'd have to work out Monday-Friday at 4:30 PM. On Tuesdays and Thursdays, I would also work out at 6 AM.  Saturdays were a small rest day or I'd get a small workout with my friends for about an hour or so. On Sunday I'd work out at 12 PM-2 PM, and then again at 3:30 PM-5:30 PM. All while taking my siblings to their events and practices when my parents were unable to.
I don't have any regrets about what I did. I am happy that the work paid off and I am a college athlete now. I am continuing to work just as much and now more with being able to have a little more freedom. I hang out with all other athletes so they always understand if I say no to something. I think the best part is to surround yourself with people who understand what you are trying to do. This way they will never question or make you feel guilty for an action that you took to try and better yourself.
For coaches and parents reading this, my suggestion is just to try and be there and help support your athletes as much as possible. Take them to workouts whenever they ask and show up to their events. They understand you have work and cannot always be there. Asking about how it's going or just showing interest in what they are doing can give them the confidence that you believe in them and they will succeed.

Mason Roehr
My name is Mason Roehr, and I am 17 years old.
I have played baseball, hockey, and football throughout the years. I am currently a senior and attend Granite City High School, and have signed to play baseball at Missouri State University.
High school has been awesome to me. In my only year playing football, I started varsity as a freshman at OLB. I was second on the team in tackles. I would play again this year (my senior year) at QB, but it was canceled due to COVID-19.
I also played hockey and baseball and started both as a freshman, and I currently play both sports. I've led the team in scoring two of my four years in hockey and was second in scoring last season.  We won the MVCHA Championship! In baseball, I batted .310 with 5Hr 36 RBI's and 25 stolen bases.
Growing up, I had to sacrifice a lot—hanging with friends, going on trips with friends and family, all because I had either baseball or hockey. I spent most of my summers traveling for baseball and winters traveling for hockey. I missed school dances, parties, and other school athletic events that all of my friends were at. I started getting recruited for baseball in eighth grade, so things started early for me. I was 14 years old, talking to college coaches, answering questions, and responding to messages that most 18-year-olds don't really know how to do. It made me grow up and mature faster than most kids. I started visiting big-time schools and getting offers for college at this age, and it just felt crazy and almost not real. I chose Missouri State University to play baseball the summer going into my freshman year. I know it seems early doing it as a freshman, but that's just how baseball works. I leave in June to begin my journey playing in the collegiate summer league!
My schedule was always crazy with practice and training. I would usually have baseball practice or games three days a week during the week, with tournaments on the weekends. I also was in the gym at Tank's Training Facility three to four days a week. One of the coaches there, Randy Presswood, put me on a schedule to become bigger, stronger, faster, and I haven't looked back! I would work out right after school and then come home and eat, then head to either hockey or baseball, sometimes both! Quite a few people have told me that being bigger, stronger, and faster is what set me apart from other kids at such an early age. I owe that to TTF and the coaches there!
I don't really think I would change anything and I don't have any regrets. My life was busy, but I enjoyed it. Yes, I missed things, but I might not have had the opportunities that I've been given if I changed something that I was doing!
If I were to give any advice for kids reading this, you can practice your sport seven days a week, 365 days a year, but your body will break down. You have to get your body right to succeed. Chris and Randy were right, "If you want to stand out from the others, be bigger, stronger, and faster."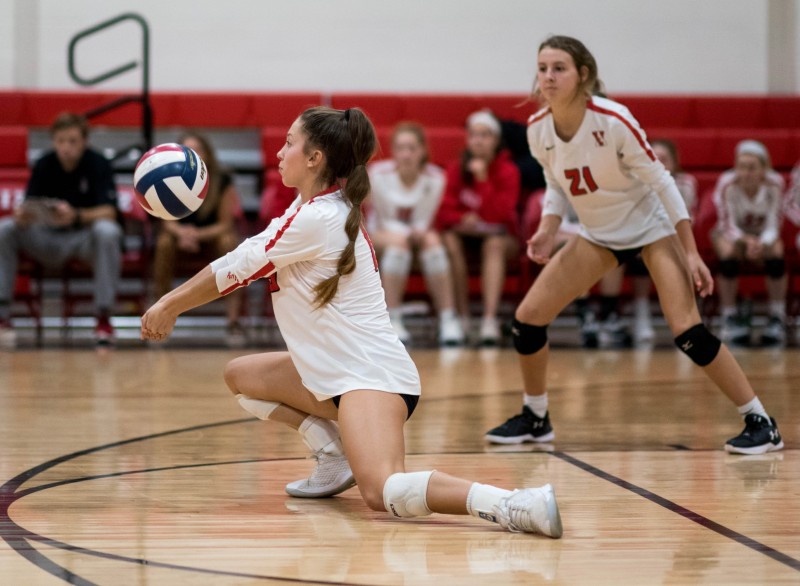 Abby Woolverton
My name is Abby Woolverton. I attended Visitation Academy, an all girl's high school in St. Louis, Missouri. I played volleyball for my high school and played club volleyball for High Performance St. Louis. I have played many sports throughout my life, such as volleyball, soccer, gymnastics, and dance. I am currently enrolled at Centre College on a volleyball scholarship.
I missed many spring break trips, as well as traveling and study abroad opportunities that took place in the summer due to volleyball tournaments and recruitment trips. I also missed many high school dances such as homecoming and both of my proms, including Junior Ring. Especially in season, there were very few social outings and parties that I could attend.
While in season, I worked with Chris once or twice a week and during the weekend when I was home and not traveling. While out of season, I worked with Chris on average two to four times a week.
If I could go back and do it all over again, I would begin my volleyball career at a more competitive club at U11s.
My suggestion for parents with athletes is never to control your athlete's schedule. Allow them to decide when they want to go lift or get extra reps,. That is what makes them the amazing athlete they are. They want to get better, stand out, and come out on top. They have to want it, and it has to come from their own time, determination, and dedication. You controlling their schedule could lead to them resenting you or even resenting their sport.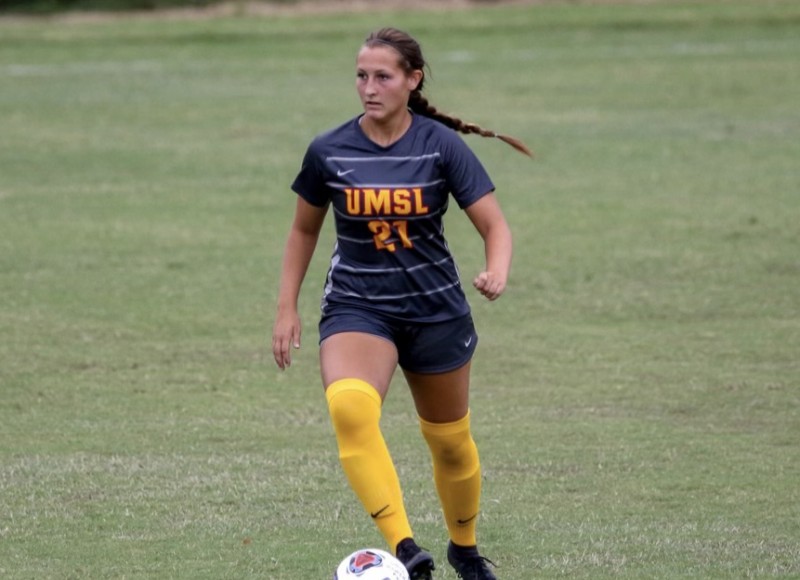 Abby Reeves
My name is Abby Reeves. I am 20 years old and currently a student-athlete at the University of Missouri-St.Louis on the Women's soccer team.
I grew up in Granite City, Illinois, and played multiple sports such as softball, dance, volleyball, and basketball. My favorite sport was always soccer. I played on a club soccer team and for my school. When playing for my high school it was always very fun and competitive. We had a huge fan section and I loved playing for my city.
There were many sacrifices I had to make to get to where I am today. I always have put soccer first. I sacrificed hanging out with friends, school events, reunions, and more to become the player I am today. If I had another sports practice at the same time, I would always choose to go to soccer over the other. I eventually had to stop playing other sports when I was younger. In my freshman year of high school, I was a three-sport athlete. I played volleyball, basketball, and soccer. At that age, I knew I wanted to play soccer in college and I didn't have the time for volleyball anymore. I did not continue to play volleyball the next year. In my junior year, I decided to switch club teams to a team that did not travel as much. I decided I wanted to go to college closer to home so I played for a more local team. It was a hard decision leaving all my friends I grew up playing with, but I knew it was for the best. That same year I started going to college camps and meeting coaches, then committed to UMSL to play soccer.
My days in high school were always very busy. I would go to school, have basketball practice afterward, leave early to be at club soccer practice, and then do homework when I got home. I have been working out at Tank's Training Facility since I was in middle school. I would find time to go before school, during my lunch breaks, or when I did not have practices. The workouts included strength training and conditioning. They have a huge impact on the athlete I am today. I, of course, had rough days where I didn't want to go and do the extra work, but I wanted to play college soccer. I was dedicated to that goal and knew I had to put in the work to get there.
I have no regrets or anything I would change from my past. The hard work I put in every day paid off. My goal of being a college athlete came true. I am extremely blessed to have my parents who helped me get the extra training I wanted.
If you're an athlete in high school who is wanting to play a college sport, I would tell you to keep fighting through it. The days you don't feel like it or feel lazy, are the days that count and make you better. Keep working hard and going to that extra training because it pays off in the future. Keep your grades up and study hard. You may not realize it now, but they are so important. You can be the best athlete, but if you don't have good grades it won't matter. For athletes and parents, start thinking about college and what sport you want to play early. Get your name out there so coaches can come to watch you play and you can have options for your future. Lastly, don't forget to have fun and enjoy!
---

As a top-ranked super-heavyweight, Chris Janek earned the nickname "Tank." As a two-time all-state wrestler as well as an all-state, third team all-American football player he received multiple full-ride scholarship offers, choosing to play football for the University of Wisconsin. During his collegiate football career, Janek was a four-year letter winner as well as a two-year starter. He was part of four Bowl Games (two Rose Bowls, in which they won). After college, he furthered his football career with a tryout with the Cleveland Browns and an eight-year career in the now-defunct Arena Football League. He is the owner of Tanks Training Facility in Granite City, Illinois and has devoted himself to multi-ply powerlifting. In 2010, Janek totaled 2660 to win best lifter at the GPC Worlds (in Prague). In 2014, he won first place and best lifter overall at the XPC Finals with a 2725 total.