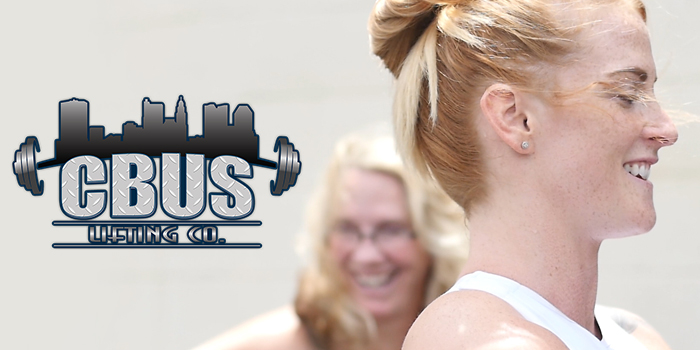 Interview by Sheena Leedham, Written by Ellie Kim, and filmed by Josh Geodker and Ellie Kim
---
Five years ago, Rachel Ellis was in Afghanistan as a flight medic in the Air Force Reserves and had just discovered Crossfit. Now, she spends her days as a Crossfit coach and runs CBUS Lifting Co. alongside her mother, Maggie Kuhn.
In 2015, they saw a need in Columbus for a powerlifting-friendly gym that was open to the public. Maggie uses her background in business and powerlifting to operate the powerlifting side of the gym, and Rachel utilizes her passion for Crossfit and Olympic weightlifting to teach classes on the Crossfit side.
Maggie, as a master powerlifter who got started late in the game, pursued her passion for powerlifting by seeking opportunities as a meet director and gym owner. "One of the things that I knew about myself was that I was never going to really make a name for myself on a powerlifting platform underneath the weight, but it didn't mean, for me, that I didn't have an opportunity to make a difference for the sport," Maggie said.
After Rachel left the Air Force Reserves, she tried nursing school and discovered it wasn't for her. She started coaching Crossfit and realized that she wanted to own her own gym.
The two and a half-year-old facility is divided in half with a Crossfit box on one side and a powerlifting gym on the other. Garage doors line part of the building, so members can take their workout outside when the weather is nice. It's a convenient place to train for OSU Powerlifting members and university alumni since members get 24-hour access to the facility and it's 15 minutes north of the Ohio State University campus.
You can usually find Maggie greeting members in the front office and operating the business side of the gym. Rachel spends her day in the Crossfit side of the facility, teaching classes, training, and interacting with members.
However, working together closely every day isn't all sunshine and rainbows.
"I test her a little bit, she tests me a little bit. We kind of both have our passions. Mine is Crossfit and hers is more of her powerlifting, so we tend to kind of both pull in those directions, and I think the fact that we're both so passionate is really what makes it unique as we come together and figure out the best mix for both of us." -Rachel Ellis
It's this passion that drives CBUS Lifting Co's success and makes it stand out from the competition. "I love taking care of these powerlifters like they're my children," Maggie said. "I tell them all the time, I have presents coming for you. And they'll be watching for elitefts boxes coming through the door."
They cater to their patrons by listening and providing the best equipment that they can offer. "If there's something that they need, they're real quick to tell us they need it," Maggie said. We didn't have enough chains and one of the members said, we really need more chains. So I went out and bought more chains. That was a fun day. It's Christmas."
Maggie makes sure that CBUS Lifting Co. has everything that a competitive powerlifter would need to prepare for a meet, no matter what federation they compete in. They have Ivanko and Eleiko bars for weightlifting competitors, as well as plates in both pounds and kilos. Since they host USPA and USAPL meets, they keep power bars, squat bars, and deadlift bars. They also have an EliteFTS Deluxe Monolift, which is especially useful for equipped powerlifters.
Looking forward, Maggie will be serving as a meet director for two USAPL meets this fall and is hosting an unsanctioned push/pull meet to benefit Toys for Tots in December. Be sure to check out their Instagram for event updates and member features and the CBUS Lifting Co. website for information on becoming a member.
A look at some of the elitefts equipment available at CBUS Lifting Co:
6740 Huntley Road L-N
Columbus, OH 43229
Instagram
Facebook
CBUS Lifting Co. Promotions