44 and Broken, Part 9
Meet Wrap up
It's done and in the books. I competed at the 16th annual RPS Power Challenge on October 21, 2012. This was my first meet in six years. Before I go over how I did, let me tell you that if you are considering doing a meet, Gene Rychlak runs a GREAT show. They are organized, well run and fun. The last meet I did was awful and soured me to the sport— I started lifting in the early afternoon and passed on my last deadlift at 11:00 p.m. because I was exhausted. I don't think I even ate afterwards. I went back to the hotel and passed out. RPS meets are different. Lifting went off at 9:00 a.m. sharp, as advertised, and went on schedule all day. Squat at 9:00 a.m., bench at 11:00 a.m., pull at 1:00 p.m., done at 2:00 p.m. Like clockwork. The equipment was great in the warm-up room and on the platform. I am so impressed by Gene's meets that we decided to team up and host TPS's first meet together next year. It will be the best meet in Boston.
The weekend began early Saturday morning. TPS had 14 lifters competing at the meet, so I had to go down Saturday and help out. TPS lifters took best male and female lifter on Saturday, and on Sunday it was men-only and one of our guys got best lifter there, too. We also had one guy get an Elite total for the weight class ABOVE him, but I digress. Going to a meet the day before I was lifting and working was not my idea of awesome, but it is part of the game... live, learn, and pass on, so I did.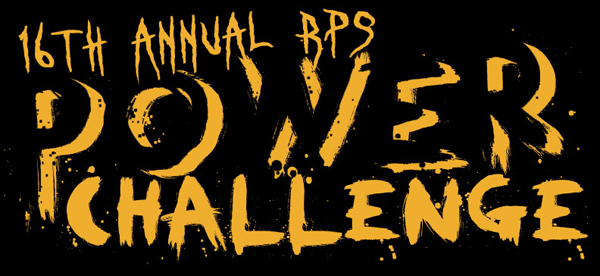 I weighed in on Saturday morning at 272 pounds and began to EAT. Kiefer had me on a super compensation plan, which involved very low carb all week and then slamming carbs all night Friday, all day Saturday, and all day Sunday. The idea was to give me an almost unlimited energy reserve. I think I got about 1500-2000 grams of carbs in on Saturday. I was a little concerned with this because I thought I would spend the whole meet in the bathroom on Sunday. Thanks to a handful of Immodium Sunday morning, this was not the case.  I left the meet after the morning session and went home and ate my face off. I tried to get to bed early, but I am a moron and stayed up until about 11:00 p.m. watching TV. Damn you, Fox News.
On Sunday, I woke up at about 5:30 a.m. and washed my ass and hit the road. It was about an hour drive to the meet, and I did it alone in silence. No music, no phone, just me trying to focus on what was to be. When I got there, my handlers Kevin and Steve were already waiting. I should have these two run a clinic on how to handle people at a meet. I do not believe anyone could have done a better job. Kevin was my hand-off man and Steve might be the best knee-wrapper in the business. Steve and Kevin were also in charge of choosing my attempts once the openers were in the books. I told them I wanted to go 9-for-9 and didn't want to know what was going on the bar or what the final total was. I knew it would not be my best total and didn't care. It was a PR no matter what, as this was my first time lifting in the 275s.
I think the week off before the meet did some good because my body felt GOOD, and for the first time in ages, almost nothing hurt. I jacked my right elbow in my last heavy squat workout and it did hurt. A lot. Lucky for me it didn't hurt unless I was deadlifting, so I was okay for squats and benches.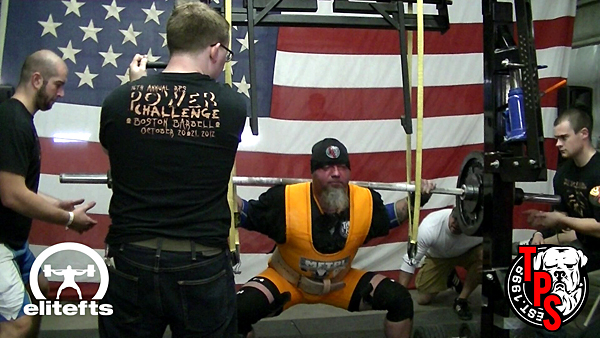 SQUAT
I opened the squat with a HUGE 600 pounds and took it deep and then I SMASHED it. It felt like 135 pounds. I know 600 pounds is not a big squat, but a few short years ago, I questioned whether or not I would ever squat again after tearing my patella off. Steve called me at 635 pounds for my second attempt. Once again, I took it out and smashed it. 2-for-2.
The guys called for 660 pounds for my third which should have been a smoke show. I have mentioned that I am an idiot, right? I took it down, cut it about an inch high and then smashed it. The weight was not heavy, but I think I might have been too jacked up and decided to stand up too soon. I got red-lighted for depth. I deserved it. Oh well, 2-for-3 is good today. I was pretty happy because I could have done it, if I just had a little more patience.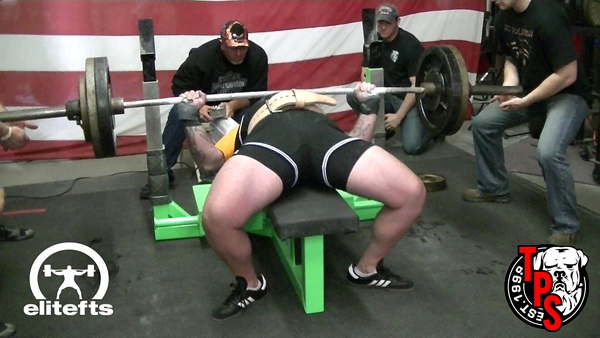 BENCH
On to the bench.
Keeping my ass down has been my biggest problem, but I was not concerned in the least. We went with my planned opener of 365 pounds and my ass stayed on the bench! It also felt pretty easy. Steve called for 385 pounds. This was the weight that was making my ass pop like a stripper. Not today. I brought it down, waited for the press command, and proceeded to smash it like I owned it. 2-for-2.
My third attempt was at 400 pounds. It came down easy and felt like it was going to go up fast, until my ass came about 37 inches off the bench. Unfortunately, the judges were not blind, and I got red-lighted. So now I'm 4-for-6, if you are keeping score.

DEADLIFT
By the time we got to the deadlift, my right elbow felt like there were midgets with razor blades going to town on me. I was having trouble holding on to my warm-up weights.  I opened at 500 pounds and got it, but I felt like my hand was going to open up. This is not a grip issue. I never lose my grip on the right side. It is always on the left side and never on the deadlift. It always happens on Farmers Walks. I don't know what is going on in my elbow, but who cares? I'm here to lift, not whine.
Steve called me at 525 pounds for my second, and it was not to be. My right hand snapped open like a maître d' at a fancy restaurant looking for a tip. I told him to go heavier and I would pull it. He called for 535 pounds. My left hand pulled the bar a few inches off the floor, but the right side was peeling open and didn't move. I feel like I could have pulled at least 600 pounds if my hand would have stayed closed. Injuries SUCK.
I finished the day with a massive 1520-pound total. That's a long way from my goal of 2250 pounds, but now I have a total in the 275s to work from.
Going Forward
I know what I need to do to get better. I need to work on a few things like:
Abs
Upper Back
Quads
Lower Back
Triceps
and GPP
I will spend the next few months hitting my weaknesses hard and getting more soft tissue work. I plan on doing the RPS meet in March. Hopefully I can stay healthy, and if I can, I am pretty sure that a 750- to 800-pound squat is on target as well as a 455- to 500-pound bench and a 550- to 600-pound deadlift.
These numbers might sound like I am crazy going off of what I did this weekend, but I know my body. The strength will come back fast if I do the work. This training cycle showed me that I can do the work and finish a meet. Brian Carroll and I will go back to the drawing board, and I am sure he will come up with a plan to get me there.
In closing, I'd like to thank everyone who helped me. There are too many names to list, but here is a short list:
Jane Stabile, Brain Carroll, Steve DiLello, Kevin Delaney, Devon Draper, Carlos the Douchebag, Frankie Puopolo, Russ Smith, Mary Southworth, Jenn Noyer, Dr. Nate Tiplady, Steve Colescott, Dave Tate, Vincent Dizenzo, Jo Jordan, my family, Roscoe and Aiobheann (my dogs for making me happy when I was miserable with 500 ice packs on), and all the readers who supported me on the site. I know I forgot someone, but if I left you out, I do appreciate everyone. This could not have been done alone.
If you have not read all the parts of this series, I suggest you go back and check out previous installments:
Loading Comments...