WATCH: 11 Triceps Variations for Massive Arms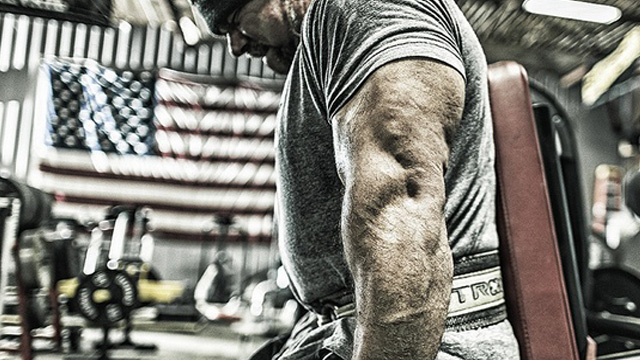 This compilation of triceps exercises will benefit you if you fall into any of these three categories:
You're a bodybuilder and you want to build balanced, aesthetic arms with bigger triceps.
You're a strength athlete and want to press more weight. Powerlifting bench press or strongman log press? Doesn't matter, this article applies to you.
You aren't a a bodybuilder, but you want to look better. You don't need a statistic to justify your love for triceps work, but if you do, here it is: your triceps make up nearly 70% of the muscular mass of your arm.
Which of these exercises and variations work best for you will depend on which of the three groups you fall in to, but the importance of exercise rotation and training variation can be achieved with each of these 11 movements.
Swiss Press Bar Triceps Extension w/ Chains
This particular exercise increases strength for pressing while using accommodating resistance to decrease stress on the elbow joint.
On the concentration motion of the lying triceps extension, the resistance becomes more difficult, but with accommodating resistance using eliteFTS™ Chains, Scott creates the most resistance at the top of the strength curve.
The elbow joint is also in a less vulnerable position when using a neutral grip provided by the eliteFTS™ Swiss Press Bar.
---
Great triceps movement and another one that is very low risk for the elbows. - Scott Yard
---
Single Arm Band Pushdowns
Elitefts™ founder Dave Tate performs a drop set of single arm band pushdowns. Execution: 
Attach five bands to a sturdy overhead object.
Grab the free end with one hand.
Tuck the elbow to your side and extend the arm until it is nearly locked out.
Perform 10 continuous reps and then drop 1 band.
Continue this until you have done five sets.
There has been much written about the benefits of this movement. It will bring up your tricep endurance, second it will act as a restoration workout by bringing fresh blood to the muscle tissue. This will help you to be better recovered for your next bench session.
Loading Comments...