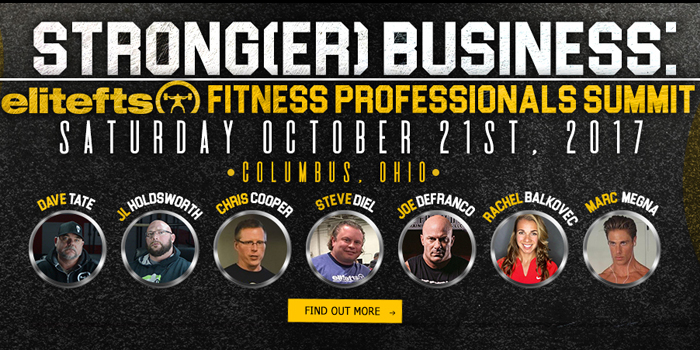 Less than a month away from the first ever Strong(er) Business: elitefts Fitness Professional Summit, elitefts Editorial Intern Robert Cox sat down with Dave Tate to discuss each speaker. In this video, Dave gives a background on his relationship with each person who will present at the summit, as well as sharing the reasons he chose them.
Rachel Balkovec
Dave emphasizes the major impact Rachel is having on the world of strength and conditioning by breaking new ground for female strength coaches. He speaks to the benefits that diversity has on the field and how Rachel's knowledge makes her stand out amongst any group of coaches:
"She is the first female major league baseball strength coach to ever be hired. That alone speaks volumes for what she brings to the table. Being a female navigating through the strength and conditioning field is a path filled with adversity, and it's getting better because of people like her."
Marc Menga
Years ago, Dave and Marc sat down to discuss Marc's vision for his future in the industry and how to get where he wanted to go. Since then, Marc has continually moved forward and risen to the top. Combining training intelligence and business intelligence is a lesson Dave says Marc can share best:
"A big part of any business is 'What is your story? Why are you doing and how can people relate to that?' [Marc] fits that and then backs it up with the training intelligence as well as the business intelligence to be able to move and go forward. The tricky thing in this industry is that you have to have the training intelligence, and most have that first. Then you don't know shit about business and have to learn the business intelligence to move forward...These are the lesson he will be able to pass on to attendants."
JL Holdsworth
If you want a real story about a man who started with nothing, has had to work hard for everything he has ever earned and has learned a ton from his mistakes along the way to reaching success, JL Holdsworth is the best example. Dave remarks on his relationship with JL, how it benefits both of them equally, and how JL owns two of the most lucrative training facilities he has ever seen:
"Here's a guy that came to town and lived in his car just to train at Westside. He came to town with nothing and now he's got two sport training facilities, the RPR classes he's doing are doing very well, and he's become a prominent name in the industry. I know his whole story because I've known him the whole time, and he has helped me as much as I've helped him...I learn more about our target market from him than any other resource."
Joe DeFranco
Most people in this industry start as personal trainers and evolve into another role from there. Joe DeFranco has run the gamut and seen every part of the industry, always finding a way to mature further. Dave emphasizes how Joe's evolution through the years has allowed him to continually reach more and more athletes:
"Joe got into this field to help athletes get better, and then he grew his business and his online presence to be able to help more athletes. This pivot that he has made into helping coaches is actually a way that he is gonna help, instead of 200 or whatever athletes he was training at his facility, [he'll help] thousands because each coach is going to have their own tribe of athletes. He's at a different part of that life cycle that people can learn from."
Chris Cooper
If you're looking for specific answers to difficult business questions about your gym, Chris is your guy. Dave shares how impressed he has been with Chris's knowledge of the industry and how he is able to take business challenges and provide legitimate steps to reaching a solution, making countless gyms more profitable in the process:
"I spoke at one of Chris's events earlier in the year and was totally impressed with what was coming out of his mouth. He's got a business where he helps CrossFit box owners become more profitable, [and with] how to run their business. And the things that he was saying were things that you would think you should know that you don't. When is the right time to increase pricing? What equations can you use for that? When should you expand? When should you constrict? He has answers for that."
Steve Diel
Steve is not only one of Dave's most trusted advisors but is also CFO of elitefts.com Inc. His education (MBA in Finance from Indiana University) and experience in business (over 15 years of experience in Fortune 500 Companies) have proven invaluable to Dave over the years:
"Steve has been one of my advisors for over a decade. He worked for a few Fortune 500 companies in mergers and acquisitions. He's a numbers guy...[Steve's position] is one we needed years ago and that I should have had ten years ago, but there's also an expense. When you start bringing in people at what they would call C-Level, you don't bring in entry level. You bring in people that can take the business to an entirely different level and then have trust and faith in what they're doing."
We will open the elitefts S4 training center to all attendants of the Strong(er) Business Summit. The Friday before the summit, and the Sunday after, there will be open training sessions. This will be the last time, EVER, to train in our S4 gym. We will be moving to our new location the weekend after this event. Come learn how to build a strong(er) business and become a part of history by training inside of the same walls that have hosted the strongest athletes in the world.
By the minute:
(0:35) Rachel Balkovec
(3:43) Marc Menga
(5:50) Finding a mentor and Dave's experience being a professional mentor
(12:12) Mentors becoming advisors
(13:37) The value of initiative; almost everyone is willing to talk to you
(16:12) JL Holdsworth
(20:17) Joe DeFranco
(24:27) Chris Cooper
(26:50) Steve Diel