Program Design, Strength & Coaching
Game Day Lifting (with Sample Training Session)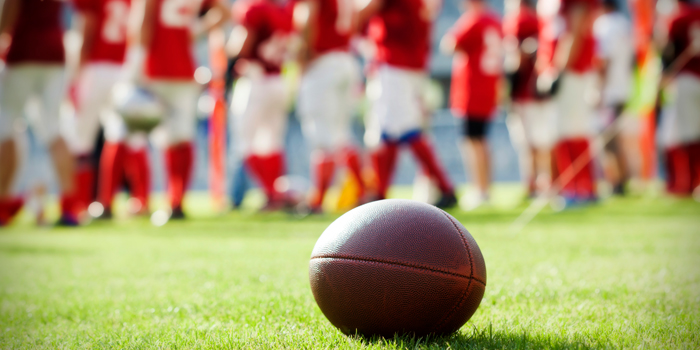 I have had multiple questions asking how we implement game day lifting with our athletes in the high school setting. This article is going to address how we use principles from the dynamic effort method and the tier system to create an effective game day lifting protocol for our football program.
The game day lift has been a part of the Richland football performance program since before I took over as director in 2014. Initially, the lift was only used at the varsity level. Last season, we began implementing the game day protocol with our sub-varsity teams and have seen favorable results. There is a significant amount of research and literature that supports the benefits of training before competition, so I won't bore you with that. This article is written to explain the whys and hows of what we do now before our football games.
---
RELATED: Overcoming Isometrics: Myelination to Reach Maximum Potential
---
Athletes are sedentary more now than ever during school. Our pre-game lift was implemented to begin the process of "waking the athletes back up" after a long day of sitting in class. Our basic format for a game day training session is designed around the dynamic effort principle, which was taken from the conjugate method and made famous by Louie Simmons and Westside Barbell. In a nutshell, the dynamic method is simple moving sub-maximal weights at high velocities. This training method is implemented to improve the athlete's rate of force development, and the goal for us is to excite the athlete's central nervous system while not detracting from game time performance.
The weight room environment is electric. The music is turned all the way up. Some athletes dance, and some are more reserved; each is allowed to prepare as needed. Coaches also join in and add to the energy of the lift. I want the bars to be jumping around and the weights to be clanking. This lift is not taxing on the athlete, as the training loads are sub-maximal.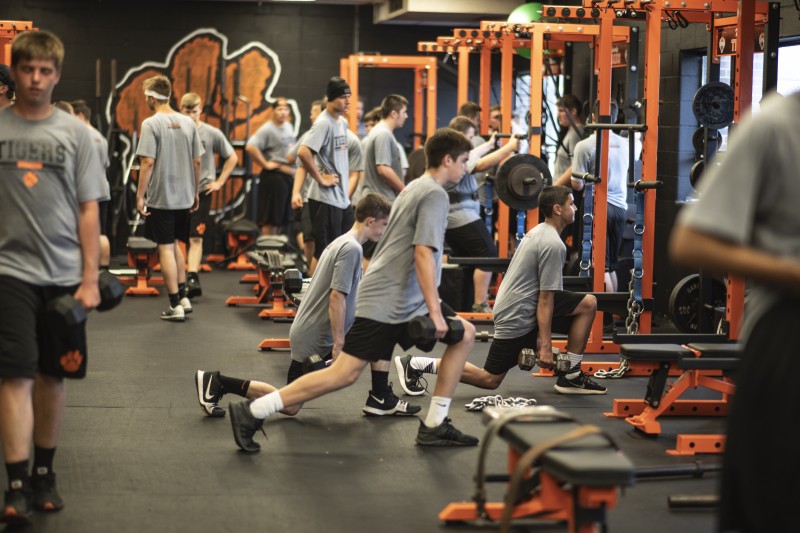 We perform the game day lift once school is over for the day, around 3 p.m., and typically around four hours before kickoff at 7:30 p.m. If we have a longer road game, we adjust based on the length of the trip. After the lift, the athletes have a pre-game meal and then some downtime before we get on the bus and travel to our game destination. This creates a yo-yo effect for the athletes because they get excited for the lift and then calm down for the dinner and then have to get excited again for the night's game. This is not the ideal situation, but it's what we have had to do. In a perfect world, this type of training session would be the last thing the athlete does before he takes the field to begin pre-game activities.
If we have a longer road time, we adjust based on the length of the trip. Last season, we had multiple multi-hour trips and were able to break the trip up and train at a location at the halfway point of our drive. This year, however, our farthest district game will be less than 30 minutes. Due to the shorter travel distance, we are looking at modifying our current situation to move up the training to just before we get on the bus for the game. I believe this helps with the steady increase of athlete excitement leading up to kickoff.
The framework for our game day training is created by inserting Louie Simmons's conjugate system concepts into the tier system framework created by Joe Kenn. Football is played using the total body, and so it makes sense to prepare our athletes using this exercise template. The exercise rotation is as follows: total body lift, lower body lift, and upper body lift.
We begin this movement with a short movement prep. After that, all athletes go to the racks and perform pull-ups if they are a skill position or body rows if they are a lineman. Once this is completed, we move into the meat of the training session. All lifts are dynamic in nature, simply meaning they're light and fast. We Olympic lift in our program, so our total body lift is the clean or a variation of the clean. On game day, we allow the athlete to choose between a clean from the floor or hang position. We adjust this movement as needed based on any injuries the athlete encounters throughout the season.
In past seasons, we have substituted the clean pull and also a conventional deadlift due to certain circumstances. We pair the clean variation with a reactive jump series. This could be repetitive hurdle hops, box jumps, broad jumps, or any combination of those. With the clean variation, we let the athletes select the weight they use, but it must be fast, and technique must be crisp. Typically, all stay at no more than 135 pounds. I am looking at increasing this weight this season to achieve a higher PAP effect.
---
READ MORE: Why Sports Coaches Don't Trust Strength Coaches
---
The second movement is a lower body variation. We utilize the goblet squat with our athletes to loosen up the lower back, hips, hams, and glutes. We pair this lift with a lateral lunge and a hip mobility circuit using hurdles. We utilize the goblet squat because it is less intensive than a back or front squat, and we are able to achieve a similar training effect of loading and activating the muscles of the lower body. We encourage the athletes to perform these movements through a full range of motion to maximize flexibility through the lower body. Some athletes use a low box, if needed, to achieve sufficient squat depth and improve squatting technique.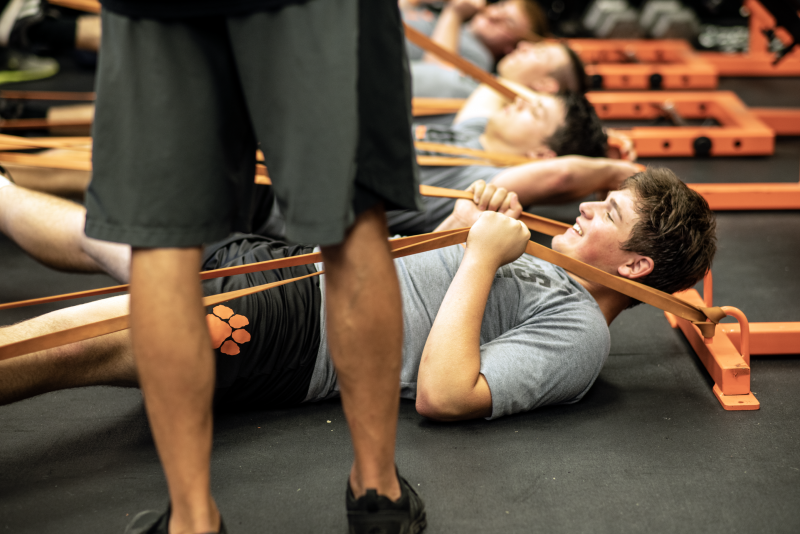 Our third and final movement in the tier system total body day is an upper body movement. We utilize the bench press using both straight weight and accommodating resistance. Again, the weight is extremely light and maximum bar speed is emphasized. If an athlete has demonstrated sufficient strength and appropriate technique, we allow the addition of mini bands to the bar to enhance the dynamic effort experience. A post-scapular strength movement is paired with the bench press. We rotate a few movements to include mini band pullaparts, face pulls, and T-raises with 2.5- or 5-pound weights.
---
Here is what the actual training session looks like from start to finish. We have had to modify the exercise order outlined by Coach Kenn due to the layout and equipment we have in our weight room. Athletes are split up into three groups:
BIGS: Linemen
Skill: Wide Receivers and Defensive Backs
Combo: Backs, Quarterbacks, Tight Ends, and anyone assigned to either the clean, bench, or Defensive Back sections
Movement Prep — 4 minutes
Skill: Pull-Ups — 3 x 10 – 3 minutes
BIGS and Combo: Body Rows — 3 x 10 – 3 minutes
Main Rotation: Clean – Goblet Squat – DE Bench — 3 stations – 20 minutes
Total time: 27 minutes
BIGS start here: Clean — 5 x 3 paired with Reactive Hurdle Hop plus Broad Jump x 3
Combo start here: Goblet Squat — 5 x 5 paired with BW Lateral Lunge x 3 x 8 and Hurdle Mobility
Skill start here: Dynamic Effort Bench Press — 5 x 5 with no more than 135 pounds of straight weight paired with mini band pullapart x 5 x 12-20
Each rotation takes approximately 5-7 minutes.
Game day lifting will continue to be a part of how we do things at Richland High School. We believe in it too much. When implemented correctly, game day lifting can be a great opportunity for your athletes to better prepare their minds and bodies for the upcoming demands of their competition. It can aid in team bonding, as well as help relieve pre-game jitters and anxiety. It is also one more way to add some additional training volume to the athletes with minimal physiological costs, which aids in improved long-term strength. Enhance your game day performance by implementing pre-game lifting into your athletic performance program.
Header image courtesy of Eros Erika © 123rf.com
---
Monte Sparkman is entering his sixth year coaching at Richland High School. Prior to his arrival at Richland, Sparkman had coaching stops at Burkburnett, The Virginia Military Institute, and most recently, at North Ridge Middle School. Coach Sparkman currently serves as the National High School Strength Coaches Association director for the state of Texas. Sparkman was a three-year letter winner in football and earned his undergraduate degree from Baker University in 2002. He received his master's degree in education in 2007 from Wayland Baptist University. Sparkman is a certified Strength and Conditioning Specialist through the NSCA, a certified Club Coach and Sports Performance Coach through USA Weightlifting, and a certified Level 2 coach through USA Track and Field. Sparkman is married to Sabrina Kingston of Burleson, Texas, and they have two children: Jacqueline Shea and Alexandra Rea.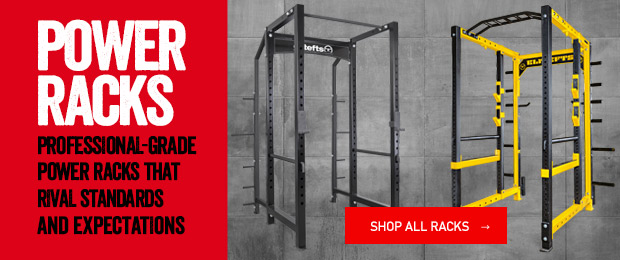 Loading Comments...