LISTEN: Table Talk Podcast #43 with Julia Anto, Yessica Martinez, and Alycia Israel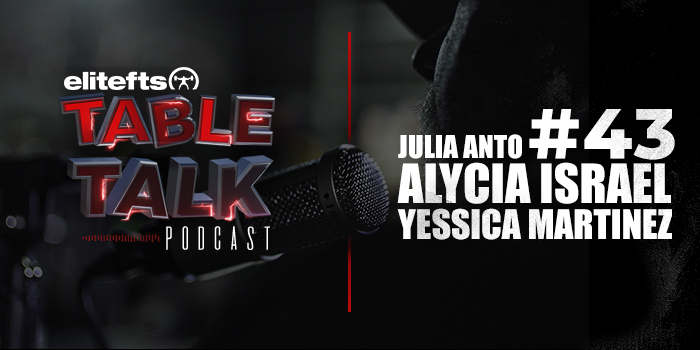 Julia Anto, CSCS, is a coach to strength athletes, such as powerlifters, physique competitors and crossfitters as well as recreational lifters and those seeking body transformation through muscle-building and fat loss. She takes pride in helping people from all walks of life to see and reach their full potential. Julia is a former Division I strength and conditioning coach from the University at Buffalo, where she worked with every sport on campus.
Yessica Martinez earned her elite title in 2011. Currently, she holds the APF Florida State and National Record in the Junior and Open Women's Raw divisions with an 830.5-pound total. Trying to dominate the iron world, she is also a strongman competitor. As a raw powerlifter and strongman competitor, her ultimate goal is to watch the sport grow and know she contributed to that in some way. Her best lifts to date are a 358-pound squat, a 187-pound bench, and a 358-pound deadlift with a 903-pound total with wraps.
Alycia Israel is a nationally qualified NPC figure and bikini competitor and raw powerlifter. She has a master's degree in exercise physiology and is an NSCA-certified strength and conditioning specialist and an ISSN-certified sports nutritionist. She was also the personal training coordinator at Ohio State University for seven years. She currently owns and operates Alycia's Barbell, an online training and nutrition business that helps clients lose fat for life or jump on the competitive bodybuilding stage. She can be contacted at alyciafit@gmail.com.
---
Loading Comments...