XPC 2019: JP Carroll vs. Ryan Belcher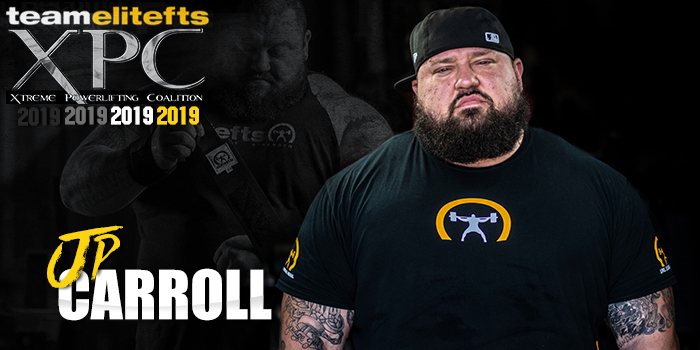 With nearly a week left until the 2019 Arnold Sports Festival and XPC Worlds, Team elitefts athletes are training down to the wire.
JP Carroll is no exception, and he's here to win for the third year in a row.
Competition Details:
What: XPC Worlds
When: Saturday, March 2nd, 2019.
Where: The Greater Columbus Convention Center in the Arnold Expo
Weight Class: Super Heavy Weight. "Like a real man."
Division: Full Power Pro Classic. "Raw; I'm not a gear queer."
Goals for Competition
I don't know. With 16 days out (at the time of this interview), I've got one thing on my mind: win.
What's more important to you: Winning the XPC Worlds three years in a row, breaking a record, or adding more weight to your total?
Winning.
Victory Plans
Get white girl wasted, oh, and plan for a fourth.
Three years ago, did you think you would be where you are now?
Fuck no.
Biggest Competition
Me.
If you ask Ryan Belcher the same question, though, his answer might be different. Ryan has a history of challenging JP on Instagram, which is a very bold move since the XPC Worlds will be his third-ever competition.
Even then, he's been busy not only with training but also rescuing people pinned down in their SUVs after a roll-over accident.
Rivalry with JP
Ah, it all started out as fun. I know that us two competing is going to big a story on its own. I believe we are going to put on a great show, stepping away from the social media aspect and trying to bring light to him and I. There is no "beef." I look forward to competing against him and meeting him. We've both been putting in major work for this, and I absolutely cannot wait for March 2nd.
Getting the invite to XPC Worlds
Getting the invite was an amazing feeling, describing it with one word I'd use: ecstatic! This being my only third competition ever, it's actually pretty nerve-racking to be stepping on the stage, especially against JP.
Competition goals
My biggest accomplishment has been met: just being invited and the chance to compete at the XPC Worlds is a big step. I haven't set many goals other than doing our best, I don't expect to show up and win outright, not at all. My competition is a great athlete. With that being said, I have worked my butt off to be there; not many people show up to the Arnold Classic on their third-ever competition.
What's most important to you: Putting more weight on your total, moving up in the rankings, or winning?
I think all three of those options are very important to me. In this sport, it's all about making a name for yourself and being the best. We're not here to get rich; we're here to get stronger and to win. But to choose one, I'd say winning the XPC Worlds is very important. That would be a huge milestone for my career and myself.
Loading Comments...